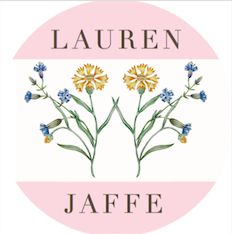 Photo: Courtesy of Lauren Jaffe
Tell us a little bit about yourself and your background.
I am a London based artist and designer who gathers inspiration from the natural world and antique botanical studies. Following a decade long career in the fast-paced world of fashion as a print designer, I wanted to pursue a career in something creative that was more considered and friendlier to our precious planet.
What inspired you to become an artist?
The prospect of creating something that could adorn someone's home, or a sentimental card felt like a calling to me.
What is your specialty?
I just love working on intricate paintings with gouache. You get an unrivalled depth and vividness of colour.
How and where do you work?
I work from my home in East London. I start with pencil drawings then apply paint with the finest brushes I can get my hands on.
What is the most indispensable item in your studio space?
Probably my fine brushes-I couldn't do the job well without appropriate tools.
Where do you take your inspiration? Are you pursuing any themes?
My inspiration is taken from the beauty and wonders of our precious natural world. They make for such timeless and cheery artworks.
Do you do bespoke work?
Yes! I absolutely love doing personalised artworks. I always wanted to ensure that I offer a way in which someone can make their designs feel personal. I also offer bridal bouquet paintings which is a real privilege to be part of – it's a wonderful way to keep alive the memories of a bride's special day.
What projects are you currently working on?
I am currently working on expanding my gift-wrapping range – I want to provide a sustainable option for wrapping paper that feels luxurious and retains that hand-painted aesthetic, and also expanding my recycled card collection.
What are your favourite items in your current collection?
It's hard to choose but my Giclèe personalised name prints have generated so much happiness and I just love seeing people enjoy my prints in their homes! However, I received a message from a lady who said that my Rosh Hashanah card she sent to her Nana from going months without seeing her during Covid made her year. That felt so special.
How do you know when a piece is finished?
When I have added in the darker tones that's usually quite telling that the painting is finished.
What was the first artwork you ever sold?
A Botanical Giclèe print that features five studies of some of my favourite flowers.
Which project have you enjoyed working on the most so far?
I just loved creating a flower for my botanical alphabet – seeing it all come together really felt like an achievement by the end.
What do you want to achieve with your work and what are your wishes for the future?
I want to provide a range of eco-friendly cards, beautiful prints for the home and sustainably sourced wrapping paper. I want my designs to feel timeless and for them to exude as much love as what goes into the design.
Where can we find your work?
Etsy: www.etsy.com/uk/shop/LaurenJaffeDesign
Instagram: @laurenjaffedesign
Facebook:@laurenjaffedesign
Pinterest : @laurenjaffedesign
Website: www.laurenjaffe.com
Photos: Courtesy of Lauren Jaffe