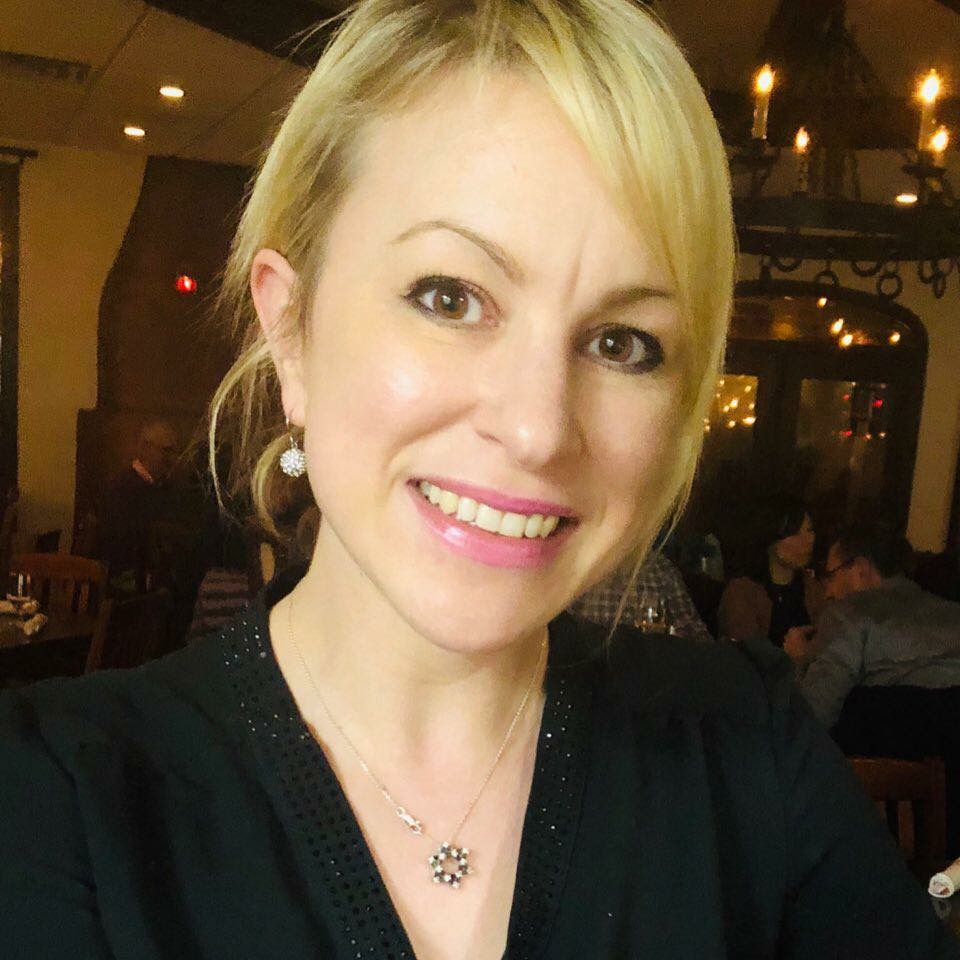 Laura grew up in the southwest of England. At 18, she moved to Scotland to study art and photography at the Leaf School of Design. She then moved to the United States, earning an associate's degree in Television Production, a bachelor's degree in Communications and a master's degree in Global Media and Communications. Laura owns a business in Jewish art and design, and she creates art pieces in several media, including photography, mosaics, and drawing.
Tell us a little bit about yourself and your background.
I was born in Devizes, Wiltshire, which is a small market town in the southwest corner of England. I was brought up with religion and attended the Church of England.Since moving to America, I have found and am passionate about Judaism. I officially converted in January of 2014 and devote my life to Judaism's teachings and culture. I am an active member of Temple Shalom in Norwalk, CT.
In addition, I am proud to have had three art exhibitions at Temple Shalom.
Religion has always been a major part of my life, but since finding Judaism I feel like I have come home, it is a part of my identity now and when I am in synagogue, I feel complete.
"­­­Welcome to Creativity"
What inspired you to become an artist?
It was a natural gift I was blessed with. There was no defining beginning and there will be no end. I see life through an artistic lens, and creativity comes naturally to me.
What is your specialty?
I focus on photography and imaging. My design work is abstract and has a soft focus with colorful shapes. The images I take are on my phone and I use multiple apps to edit each one differently. There is no one formula; the original image could be taken anywhere and with no connection to a theme or idea. Recently I began creating 3D mosaic work; all tiles I use are my own images, superimposed on a Hebrew expression or word. These can take over 1,000 small tiles, and the piece comes together with time and patience.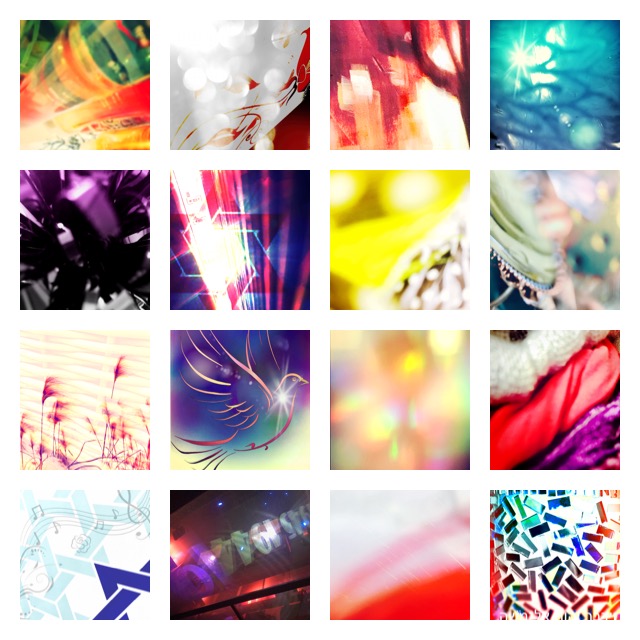 How and where do you work?
I work wherever I go in life, there doesn't need to be a place or space that I return to. When I look at life, I see it through a camera lens. I automatically see composition, color and stories naturally, so you could say that I work through my eyes.
What is the most indispensable item in your studio?
My phone. As an early believer that pictures taken on a phone were unprofessional and lazy, I began to realize that you have your own camera right next to you at all times. My phone is the beginning of my designs and images; nothing I could have imagined when I was developing color and black and white in the dark room over 13 years ago.
Where do you take your inspiration? Are you pursuing any themes?
My inspiration comes from my religion, Judaic traditions, performing arts, education and Torah teachings. Either listening to prayers sung, or a story in the Torah read, it inspires me to learn through my art and hopefully teach others too. If you can't tell, my theme is Judaism! When you pair your two passions (art and Judaism) you are automatically drawn to keep producing art within those disciplines.
There are, of course, artists who inspire me. At an early age, Ansel Adams' landscape photography gave me inspiration; the strong contrast images are truly spectacular. Gaudi's incredible detail, abstract designs and patterns wowed me and returning to the home of his work (Barcelona) made me consider nature as art.
Robert Capa once said, "If your pictures aren't good enough, you're not close enough" I stick by this statement. The next time you take a photograph, be mindful and take a moment to access your shot, is there too much white space? Can you really see the subject of your shot? What would make this image wow someone even more? Try and remember this quote and take a few extra seconds to press the shutter, I assure you that your image will demonstrate a higher level of skill, even if you change one factor, something so small like moving yourself, and not just your lens.
What projects are you currently working on?
I will be teaching a class called, 'Art and the Jewish Experience' this fall. This class will encourage students (any age) to use their own personal journeys to create a piece of work that reflects their individual stories. Sharing my work, brief art history and basic Smartphone photography skills will provide a fun and creative experience.
What is your favorite item in your collection?
When you enter my synagogue there is a large mosaic that welcomes you with the Hebrew word for peace. This 3D mural that is viewed by all visitors to the Temple gives me joy and happiness. The colors, shapes, size and compositions demonstrate the quality of my talent combined together.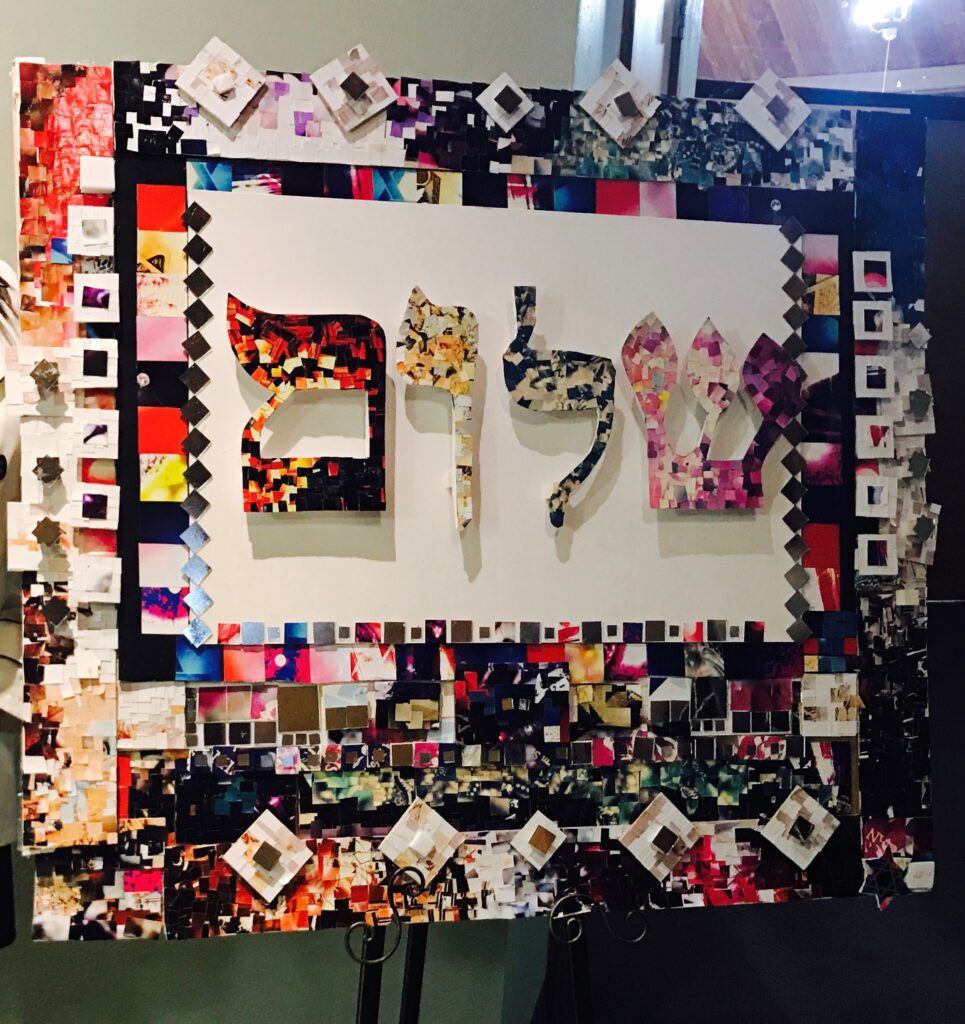 How do you know when a piece is finished?
When you create an item without hesitation, and you know it is perfect; that is the feeling when you complete a piece of work.
Do you do bespoke work?
Yes, for example a commission for a religious symbol requested by a client. Creating work for other people's requests can be eye opening as it introduces you to someone else's creative needs and ideas.
What was the first artwork you ever sold?
In England, I specialized in portraits, and became known as a professional child portraitist. One of my early projects was photography of children in "careers" – such as police and firefighters, etc. – and this sold very well.
What project have you enjoyed working on the most so far?
The 'Images of Torah' collection was a challenge, but such great satisfaction when putting together all 52 designs for all portions (52) in the Torah calendar year. I enjoy all my work; if I didn't, I wouldn't do it.
What do you want to achieve with your work and what are your wishes for the future?
My career goal is to use my visual communication and educational skills to foster development and success within the Jewish sector.
Where can we find your work?
You can reach Laura via email for any questions you may have in regards to her work.