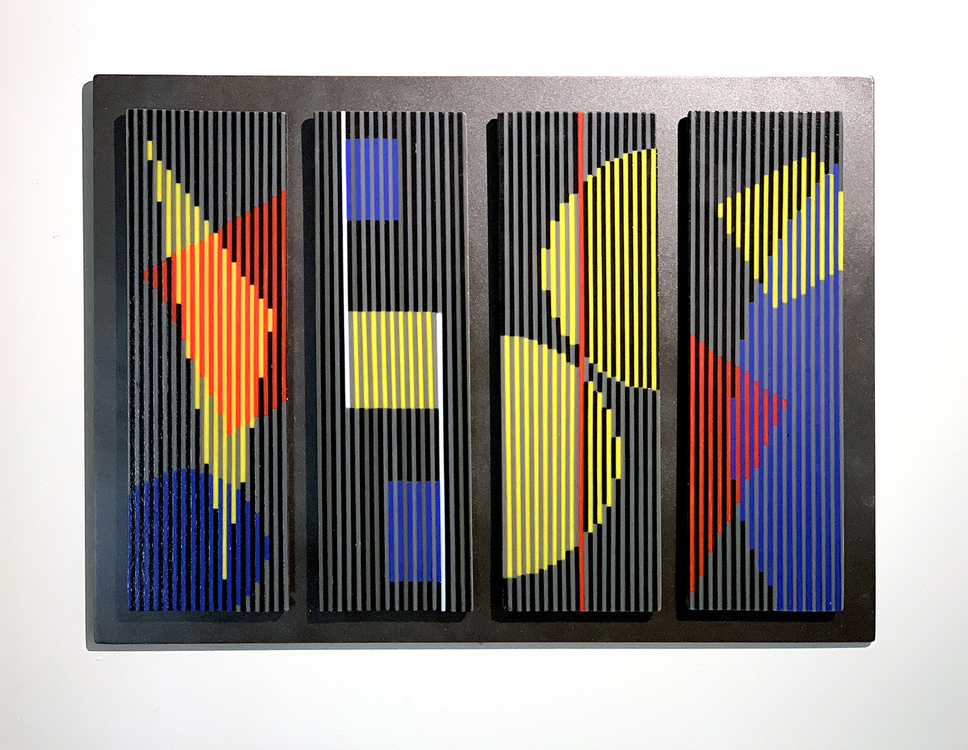 Photo: Courtesy of 925 Design
Tell us a little bit about yourself and your background.
I spent 20 years as a professional advertising photographer before moving into digital imagery for productions at theme parks and cruise ships. I retired and began to creating in glass.
What inspired you to become an artist?
My father was an architect and my mother was a representative for several European high end art glass companies.
What is your speciality?
My work tends to be clean with strong lines. I enjoy working with the glass "on edge" which creates strong lines. I create practical art (Trays and Platters), Sculpture, and Judaica.
How and where do you work?
I have converted our crowded garage into a crowed glass studio.
What is the most indispensable item in your studio?
My strip cutter! It allows me to quickly cut hundreds of long glass strips that I use "on edge".
Where do you take your inspiration? Are you pursuing any themes?
I am inspired by Mid-Century architecture and Bauhaus Design, Kandinsky and Agam.
Do you do bespoke work?
Yes, I am very interested in creating custom artwork.
What projects are you currently working on?
I am working on a four panel "on edge" design as well as a tower made up of thousands of glass stringers that mimic a lenticular design, similar to Agam.
What is or are your favourite items in your current collection?
My "Lenticular" Hanukiah from a few years ago. It has thousands of transparent color glass stringers facing the front, but when you move around it the slides of the stringers become visible weeping the color and gives it a shimmery effect.
How do you know when a piece is finished?
It just feels right. I design my work on the computer before I go to glass.
What was the first artwork you ever sold?
I been selling photography for many years, but my first glass sale was a Hanukiah that I sold at my Temple's Holiday Boutique.
Which project have you enjoyed working on the most so far?
It's always my current project!
What do you want to achieve with your work and what are your wishes for the future?
I would like to get commissions to create large glass panels for Architecture.
Where can we find your work?
Photos: Courtesy of 925 Design