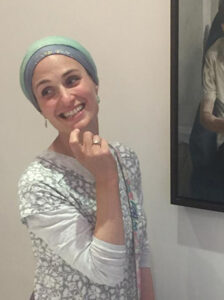 Photo: Courtesy of Keren Keet
Tell us a little bit about yourself and your background.
I was born and grew up in London, where I live with my husband and children. I come from a traditional Jewish background, but became fully observant in my late teens. I have always loved art, and started working as a professional artist just after my second son was born. I also run an art department in a high school, and I usually have several different freelance projects on the go at one time.
What inspired you to become an artist?
Ever since I was very small, art was my passion. When I was about 6 years old, our teacher asked us to draw a picture of what we might like to be when we grew up. I drew an artist, a ballerina and a fairy! (But, I'm still waiting for my magic wand!)
What is your specialty?
I'm most well known for my humour cartoons which are published online by aish.com in their humour section, in the Mishpacha Magazine, and are also sold as greetings cards. I also produce fine art paintings, Judaica pieces, illustrations and caricatures. I've also just started making arts and crafts videos on YouTube, using my experience in teaching art to share fun activities.
How and where do you work?
I work in my home, in a small study. My cartoons are done mainly on my computer, but when I do a big painting, I will usually work in a different, larger room, trying not to get paint everywhere!
What is the most indispensable item in your studio?
Everything begins with a pencil, whether it's a cartoon, a painting or a caricature, and it's the tool I've used since I first learnt to draw. I always start my pupils with a pencil.
Where do you take your inspiration? Are you pursuing any themes?
People often ask me where I get the ideas for my cartoons and I look at them and say 'Everywhere! You better watch out!' It's true – any small incident can spark an idea for a cartoon. I also often look at the work of my heroes Gary Larson (The Far Side) and Bill Watterson (Calvin and Hobbes).
Do you do bespoke work?
Yes. Recently a client requested three bespoke Bircat HaBayit paintings. He gave me a specific colour scheme to use. It was a great experience because they weren't colours I would have chosen myself and I really loved the result! And so did he, more importantly!
I also provide painted originals of my cartoons on request.
What projects are you currently working on?
I produce new cartoons every two weeks. I am also working on two illustration projects; a book for teens by author and psychologist Deborah Saunders, and a series of Jewish children's stories by British educator Doreen Samuels.
What are your favourite items in your current collection?
My painting 'Az K'Namer' based on a verse in Ethics of the Fathers is probably the most monumental work I have done in recent years. I am very proud of the composition, rich colours and depiction of the majestic animals.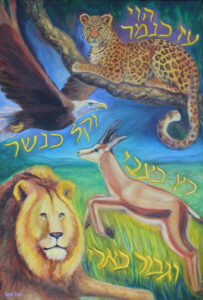 Photo: Courtesy of Keren Keet
It's hard to pick my favourite cartoon, I have several, but one would be 'Cellphones at the Red Sea' which is popular even amongst non-Jewish audiences. I also love the one I call 'Noah's Wife' which is one of my best selling greetings cards.
Photos: Courtesy of Keren Keet
How do you know when a piece is finished?
Cartoons are usually finished when my eyes won't stay open any more! But it's really important to stop before it gets overworked. Some of my favourite work is which was executed quickly and spontaneously.
What was the first artwork you ever sold?
I produced the artwork for a 10 plagues napkin! I couldn't believe someone was actually paying to draw and paint!
Which project have you enjoyed working on the most so far?
I recently painted a portrait of my oldest son and I used collage techniques. It was very liberating to experiment on a large scale and not worry too much about creating perfection. The result is fresh and energetic.
What do you want to achieve with your work and what are your wishes for the future?
I want my cartoons to bring people joy, and I want my paintings to bring inspiration.
I hope to publish a collection of my cartoons in the future.
Where can we find your work?
My website has lots more information and galleries of my work, and orders for greetings cards, prints, caricatures and bespoke work can be placed through the contact page, www.kerenkeet.co.uk I am active on Instagram, @keren_keet, and you can find my art videos on my channel by searching for me on YouTube.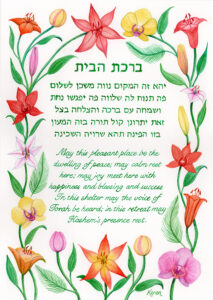 Photo: Courtesy of Keren Keet