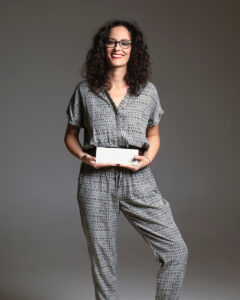 Photo: Courtesy of Sakata Design
Tell us a little bit about yourself and your background.
I live in Budapest in Hungary, but I grew up in a smaller town, Szeged. I came to the capital to communication and aesthetics at the University.
What inspired you to become an artist?
Probably the Russian ballet album at my childhood home, which I loved turning the pages of and looking at the images. Or the sculpture in my elementary school's front garden, which I spotted when I was a pre-schooler.
What is your specialty?
My controversial life. My half Christian and half Jewish family who are actually not religious. My relentless nature of questioning processes around me. My left and my right eye, which I can see with separately sometimes.
How and where do you work?
I only started creating Sakata Hanukkiahs this year (2020). I had to learn to handle and work with concrete, silicone and other materials I'd never known before and this learning's still taking place. But I couldn't manage this alone. I've found a concrete workshop and they helped me a lot.
Where do you take your inspiration? Are you pursuing any themes?
From the beauty of my childhood living in a concrete block house during the final period of socialism. From the books of my life, from my rooftop apartment full of light, from the music I listen to while I'm walking on Budapest's hidden streets covered by yellow and red leaves, and through showing the world to my son.
Do you do bespoke work?
This is a recent project, I came out at the end of October, so I haven't thought about it yet.
What projects are you currently working on?
I'm currently working on a special Hanukkiah, which I hope to share with the world very soon. I'm really excited, because the idea behind this new item may be perceived controversial by some.
What are your favourite items in your current collection?
I like them all, especially the fact that no two pieces come out the same.
How do you know when a piece is finished?
When the surface treatment is dry.
What was the first artwork you ever sold?
A bag. Before Sakata I created my own bag brand and for a long time, I really enjoyed working with that, and then it was time for something new.
Which project have you enjoyed working on the most so far?
This one.
What do you want to achieve with your work and what are your wishes for the future?
The aesthetics, the forms drew me closer to this tradition and maybe to my faith in some way. Maybe these designs can attract others to it as well.
here can we find your work?
www.instagram.com/sakata.design
www.facebook.com/sakata.designa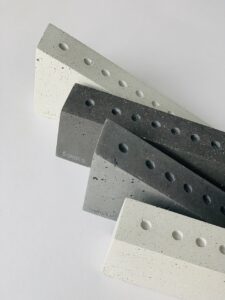 Photos: Courtesy of Sakata Design