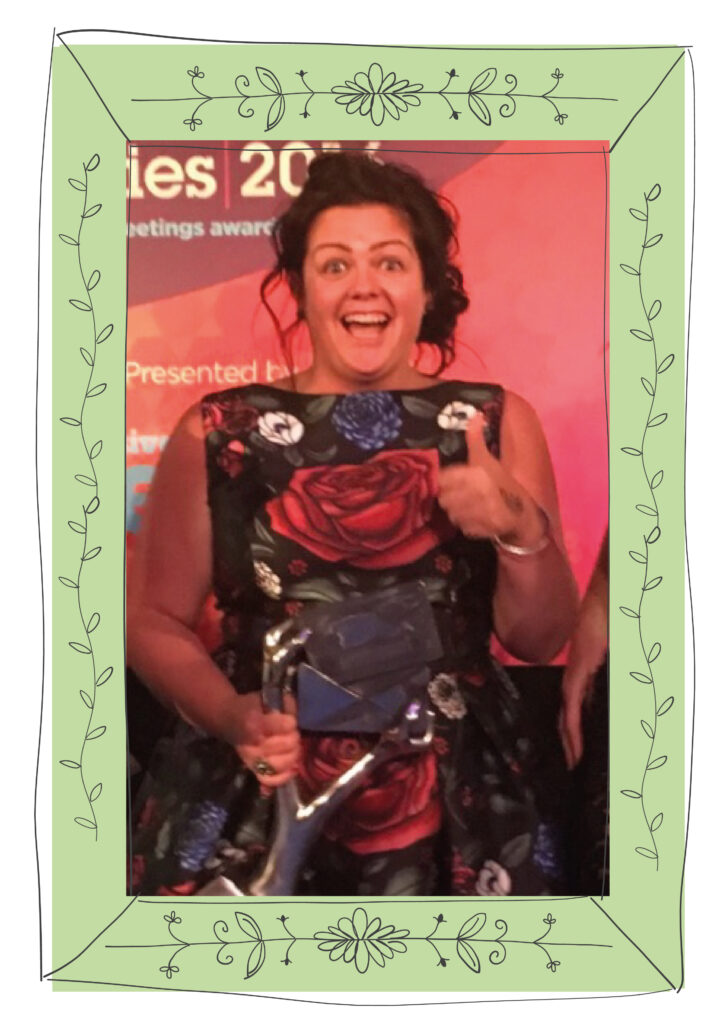 Tell us a little bit about yourself and your background.
At Dandelion Stationery – everyone gets involved, nobody gets a free ride. Inspiration, design, printing, hand-finishing, packaging, distribution – there's always a job to be done.
When it comes to making cards, we like to do most things in-house and very little is outsourced. We are quite possibly control freaks but it works for us.
We like snacks in the office. We have a 'free fruit' bowl, though it's nowhere near as popular as the biscuits sneaked in (usually by Sam and his sweet tooth!). We drink LOTS of tea, and the occasional posh coffee when Paul tests out his barista skills on the coffee machine.
We like nights out. We try to behave sensibly but sometimes the cocktails get the better of us. There have been occasions where press-ups have been done on the dance floor, break dancing back-spins have been attempted and one instance of a drunken head being shaved.
As far as greeting cards are concerned, we can be quite fussy. We only buy the best materials and we like to work with nice people. We only buy envelopes, which are either recycled or made from FSC paper. We love working with GF Smith and their vast array of luxury board. Most of the board we use comes from a paper mill in the UK Lake District and the rest comes from a fabulous mill in Munkedal (Sweden) which is one of the most efficient and environmentally friendly paper mills in the world.
Approx. 90% of our products are printed in-house by our sister company, Melbourne Print Ltd, with whom we share an office in Derbyshire. They have some super snazzy printing equipment. Many of our cards are hand finished with subtle sparkles – we have a super group of local ladies (and one gentleman) who do this for us. In 2016 we won a Henries Award for our card designs (as well as also reaching the finals in 2014, 2015 and 2017 – and we recently found out that we have reached the finals in THREE categories for 2019!!!). To say we were delighted with our award in 2016 is an understatement! It has pride of place in the office and is frequently stroked as we walk past it.
A bit about me: Mum to two gorgeous girls (and Ted the dog). Chief doodler in charge of dreaming up new designs. Envelope purveyor. Netflix addict. Likes Gin. And Cocktails. And curry. Loves creating cards. Loves sending cards. Loves receiving cards.
I have no official art/design training – just a love and passion for sketching & doodling. I have a good academic background and a degree in business studies – after graduating, I pursued a career in HR with a number of high profile corporate companies. As much as I loved some of my previous jobs, I did not however enjoy the politics of working for some of the larger companies, and was keen to find a more creative career. After trying to manage a full time corporate job, in conjunction with a part time job trying to set up a card company, along with being a mum and a wife I finally took the plunge to give up my office job in 2014.
What inspired you to open your business?
I have always been creative, despite spending the earlier part of my career in a corporate environment. After having children, I wanted a career that offered more flexibility to deal with family commitments, and allowed me to be more creative.
What is your specialty?
We try really hard with the words and sentiments we use in our cards to express messages that others may find hard to put into words. We also try to offer cards for a huge range of occasions, cultures and religions, specialising in some niche categories that some card companies will not cover.
How and where do you work?
I do have an office now, and a small team. I will often work in the office, but find illustrating difficult when there are other people and distractions around! If I need to do illustration work, I will usually do this at home.
Where do you take your inspiration? Are you pursuing any themes?
We have found that anything and everything can provide inspiration! I have a little notebook on my phone that I use to jot down words – during long car journeys to visit family (during which my husband will usually drive) I will just sit, doodle, and make notes! I have a drawing app on my ipad that means I can sketch anywhere.
What projects are you currently working on?
We are currently looking at a range of wrapping paper along with three new greeting card collections that we are hoping to launch in Jan 2020.
Do you do bespoke work?
Absolutely, though this depends on other commitments. We are always open to having discussions on new commissions.
What do you want to achieve with your work and what are your wishes for the future?
I absolutely love sending and receiving cards. There is nothing quite like a thoughtful hand-written message – it is so much more personal than an email or facebook post! I love trying to create cards that encourage others to put pen to paper and send a card to someone. Cards can be sent for any occasion, and sometimes for no occasion at all.
As far as the future goes, having a career that I adore is amazing, so being able to continue this is all I want. (Enough spare income to buy the occasional nice handbag would also be lovely).
Where can we find your work?
All products available to purchase via The Stationery Studio (worldwide shipping options are available):
https://www.stationerystudio.co.uk/product-category/greetings-cards/
Instagram:
https://www.instagram.com/dandelion_cards/
Facebook:
https://www.facebook.com/dandelionstationery