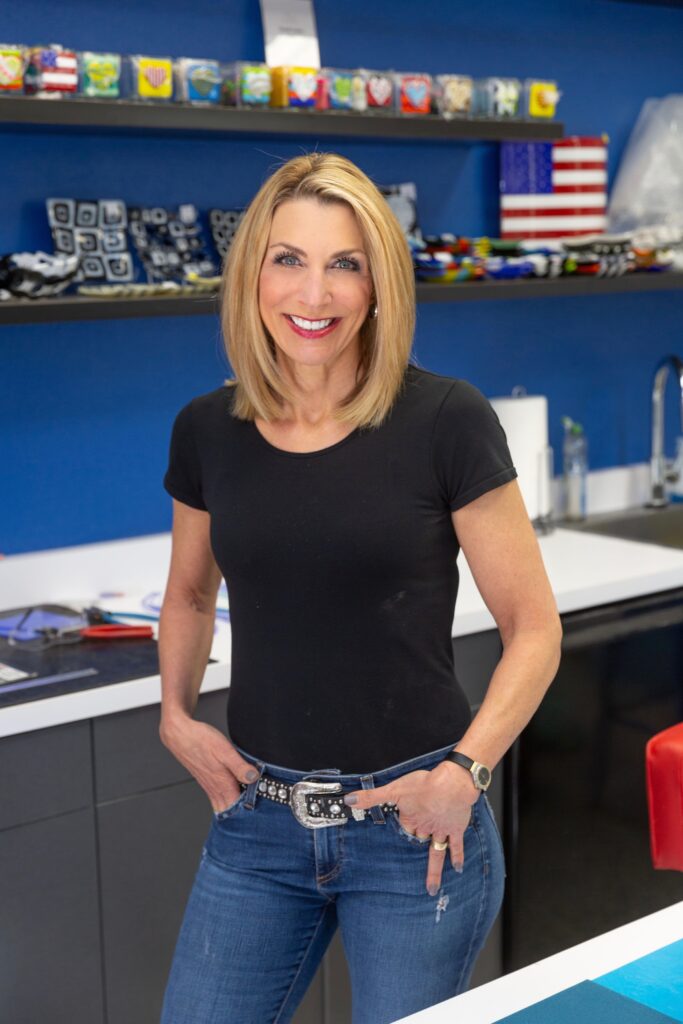 Photo: Courtesy of Jacki Cohen / Copyright: JMB Photography
Fused glass artist Jacki Cohen is fascinated by bold color, vibrant design, and the fiery beauty of the Sonoran Desert. Largely self taught, Cohen finds inspiration everywhere. From the vivid natural scenery surrounding her North Scottsdale studio, to a clever wardrobe ensemble, to a stacked pesto Caprese salad, Cohen's unique eye for color and design fuels her to re-envision ordinary objects into extraordinary expressions of fused glass artwork.
Having worked in fused glass design for over a decade, Cohen has a knack for creating both functional and decorative pieces for homes, work spaces, and one-of-a-kind gifts. A juried artist, Cohen is consistently participating in some of the most prestigious juried exhibits and shows in the Southwest.
"I've worked in many art media," explains Cohen. "But fused glass is what ignites my spirit. Once glass reaches a heat of 1500 degrees, it becomes soft and pliable. By carefully cutting and layering sheets of glass you are given limitless possibilities."
She's been featured in Voyage Phoenix, Arizona Jewish Life, Phoenix Jewish News and North Scottsdale Lifestyle magazines, has won numerous awards in juried shows around the state, and was the winner of Best of Jewish Phoenix Arts and Culture in May, 2018.
Jacki accepts commissions and welcomes visitors into her studio by appointment. Visit her 11 piece permanent installation at Congregation Beth Israel in Phoenix, AZ or view her online gallery at www.jackicohenglassartdesigns.com.
Tell us a little bit about yourself and your background.
I grew up in the valley of the sun, Phoenix, Arizona, USA. I went to elementary school, high school, and college (Arizona State University-Go Devils) in Arizona. Growing up in state 48, my family continually explored this great state when we were young. When I was a child, my family road-tripped and experienced the variety of treasures Arizona has to offer. From hiking in Sedona (still one of my favorite things to do), to visiting Bisbee and Jerome, I loved our family adventures. Between traveling, swimming, arts, culture, and socializing with my friends, Arizona has always held a special magic for me. Ironically, I am still very similar. I have continued the tradition of touring Arizona with my children when they were younger (now in their 20s). I regularly attend sporting events, Broadway play series, trying local restaurants, and socializing with friends. We love to travel. I am an avid hiker, enjoying our valley mountains multiple times a week. I have always been an outgoing and social person, always on the go. My family and friends are the most important part of my life and I make a conscious effort to stay connected and involved. My faith is also a huge part of my life and my community. My entire family is very active in our synagogue and we consider our Jewish community to be a continuation of our family. We attend Shabbat services regularly, participate in Jewish programs and events, and continue our education by taking adult education classes. I currently live in Scottsdale Arizona with my husband. My oldest son is living out of state attending graduate school and my daughter is finishing up her last year at college.
What inspired you to become an artist?
It truly happened organically and continues to grow every year. Originally, I started as an admirer of glass art. I would purchase glass art on vacations, at art fairs, and galleries. I have always been fairly artistic and started taking art classes to explore my talent. I tried classes in watercolours, drawing, etc and nothing felt quite right. I discovered a stained glass class through a local community college and jumped right in. I learned how to handle, cut, and manipulate the glass and fell in love with the medium. But the stained glass art I could create felt restrictive and didn't seem to fully encourage my creative expression. The studio offered a fused glass class, and I decided to try it. That was a match made in heaven. I knew right then and there my passion had been ignited.
I started as a fused glass hobbyist and took local classes a few times a month. That progressed to classes once a week, then bi-weekly for many years. Over the years I produced a lot of fused glass objects and when I ran out of people to gift them to, I figured it was time to take the next step. In 2009, I incorporated and began selling my glass professionally. But, I honestly could not call myself a true glass artist while working in someone else's studio with a rented kiln and borrowed equipment, Without a kiln, you are a glass cutter and designer. A true glass artist must figure out the firing schedules and physics to manipulate the glass in the kiln in order to fulfill one's specific artistic intent.
In 2014, I built my own studio complete with power tools, and a large kiln. I now work full time as a fused glass artist. I am as passionate about my art now as when I started. I was not formally educated in the arts and am a self taught artist. I followed my passion and am making my dreams come true. And while I delight in my hours alone in the studio, I am a true people person. I get a charge out of meeting and working with clients. There is nothing as meaningful as working with someone to create something that defines their personality and artistic vision. I love what I do and feel fortunate that I am able to have my vocation as my advocation. I love to go to work every day.
What is your specialty?
Judaica is my specialty, and this came very naturally. I am proud of my religion, very active in my synagogue and involved in the Jewish community. My Judaism is a huge component of my identity. That in conjunction with my love of bright colors, modern and contemporary designs initiated my Judaica collection.
I feel that art should be everywhere in your environment. Using special pieces to celebrate important rituals has always been something I've loved to do. So creating Judaica items that are functional and can be enjoyed in your home throughout the year as art, seemed like a natural fit for me. I started creating mezuzot, Seder plates, menorahs, Shabbat candles and holiday pieces to give my customers an artistic choice. My Judaica items are amongst my most popular pieces. I design many custom Judaica pieces, which is one of my favorite things to do. Creating customized art that speaks to a client and seeing the excitement and joy upon delivery, is one of my favorite parts of being an artist.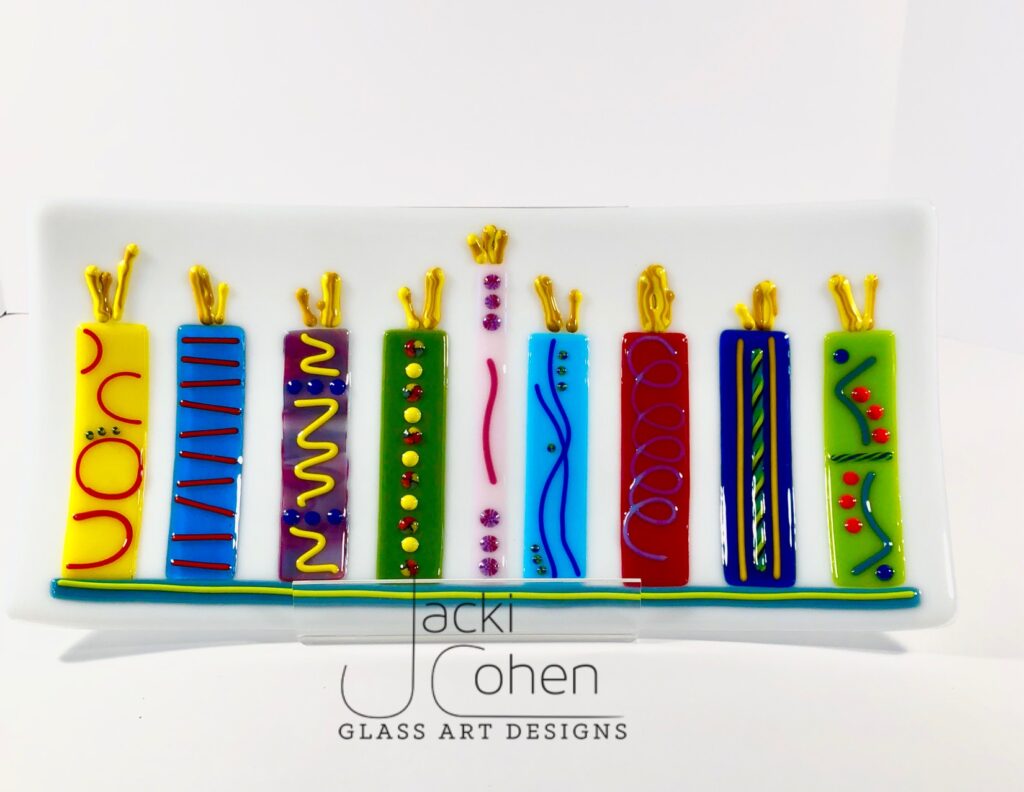 How and where do you work?
I have a scheduled and regimented work day. My glass is my business and I must schedule work time slots each day. I wake up very early by 5:00 am and hit the gym or mountain for a brisk work-out every day. Exercising first thing in the morning sets my day. Then I enter my studio. I prefer to work in the morning till mid-afternoon. On a typical day after my studio time, I will spend the late afternoon on the business aspect of my art. Taking photos of my art, updating my website, answering emails, submitting "calls to art", and following up with media. I try to answer my social media engagements throughout the day because I realize time is of the essence on that platform. I also like to set one day aside for all my appointments, therefore creating an entire day "away from the office" to meet with clients and take care of personal agenda items. If my week has unexpected days away from my studio, I will make up that studio time on the weekends. I do not look at an email on Shabbat, but I do frequently go into my studio on Shabbat. It's a glorious time, without interruptions and allows me to work in peace and celebrate that weekly holiday in a deeply meaningful way.
What is the most indispensable item in your studio?
My creativity is my most indispensable tool. When my mind is flooded with ideas, I can work in a meditative state for hours. When I look up at the clock, it seems like minutes have passed. My creativity keeps my art fresh and new. My breadth of collections is deep due my need to explore so many facets of glass. When I'm not feeling particularly creative, I will spend that time in my studio organizing, cleaning up, or cold working a piece (smoothing and evening up the edges on a powered grinding tool). I have learned that I have to listen to my soul. if my creatively is low on a certain day, I need to honor that and not force something that isn't my best work.
That said, one must also have the basics; a kiln, glass cutting tool and the raw material.
Where do you take your inspiration? Are you pursuing any themes?
I am inspired by life, nature, mountains, and the ocean. Early morning hikes alone with my music spark so many new ideas and bold art collections. Time to be silent and in the moment, allows me the freedom to create. I am also inspired by everyday objects; a restaurant menu or fashion can inspire me to create my next collection. I translate the world into glass.
Currently I am expanding on my Synergy collection by adding a black and white component to the collection which was inspired by all that surrounds me. Bright colors, abstract designs, unique shapes all fuel my imagination for this collection. My interpretation of Synergy is to see life as a balance that leans to the side of joy and happiness. Noticing tiny details of life that make you smile and bring you beauty.
What projects are you currently working on?
This is one of the most popular questions that I get asked. I have two large "coffin" kilns, as they are called, oblong kilns measuring about 4 feet long by 3 feet wide. I like to maximize those kilns, filling them up before turning them on. I never work on one piece from start to finish. I always work on multiple pieces at a time. Each kiln is set to a different schedule to produce the desired end effect that I am trying to achieve. I will have both kilns going and pieces cued up on my table ready to be placed in the kiln. Right now, I am working on my Carnival Collection in Hearts, two commissioned sizable bowls, and a new collection called Serenity, in an array of (azure/sapphire/ultramarine)hues. Simultaneously, I am working on a large 8 feet long glass panel, commissioned for a business that will be fired in a kiln at a glass wholesaler location due to its extensive size and scope.
What is your favourite item in your current collection?
That is an impossible question to answer. It's like asking someone to choose their favourite child. Can't be done. I enjoy whatever collection is coming out that year because that is the newest and most exciting to me, which is why I am currently working on it.
How do you know when a piece is finished?
It's hard to explain. I just know. If I am not sure, I will leave the piece in my studio overnight and come back to it the next day. I may or may not make adjustment before it goes into the kiln to be fired. A piece can enter the kiln for multiple firings. My style is the multiple layered look that requires multiple firings. When I am happy with the outcome, then I know the piece is finished. I admit this is a 100% unscientific and completely gut-reaction approach.
Do you do bespoke work?
Absolutely. I love do commissioned work for people. I make a lot of Bar and Bat mitzvah gifts and gifts for the out of towners for the B'Nei Mitzvah parties. I either incorporate the theme or colors to these gifts.
What was the first artwork you ever sold?
I know that I should remember that moment, but I honestly cannot. I will share that when I was a true glass hobbyist, I saved my first finished product from my first class. I used scrap pieces of glass that were in a bucket and laid the glass on a solid square of white. I do not know what inner self instructed me to save that ugly novice piece. But I am truly glad I did. Every so often, I will gaze at the piece to remind me how far that I have come. I have achieved this status 100% on my own through hard work and passion.
Which project have you enjoyed working on the most so far?
I really enjoy working with people to create that perfect piece for their home or office. I receive such satisfaction and joy when I deliver a piece to a client and they are beyond happy with the finished product. My favourite pieces are creating panels, either for stands or walls. I like working on a large glass canvas then going small for the details. Glass on a larger scale allows me to have room to create and use many different techniques to their fullest potential. Large glass panels always make an impact due to the impressive size and stature.
What do you want to achieve with your work and what are your wishes for the future?
I want my work to invoke happiness, joy, and pleasure. My hopes are that my glass art brings a smile and helps make someone's day a little brighter, both literally and figuratively. I want my art to be enjoyed and bring inspiration – inspiration to believe in oneself and one's dreams. My business goal for this year to is to raise public visibility for my art by exhibiting on more international online forums and showing in local Phoenix galleries and showcases. Having a business plan is incredibly important. So every year I add both a business goal and an artist goal to my plan to continually raise the bar and elevate my brand.

Where can we find your work?
Website:http://www.jackicohenglassartdesigns.com/
Facebook:https://www.facebook.com/jackicohenglassartdesigns
Instagram:https://www.instagram.com/jackicohenglassartdesigns/
Twitter:https://twitter.com/jackicohen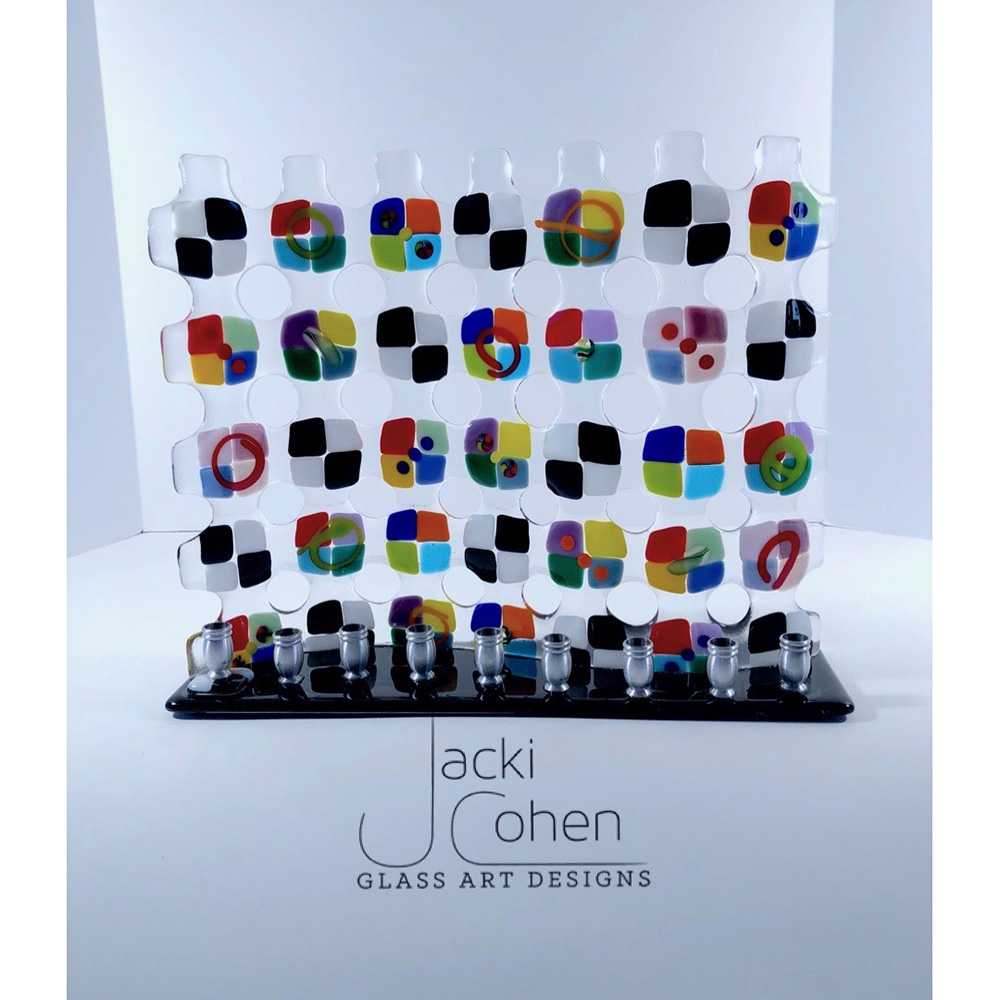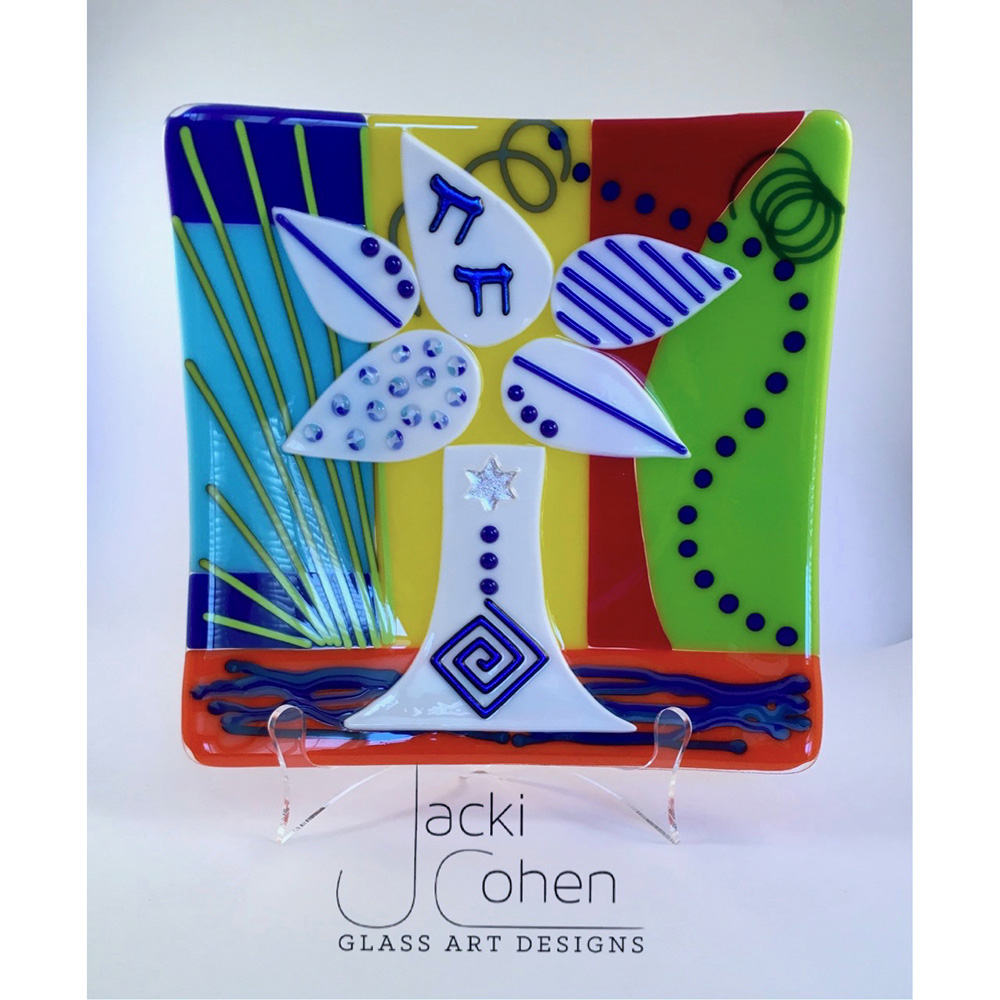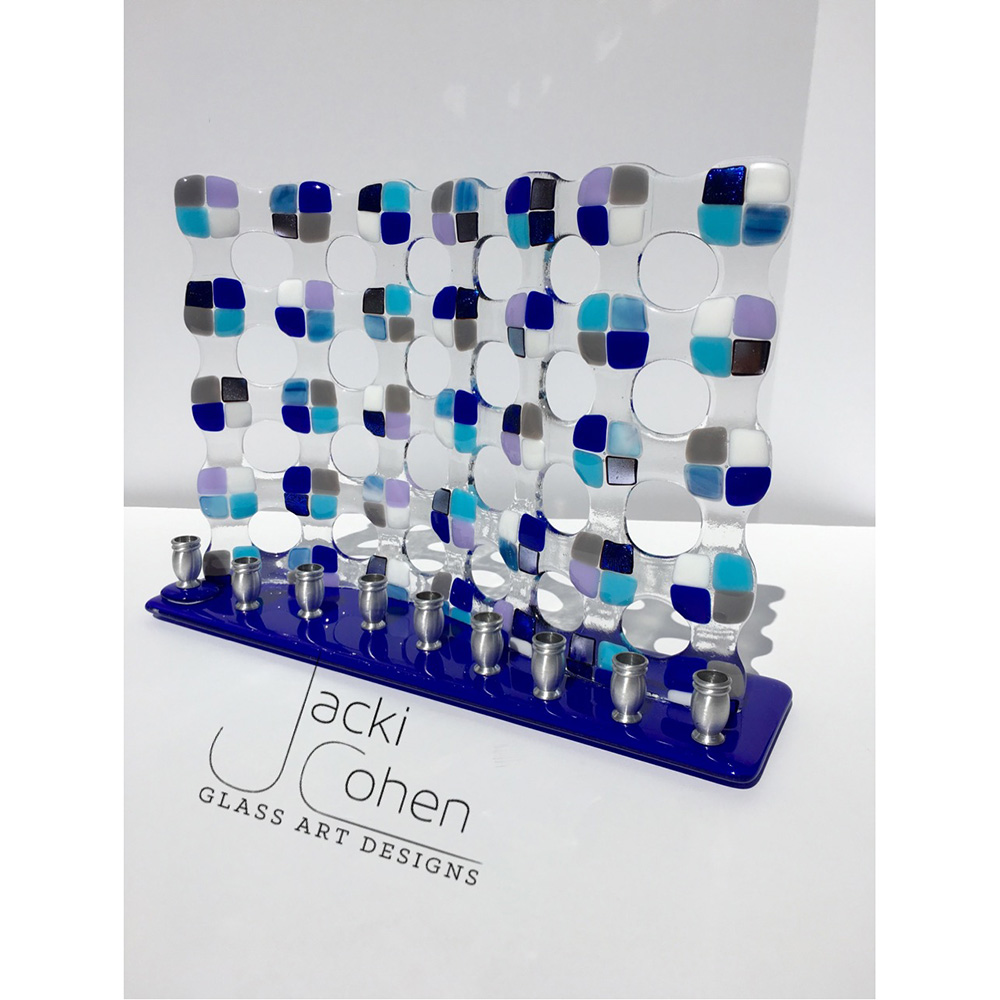 Photos: Courtesy of Jacki Cohen