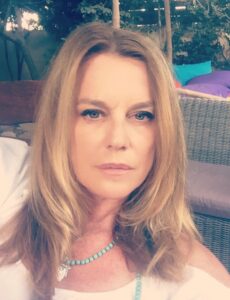 Photo: Courtesy of Izabel Alfici
Tell us a little bit about yourself and your background.
My name is Izabel, I am an energetic mother of two beautiful daughters who show me what life is all about. Before settling on the coast of Israel 22 years ago, I traveled the world and lived in many different countries from Germany to the United States to the Canary Islands. I am originally from France and I met my husband abroad on a surf trip in Spain. He is from Argentina, and so as you may have guessed we have a very multicultural household. I studied law and linguistics in college, but always had a passion for the arts. My 10-year modeling career in Paris taught me a lot about how to blend the fields of business and the creative arts. I feel I have a unique and specialized set of skills and experiences that allow me to cater to the aesthetic side of commerce while still being able to translate the beauty of the art. I currently live on the beach, and the ocean inspires me every day with its natural beauty.
What inspired you to become an artist?
I have always felt that before anything in the world can inspire you to "become" an artist, you must find and follow the passion within. I feel I was born an artist and there is intrinsic value for me in creating. The way I see the world is, not what can I add to it to be art, but how can I shape what is already there to build on its beauty? Nature has always amazed me, and I admired what was already there. From paintings, to buildings, to simple leaves on the ground and even other artists around me, I felt exhilarated by the act of creating. In creative art there is the ability to express yourself without limits. It is relaxing to pour your emotions into a piece, and the freedom of no expectation or rules is captivating. But what makes the arts so incredible to me is that there is also the element of pure intensity. Art can be whatever you want so fortunately I could be myself and have fun, but I also take it seriously and felt very rewarded. In this way my art is a genuine representation of who I am.
What is your specialty?
I enjoy almost all forms of art. No matter the media or muse I try to create what makes me happy. I like to sew, paint, sculpt, build furniture, jewelry and more! I like hands on work. My most recent passion and what you could call my specialty is my hand painted and hand carved wooden Mezuzah collection.
How and where do you work?
I work from home in my crafting studio. It is filled with as many fabrics, woods, stones, beads and jewels that I can get my hands on. It looks a bit of a mess, but I know exactly where everything is, and it is just my own special brand of organized chaos. I love surrounding myself with things that inspire me. It is my heaven on earth.
What is the most indispensable item in your studio?
I could not function without my speakers! If there is one thing that inspires me most to create my own art, is to listen and enjoy that of others, and music is the most beautiful art there is! I love to listen to music while I work as it opens my mind and brings me peace and encouragement.
Where do you take your inspiration? Are you pursuing any themes?
I am inspired by ethnic arts, the sea, the preservation of the environment, culture and all that is authentic. I try to use my art to emulate a spiritual, worldly feel with tribal flair and ocean essences. My pieces are made with natural elements, mixed metals, and fabrics to bring something soulful and special, filled with great energies. I believe that every bit of nature is unique, therefore, all my items are one of a kind as we all are.
Do you do bespoke work?
Yes, of course, I love it. It is fun to bring customers' visions to life with my own personal style and very gratifying to feel their creative desires as I work to achieve my own goals.
What projects are you currently working on?
Right now, I am renewing my collection of Mezuzahs since they have been met with great success. I am restocking my selection with more ocean inspired pieces and also have orders from clients requesting customized designs.
What are your favourite items in your current collection?
I adore making, gifting and selling my mini surfboards mezuzah cases, they are my babies. We are a surfing family so this is the nicest way for me to share my passion for art, family and nature all in one.
How do you know when a piece is finished?
Aside from the literal completion of the work, I feel it is finished when it inspires me to make something new. When I am satisfied with a piece, I do not want to tinker with it any longer and I simply want to photograph it and put it up on my Esty for someone else to admire. The pieces I create are like an extension of myself, and once they are complete and fulfill their creative purpose for me, it is time for them to go and inspire someone else.
What was the first artwork you ever sold?
It was an acrylic on canvas 60X70 inches and sold to the Israeli art exhibition in 2006. All the profits were donated to the Israel Aids Task Force Committee and dedicated in memory of the beloved Leah Rabin, who was the first to support raising awareness of AIDS in Israel.
Which project have you enjoyed working on the most so far?
I once crafted a full-scale wedding dress completely out of baby diapers. The dress was also created to fundraise for Our Children (''Yeladim Shelanu'') Foundation on behalf of Schneider Children's Medical Center. My daughter was diagnosed in infancy with T-cell acute lymphoblastic leukemia,so this project was very personal for me. The dress has traveled the world if you will and has been featured in many exhibitions. It is currently in the United States where it was most recently showcased by The March of Dimes nonprofit to raise awareness and funds for premature babies.
What do you want to achieve with your work and what are your wishes for the future?
I wish to encounter success with my mini surfboard mezuzah and other creations. Hopefully soon I will be able to open my own website, inviting more artists to join my tribe and promote their art there as well. As many of my pieces' themes surround the sea it is my ultimate goal to be able to raise significant funds to donate for the protection and preservation of the ocean.
Where can we find your work?
I run an Etsy shop and promote my pieces on Instagram. Below are links to my social medias and websites.
Instagram: surf_mezuzah
Instagram: oceantribe1300
Etsy: https://www.etsy.com/shop/OceanTribeBoutique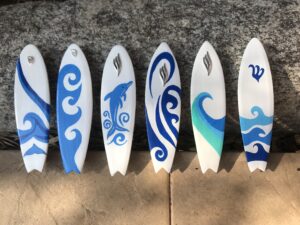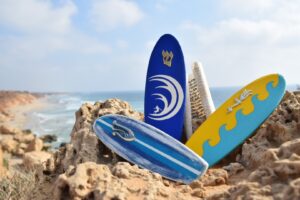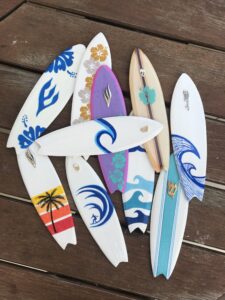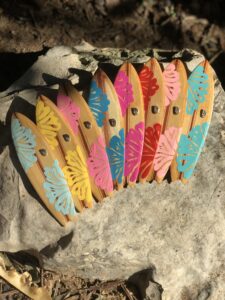 Photos: Courtesy of Izabel Alfici