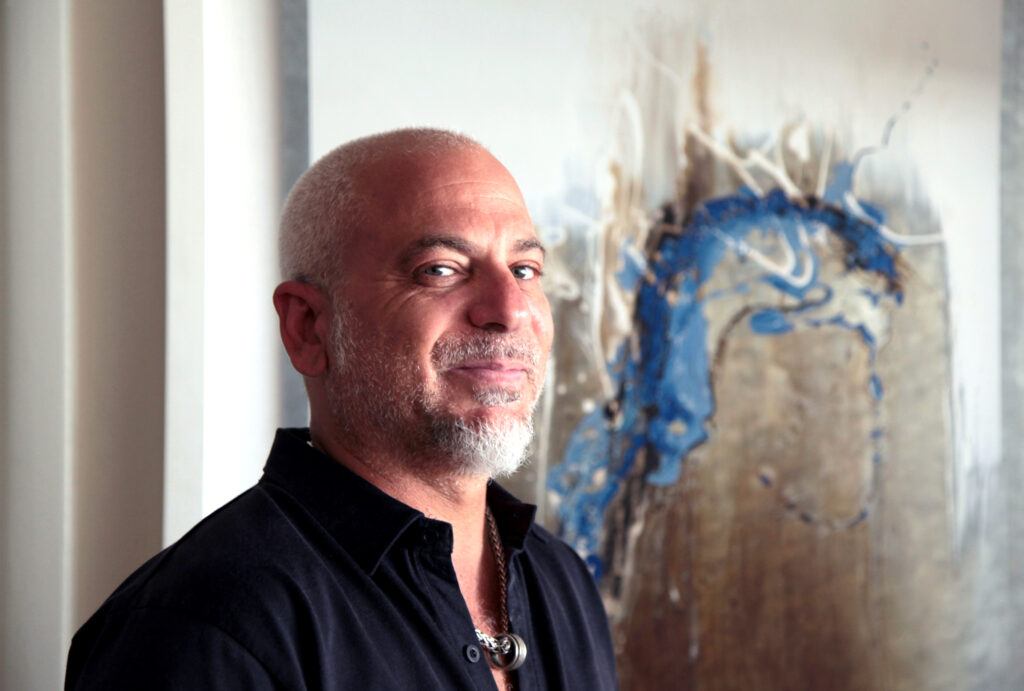 From an early age, self- taught, Israeli-born Igal Fedida demonstrated an intuitive penchant for the arts. Painting has always been a special process for Fedida that allowed him to draw upon his Jewish Morrocan background and intertwine art with that of the complex, universal human pursuit of spiritual truth. Fedida's unconventional artistic style has emerged into one that utilizes raw, construction materials in a free-spirited, vibrant manner that highlights contrasting colors and forms to depict his exploration of Life's dichotomies as well as his relationship with religion and G-d. The Genesis Series, currently on display in Miami and now in Safed, is Fedida's chromatic treatise on the meaning of Creation. Fedida shares his life and work between Miami and Safed, with his supportive wife and four beautiful children.
Tell us a little bit about yourself and your background.
I was born in Israel and moved to the States right after my service in the army, begun my career as a General Contractor in Los Angeles and later on in my life have switched to the Arts.
What inspired you to become an artist?
From an early age, I demonstrated an intuitive penchant for the Arts.
What is your specialty?
Abstract Expressionism with Symbolism, mainly through painting and sculpting.
How and where do you work?
I work at my Studio/Gallery. Currently I own two. My base is in Miami, Florida, but I share that time with my other studio in Tzfat (Safed) Israel.
What is the most indispensable item in your studio?
My soft brushes, enamel paints, chop-sticks, metals, blow-dryer.
Where do you take your inspiration? Are you pursuing any themes?
For over a decade now, I paint the Philosophical Journey of Being. I draw my inspiration from the moment prior to Life (Void), and the moment of Creation (Life).
What projects are you currently working on?
The Genesis Series (as mentioned above). It is currently on display in Miami and Tzfat.
The series reflects my soul-searching journey of a lifetime, steeped in the meditation of Biblical, Talmudic and Kabbalistic sources, in a search for Meaning and the emotional and artistic meeting points with G-d.
What is/are your favourite item/s in your current collection?
I can't answer that; my pieces are my like my children.
How do you know when a piece is finished?
I have few "signs". One relates to the aesthetic aspects of the piece. I turn the painting on its four sides, and if balanced on all four sides, I know it's done. The other "Sign" relates to the Soul. I know and feel when the painting tells me when is the last stroke.
Do you do bespoke work?
Usually, I do not. However I do get requests at times here and there from collectors of mine who saw a piece, fell in love with it, and they need something similar/on the same feel but bigger or smaller in size.
I DO NOT however take any requests of adding/subtracting different colors, different styles or copying others – every piece is original and unique.
What was the first artwork you ever sold?
I remember selling my first professional painting in 2005. It was a 24"x48", acrylic painting on canvas for $1,500 to a lady from Los Angeles.
Which project have you enjoyed working on the most so far?
I had many – almost every day now for the past 10 years!
If I needed to pick one, I would have to choose a project I did for a collector of mine from Toronto, Canada. I painted a 3'x16' ft painting on metal, which was then converted into a carpet by an Indian group. Amazing!
What do you want to achieve with your work and what are your wishes for the future?
I want to reach as many hearts as possible. My wish is that G-d will continue blessing me with the ability to keep on painting and be to be able to support my family through my creation.
Where can we find your work?
www.igalfedida.com
Facebook & Instagram