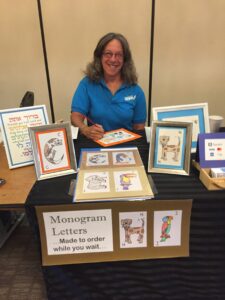 Photo: Courtesy of ChaiSigns18
Tell us a little bit about yourself and your background.
I am a 62-year-old mom of two terrific young adults. Hubby and I met on Kibbutz Maagan Michael's Ulpan and we have been happily married for 33 years. I'm a competitive swimmer and have medaled in local, national, and international swim meets. I recently retired after teaching for 32 years!
What inspired you to become an artist?
I've been creating art for as long as I can remember, first for family and friends, then for others. I've taken a few, very few, art classes, but for the most part am completely self-taught. The joy I see in the faces of those receiving my artwork inspires me to continue creating.
What is your specialty?
My specialty is making illustrations of animals into the shapes of letters. I've created alphabets in Hebrew and in English to use in my original, handmade, Name Art.
How and where do you work?
I work with pen and colored pencils in my home studio in between caring for my husband who was paralyzed from a stroke.
What is the most indispensable item in your studio space?
The most indispensable items in my studio are my idea notebooks and numerous animal photos that I use for inspiration.
Where do you take your inspiration? Are you pursuing any themes?
I'm inspired most by life cycle events: Birth, Brit Milah, Baby Namings, Birthdays, Bar and Bat Mitzvahs, Weddings, Anniversaries, etc. I'm always interested in nature and my surroundings as I travel.
What projects are you currently working on?
In between creating name signs, I'm currently working on keeping my Kindness Box filled with painted rocks to share with the neighborhood.
What are your favorite items in your current collection?
One of my most favorite items is the anniversary artwork I created for my parents' 50th wedding celebration. Generally, I love the items that have brought joy to the recipient. I especially enjoy hearing that a child is using my animal letters to learn to read!
How do you know when a piece is finished?
Whenever I think I'm finished with a piece, I usually ask my hubby to help me decide. He has terrific color sense and a great eye for details.
What was the first artwork you sold?
Hard to remember when my first Name Sign was sold, but it was probably around 1975.
Which project have you enjoyed working on the most so far?
I've enjoyed watching my artwork evolve through the years. I love looking back through my idea notebooks and seeing the changes. I think that I've most enjoyed creating a new animal letter. It's awesome to see something go from an idea in my head to reality on paper.
What do you want to achieve with your work and what are your wishes for the future?
I hope that my artwork brings smiles to brighten our world. In the future, I would love to have my animal letters in front of more children to encourage reading with joy from a young age.
Where can we find your work?
My work can be found on Instagram @ChaiSigns18 and on Facebook ChaiSigns18. It can also be found on the walls of homes in Israel, Switzerland, England, and across the United States.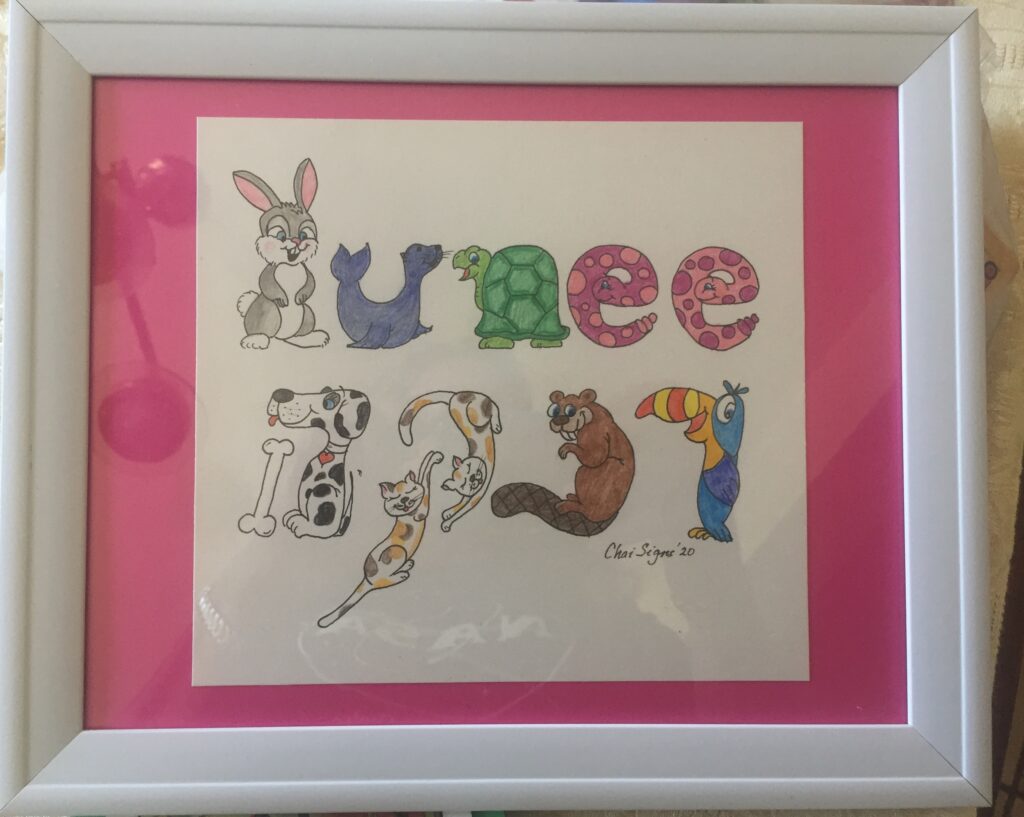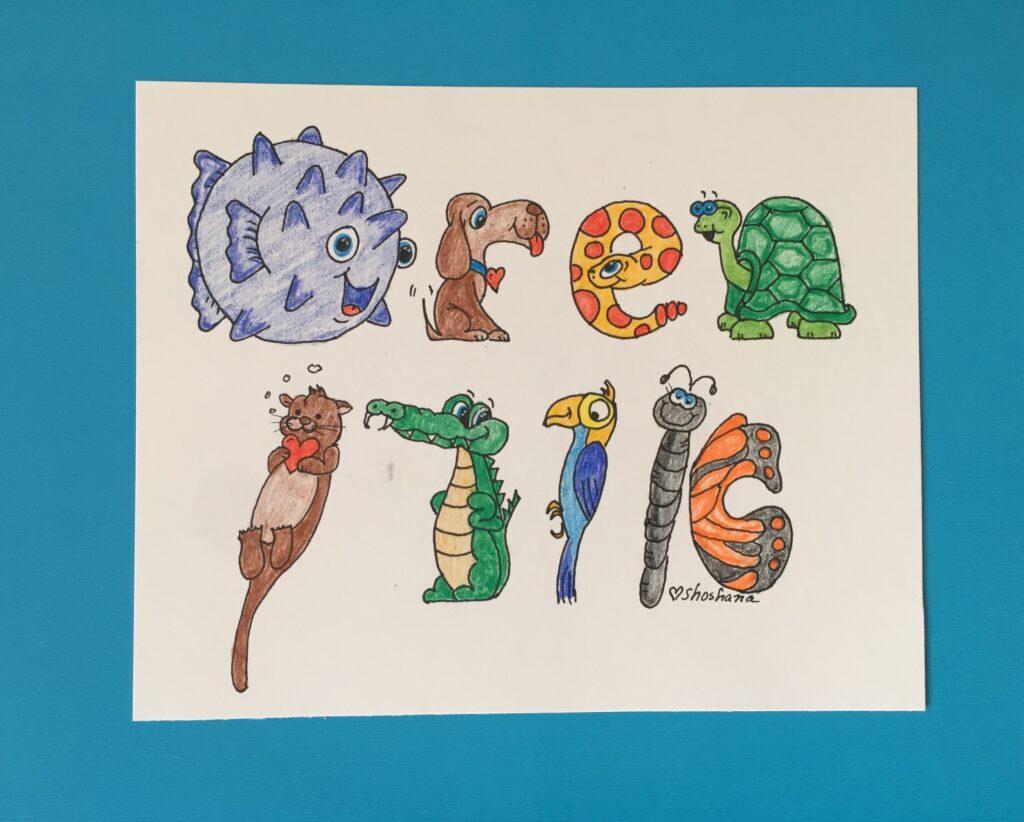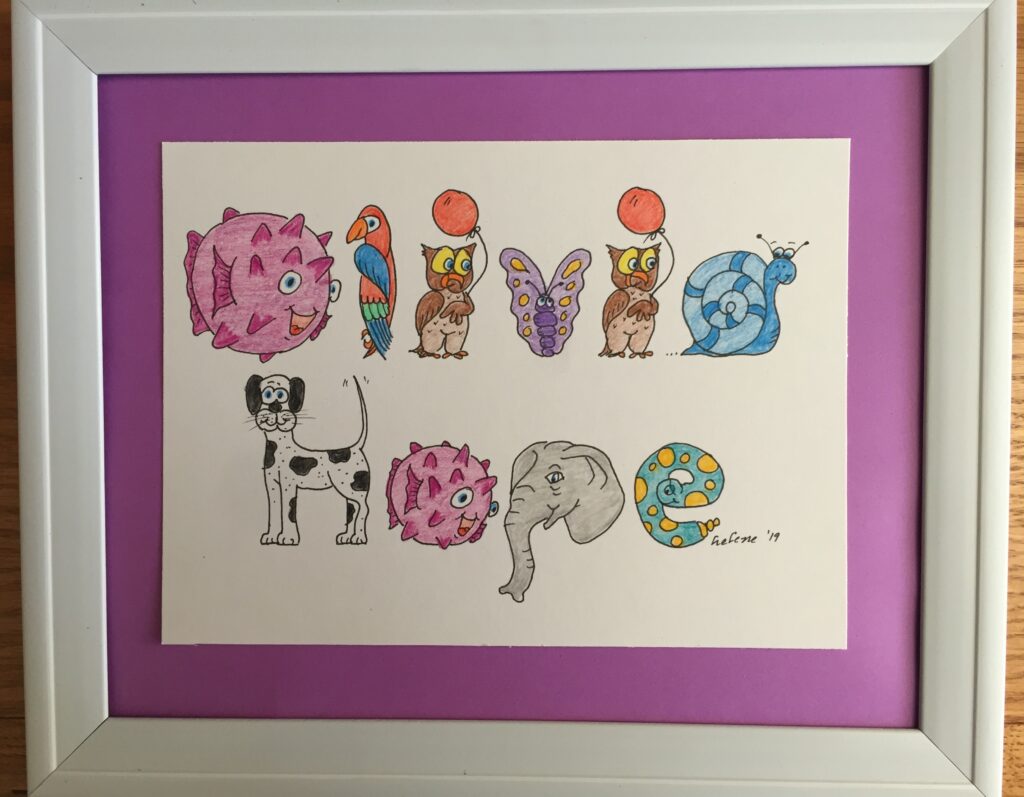 Photos: Courtesy of ChaiSigns18