Photo: Courtesy of Hayley Edelmann
Tell us a little bit about yourself and your background.
Hi, I'm Hayley, I grew up in the UK seaside town of Southport, went to art college in Liverpool then Newcastle after which I moved to London where I met my Israeli husband who was studying architecture at the time. We made Aaliyah soon after marrying and settled in sunny Ra'anana where our first son was born
What inspired you to become an artist?
I've worked in a few different fields but have always enjoyed creative hobbies, it's a great way to relax and for me a therapeutic outlet. During the time I was raising my three boys I worked in hi tech in Israel and moved back to Manchester England with my husband during the Intifada where I retrained as a Driving Instructor. It wasn't until we were thrown into lockdown that I had time to develop my art and turn it into a business.
What is your speciality?
My best sellers are my Mezuzah Cases. Mostly made to order, each design is bespoke and can be made according to colour and two size options. I work with polymer clay on glass which once cured and resin glazed is weather proof and suitable for use both indoors and outdoors. I also make reversible candlesticks which can be used with tea lights or tall Shabbat candles, these are extremely popular Bat Mitzvah gifts, New Home, Engagement and Wedding gifts. Not to mention a range of jewellery, vases, bowls, kiddush cups and I can embellish any glassware.
How and where do you work?
As it's a while since we've had guests, I have taken over the dining table and currently work from home.
What is the most indispensable item in your studio space?
My electric sugar craft roller is my most treasured piece of equipment, it conditions the clay and enables me to make beautiful colour blends and mixes. That being said, these machines are not made for clay and having already destroyed several pasta machines and one electric sugar craft roller I now make sure to have one in use and one in stock, just in case.
Where do you take your inspiration? Are you pursuing any themes?
I was recently commissioned to make a purple marbled Mezuzah case embedded with smashed Chuppah glass which came out beautifully and was the perfect Wedding keepsake for the bride and groom, the leftover glass I preserved in a matching resin heart and stand coloured with purple swirls and led lights intertwined around the glass shards.
What projects are you currently working on?
I'm currently working on a client commissioned Mezuzah for a Wedding gift going to America.
What is or are your favourite items in your current collection?
Definitely has to be the Chuppah Glass Mezuzah, very special Wedding Keepsake, fabulous idea.
How do you know when a piece is finished?
I go on instinct regarding the design but the curing and resin glaze is a process which I have perfected over time.
What was the first artwork you ever sold?
A Jerusalem Stone marbled Mezuzah case was the first piece I sold.
Which project have you enjoyed working on the most so far?
The Chuppah glass project was a new technique for me and I really enjoyed figuring out how best to place the glass in the clay and then having a dabble with resin to make the heart and stand.
What do you want to achieve with your work and what are your wishes for the future?
I'd like to develop the Chuppah Glass Keepsake Collection.
Where can we find your work?
Instagram @forgetmenot_creative
Facebook: @Forgetmenotbyhayley
http://www.forgetmenotbyhayley.etsy.com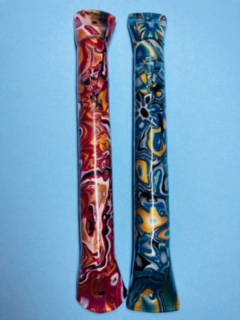 Photos: Courtesy of Hayley Edelmann