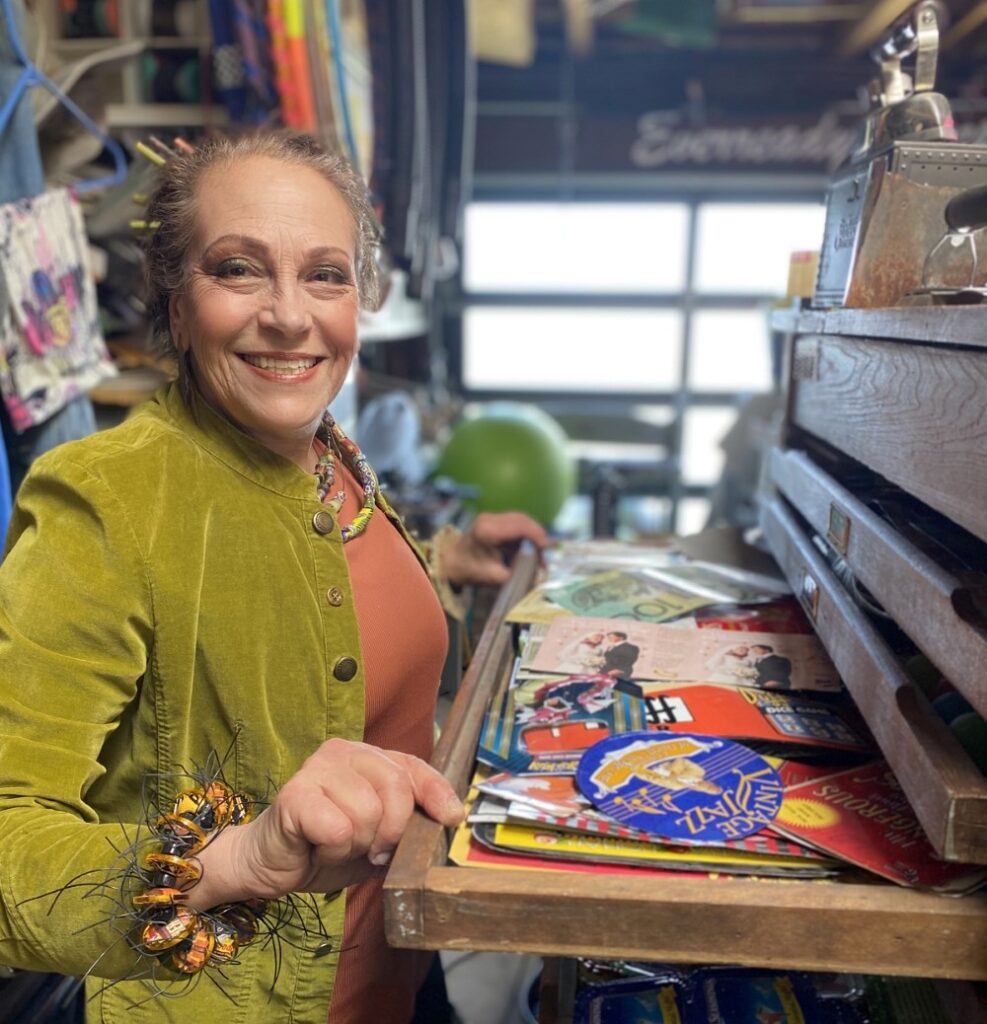 Photo: Courtesy of Harriete Estel Berman
Tell us a little bit about yourself and your background.

My metalworking skills are extensive, developed through many years of experience and an academic education (BFA and MFA with a major in metalsmithing). In addition to my artwork, I have done silver repairs on sterling silver and silverplate for over 40 years including antique Judaica.

In 1988, I radically changed my artwork to focus exclusively on using recycled materials removed from the waste stream of our society. At that time, there was no curb side recycling – "Reduce, reuse, recycle" was not a topic in the news. When I first started working with tin cans, it was embarrassing and dismissed as a lowly medium, but I wanted to incorporate this environmental and social statement into my work.

Yet, it wasn't until 1997 that I made my first piece of Judaica from recycled tin cans.
What inspired you to become an artist?

From my earliest memories, being an artist was the only thing that I imagined myself to be. I recall an early childhood memory of my mother making a Purim costume for me. The outfit included a sign that read, "I am a Reform Beatnik." This was the 1950's, when Beatniks in New York City were the epitome of non-conformists and the artist lifestyle. Since my family members were Reform Jews, I understood the pun, but even more so, I identified with being the beatnik artist of my time.
What is your speciality?

All of my Judaica is constructed using recycled tin cans and vintage steel dollhouses (rooted in the idea of Tikkun Olam – repair the world). By using materials removed from the waste stream of our society, I am hoping that people also become more aware of the overabundance and waste of our consumer culture.

There is a deliberate tension between my refined, technical skills and my use of humble materials that most people would throw away. In addition, the brand names, text and images on the post-consumer tin cans contribute added meaning to my work. As an example, this metal book titled, "And There Was Light" holds a spice box (Besamin). The images were constructed from old metal spice tins. On one side of the book are the seven days of biblical creation. On the other side are a series of the achievements and ingenuity of humans.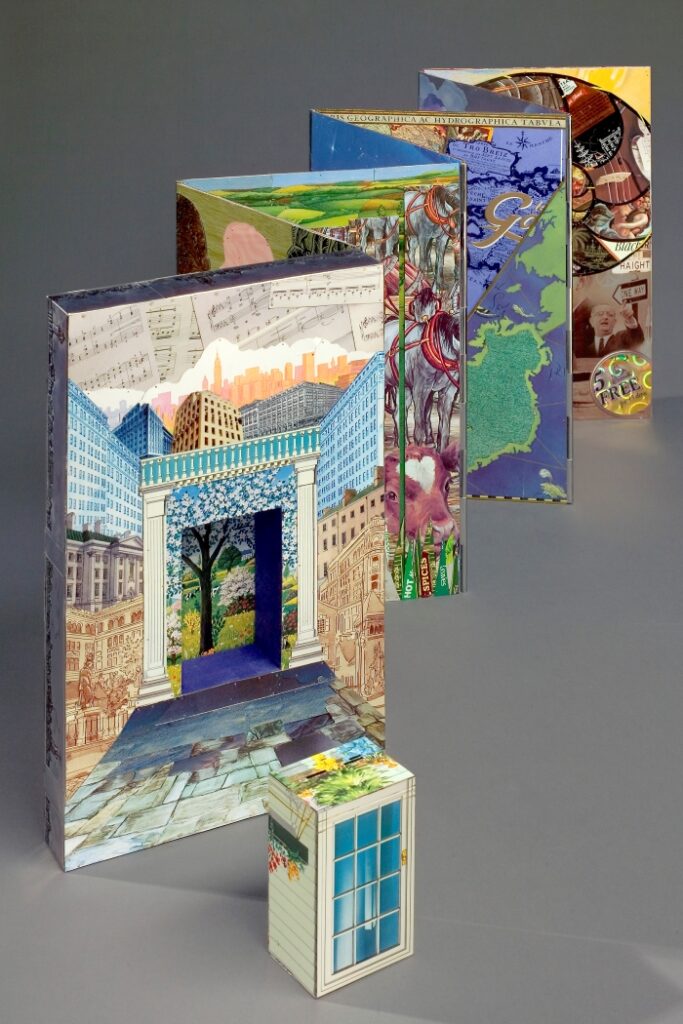 Photo: "And There Was Light" – Courtesy of Harriete Estel Berman
Where do you take your inspiration from? Are you pursuing any themes?
Inspiration comes from social observation, conflicting thoughts circulating inside my head, a messy turbulent, restless, percolating brew of ideas. My work takes so long, I never have time to make all my ideas. Life events and many other commitments seem to be constant distractions from making.
For the past several years, I have been working on a series titled, "10 Modern Plagues." Although I started this series eight years ago, I feel the painful irony that the entire world is currently experiencing the modern plague of COVID. This series will consist of ten major pieces, so it is a long term goal.

I define each of the 10 Modern Plagues as being something caused by global urbanization and industrialization. Each modern plague has a parallel to a biblical plague.
As an example, the first biblical plague was blood. My modern plague is "Water Pollution and the Need to Provide Clean, Affordable Water. "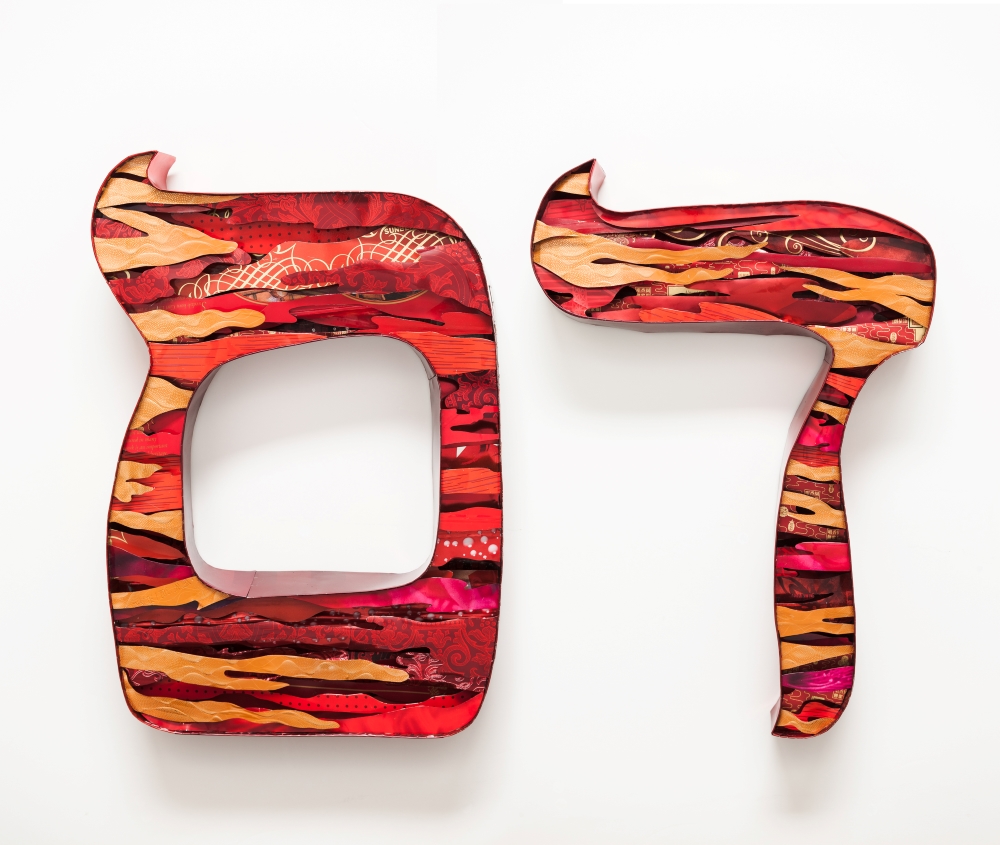 Photo: Courtesy of Harriete Estel Berman
Do you take on commissions and create bespoke designs?
I have taken on commissions for Judaica Collections. Two examples are the Seder plates for the Jüdisches (Jewish) Museum in Berlin, Germany and for Temple Emanuel in San Francisco.
The Jüdisches (Jewish) Museum, Berlin wanted a Seder plate from the series, "An Orange Belongs on the Seder Plate."

The commission for Temple Emanuel in San Francisco was inspired by the painted patterns on the ceiling and the divided light of their windows for their historic synagogue completed in 1926. The use of a Trivial Pursuit tin in metallic blues echoes the pursuit of the Jewish people by Pharaoh's army . . . and the ongoing journey of the Jews over the millennia.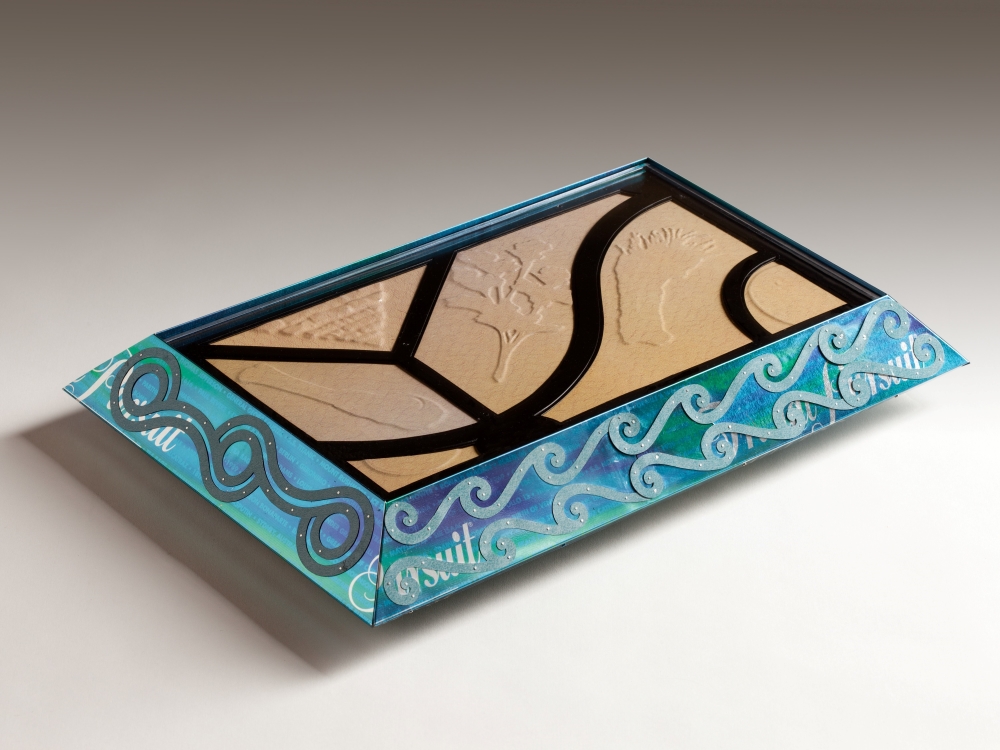 Photo: "Millennium of Pursuit" – Courtesy of Harriete Estel Berman
Which project have you enjoyed working on the most so far?

It is hard to say that I ever "enjoy" making my artwork. It is more that I am driven and determined to bring my ideas to reality – it is always an intense experience and very difficult. Every single time, it is a struggle, a physical and mental challenge to clarify and manifest many thoughts and concepts into a physical entity. Every piece is one-of-a-kind and always with the goal of stretching my artwork into new domains; not just with the fabrication of the work, but generating levels of meaning and content with my choices of shapes, materials and imagery. If there is any "enjoyment," it's ultimately knowing that my work is shared with a larger audience, whether online or in a museum exhibition. Likewise, I am grateful that you are sharing my Judaica with your audience.
What do you want to achieve with your work and what are your wishes for the future?

An overarching goal is to create Judaica that people have never seen before. While honouring tradition, I want my Judaica to expand the viewers' perceptions beyond one interpretation and broaden their awareness of social responsibility by their actions.
In Donate Life I wanted to raise awareness that the highest form of Tzedakah (as defined by Maimonides) was when the giver and the receiver did not know one another. In an expanded interpretation of Tzedakah, we can donate blood, become an organ donor, or participate in medical research to save lives or create new futures.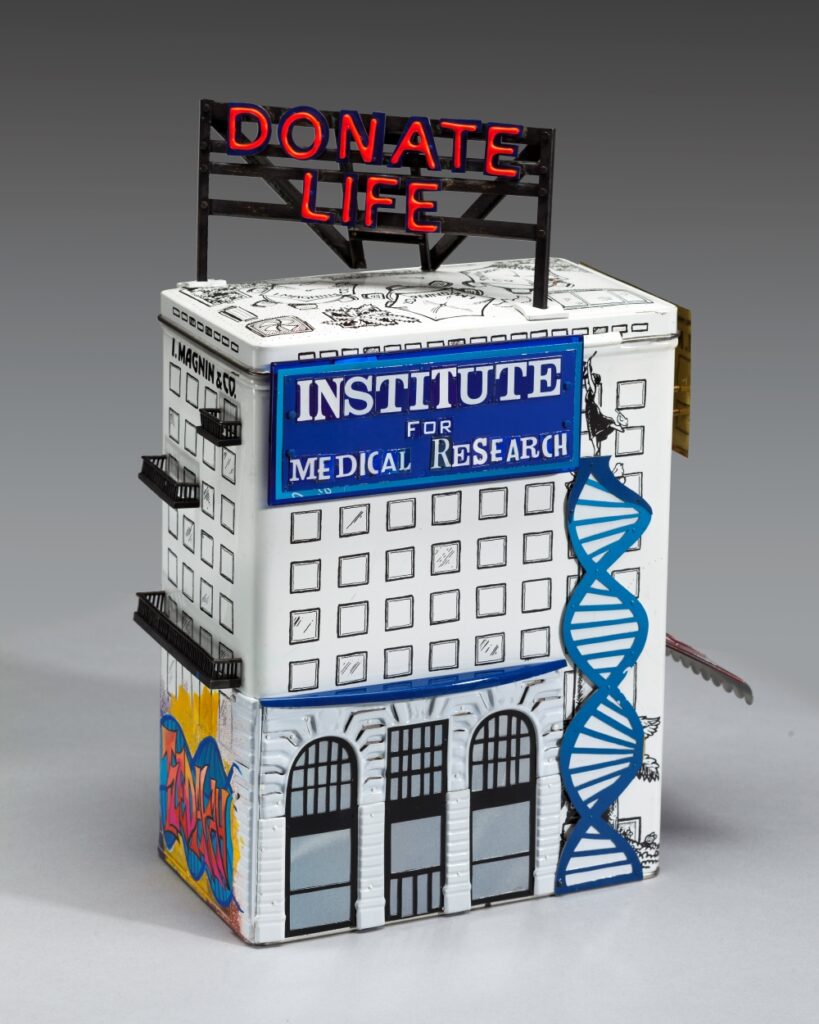 Photo: "Donate Life" – Courtesy of Harriete Estel Berman
Where can we find your work?
Website https://harrieteestelberman.com/judaica-from-recycled-materials
Instagram https://www.instagram.com/harrieteestel/
Facebook http://www.facebook.com/harriete.estel.berman
Pinterest http://www.pinterest.com/harriete/
YouTube http://www.youtube.com/user/hbermaid
Twitter http://twitter.com/harrietee
LinkedIn http://www.linkedin.com/in/harrieteestelberman