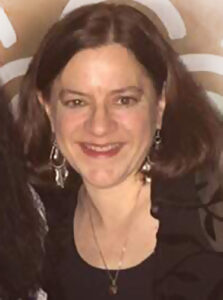 Photo: Courtesy of Harriet Goren
Tell us a little bit about yourself and your background.

I'm a lifelong New Yorker, where I grew up attending (but not really paying much attention to) an Orthodox synagogue and Hebrew School. I was an undergraduate painting major at Yale, where I also did a lot of choral singing, and after college embarked on a wonderful career as a graphic designer. One day years later, and also after years during which I had little connection to Judaism, I took the advice of a friend and went to a synagogue known for its dynamic musical services, and a funny thing happened: I liked it. The rabbis' words and the community's commitment to social justice were to my surprise relevant and about real life, my life. I became an active member, and pursued my love of singing by learning how to chant Torah. I soon discovered that each Torah scroll has a slightly different and quirky personality based on the handwriting of its sofer (scribe), and the designer part of me looked forward to seeing the shapes and rhythms of those words week after week.

I tried to imagine what other texts and prayers, and their music, would look like. I love typography (I created a font, Morire, that had its 15 minutes of fame in the 90s), and began to experiment with Hebrew letterforms combined with digital paint. The resulting art is not always legible, or meant to be read literally, but rather tries to capture through shape and gesture how I experience some of my favorite Hebrew texts.
What inspired you to become an artist?

I honestly can't remember a time in my life when I wasn't making art. My earliest memories from when I was 2 or 3 years old are of defacing—I mean, drawing on!—random pieces of paper that my parents left lying around. About ten years ago, I began to miss the personal expressions of drawing and painting. So I began to explore those media in new ways, on digital platforms, incorporating my ever-evolving Jewish journey.
What is your specialty?
I create artwork that combines color, texture, and hand-drawn lettering of selections of Hebrew prayers, psalms, and poetry. My canvas for this art is mainly fabric that's printed with my artwork, which I then sew and tie tzitzit (fringes) onto and turn into tallitot (prayer shawls). I also print my artwork on paper as a giclée prints, and design challah covers, as well.
How and where do you work?
I have a studio/office area in my New York City apartment where I work on both my graphic design and Judaica artwork businesses.
What is the most indispensable item in your studio space?
My iPad Pro and Apple Pencil. Although I still sometimes sketch with an actual old-fashioned real pencil, colors, paint, and textures are all applied on my iPad and Mac.
Where do you take your inspiration? Are you pursuing any themes?
I am constantly inspired by the beautiful Moorish architecture of my synagogue, as well as the colors and shapes in art and the natural world. Every prayer and psalm I read is a new source of imagery to expand my imagination. I recently moved and my windows now look out on the Hudson River, so I've also been trying to capture the colors of amazing sunsets.
What projects are you currently working on?
I've finally figured out how to make larger tallitot, the kind you put on and then flip over your shoulders (to date I've only created the smaller, shawl-style versions), so am excited to be working on some new designs for those.
What is your favourite item in your current collection?
One of my favorites is a print entitled "Kol / Voice," based on verses from Psalm 29: "The voice of God hews flames of fire / The voice of God makes the wilderness shake." The shapes and colors were inspired by the beautiful voice of the hazzan (cantor) at my synagogue.
How do you know when a piece is finished?
There comes a point in the process when a design just feels right in my heart and gut, and says what I had hoped—or perhaps says something I didn't initially have in mind, but that developed during the process to teach me something new. It's always an exciting and satisfying moment.
Do you do bespoke work?
Yes!
What was the first artwork you ever sold?
A print meant to be used as a mizrah (east, indicating the direction to face during prayer), a very encouraging start.
Which project have you enjoyed working on the most so far?
They have all been enjoyable and challenging in very different ways!
What do you want to achieve with your work and what are your wishes for the future?
I began creating this artwork to express my ideas about and reactions in visual form to my explorations of Jewish liturgy. As more people purchase my prints and wear my tallitot, especially young people becoming b'nai mitzvah, and women taking on this new ritual for the first time, I am moved by their choice of my images to mark important moments in their lives. I hope to continue making art that says what's in my heart and also adds to the ways others celebrate their own Judaism.
Where can we find your work?
www.etsy.com/shop/GorenJudaica
www.instagram.com/harrietrgoren
www.pinterest.com/harrietrgoren
www.goren.com (graphic design work)
Photos: Courtesy of Harriet Goren