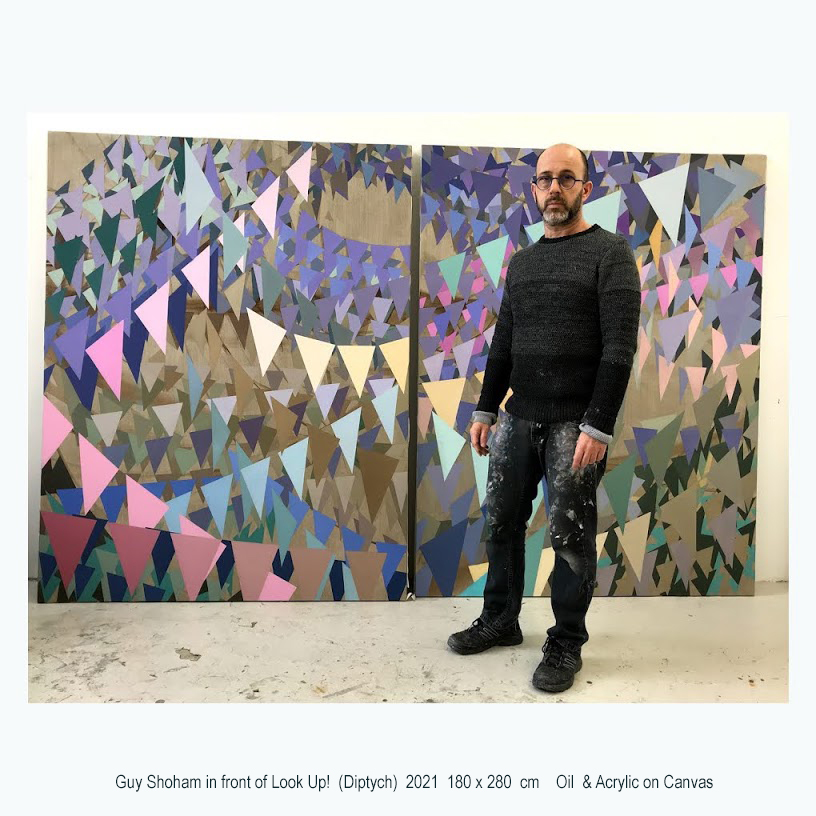 Photo: Courtesy of Guy Shoham
Tell us a little bit about yourself and your background.
I grew up in a small town on the outskirts of Tel-Aviv. At the age of 12 I started to study art with some inspiring teachers, and it was then a natural progression to study at the Bezalel Art Academy in Jerusalem. I graduated with BA in 1996. In 2002 I attained an MA with distinction from Chelsea College of Art in London and in 2003 I received a scholarship to attend the 'Drawing Year' programme at the Royal Drawing School. Since then, I have lived and worked in London.
What inspired you to become an artist?
I always knew I was going to be a painter. During the festival of Purim when I was 9, I decided to dress up as a painter. I had white hospital scrubs that I turned into an 'artist's' apron by splashing some red paint on them. My father, a wood merchant, managed to cut a big palette for me, made out of a very heavy MDF, and my mother drew a stylish Dali moustache above my lip. Proudly I walked to school realising very soon that the palette was too heavy to carry around. I left it in the classroom, only to realise that without my essential prop I just looked like a butcher or a serial killer. This did not deter me from choosing art as my major in secondary school.
I was lucky to have access to the collections at the Tel-Aviv museum and an exhibition of drawings by Egon Schiele left a lasting impression. In the summer holidays I was able to travel and see shows like James Ensor at the Rijksmuseum. I had a memorable visit to London's National Gallery when I was 14.
What is your specialty?
My specialty is painting with oil on canvas. I like the flexibility and playfulness of the media. At Bezalel, the emphasis was on conceptual art. We were trained to question and to stretch the boundaries of our thinking. After graduation, I felt that I needed to hone my technical skills, so I attended the Jerusalem Studio School which was run by Israel Hershberg. There I learned observational skills, the craft of painting and the importance of a daily studio routine. My practice is a synthesis of the conceptual and observational approaches.
How and where do you work?
For the last 15 years I have been working from a succession of studios in Brixton. During the last year I have been able to carry on painting in the studio safely because I can walk there. I only work in daylight, so I get to the studio after breakfast and usually paint until the sun goes down.
What is the most indispensable item in your studio?
My Sony earphones are indispensable. I am obsessed with Baroque opera which I listen to from the moment I walk into the studio until the moment I leave in the evening. It has always helped me to focus on the work.
Where do you take your inspiration? Are you pursuing any themes?
Inspiration is everywhere: looking, dreaming, thinking, reading, 24/7. Any experience can find itself processed into my work. I collect images and these days I always take photos of strange things which might appear in my work at a later date.
Do you do bespoke work?
I work on my own ideas and painting series. Rarely, I will take on a commission to create something in line with one of my series.
What projects are you currently working on?
I am working on a series of big scale paintings of bunting/flags. The paintings start as freehand linear drawings. The lines sweep across the canvas, creating a map of junctions; a bare, skeletal, collapsing grid. The linear drawing dictates the direction of the painting. On top of the drawn "carcass", fields of colour are painted to create the "flesh", draped between earth and sky. They hold the meaning and the reasons for the painting, or they may distract the eye from what lies beyond.
The triangular flags imply some messages to the viewer. Sometimes it is a smile with big white teeth. At other times it's a wave vibrating in the wind, or a joyous celebration, or a warning, pointing the way to safety. The movements bring life and energy to the static canvas.
We understand the messages. We are trained to react, and we respond without further question. But should we trust them?
What is or your favourite items in your current collection?
My favourite painting is Look Up! ­­­­It is 180cm x 280cm and is the largest painting that I have tackled to date. I hope it will be a starting point for more large-scale work. The work is a development of ideas and themes that I have been working on for some time, but the scale adds real power. My intention is to give the viewer a different, more wholesome, and meaningful experience.
How do you know when a piece is finished?
Painting is such a physical activity, so I do feel the process of painting in and on my body. It is hard to explain but when I paint as if my body and the canvas become one. When something is wrong, I sometimes feel an imbalance or additional weight in my body. Sometime the painting stops demanding attention which is a good sign that it is finished. Some paintings are easier to finish than others. Sometimes I need to finish another painting to understand how to finish the previous one, or just give it a rest for a few days and the answer will come to me. However, no painting is 'safe' or 'finished' until it leaves the studio.
What was the first artwork you ever sold?
When I was a student, I sold a few paintings to friends (very cheaply). These were mainly nude figurative studies. It was an amazing experience and I got great feedback. The first 'professional' artwork sale was at my graduate show in Bezalel. That was the moment I understood that I could make a living as a painter. It was a realistic painting of a striped shirt, as if stretched from one sleeve to the other.
Which project have you enjoyed working on the most so far?
More than two years ago I started to work on 'Painting Machine', a book that showcased 10 years of my practice. It was an opportunity for me to look back on the last 10 years. To see the evolution of ideas and images and curate the book in a way that shows the path I took, from small scale realistic still life to big scale abstracts or semi abstracts. I had to collaborate with a team which included the editor, designers, photographers, and writers. It was a very demanding project, emotionally and financially, with no escape route. I love the result and I learned a lot on the way. The process forced me to think about my work in a more structured way.
What do you want to achieve with your work and what are your wishes for the future?
I would like to combine traveling with opportunities to show my paintings in museums and galleries around the world. For the future I would like shows, more collaborators and more fun. I have just started working with some artist friends on a new book and I hope to find a space to exhibit my new series 'Looking for the Horizon'.
Where can we find your work?
My work can be seen on the following links, and you are welcome to visit my studio in Brixton at any time:
https://www.instagram.com/g.u.y.shoham/
https://www.saatchiart.com/guyshoham
"Painting Machine: Guy Shoham" can be bought on Amazon or from
Photos: Courtesy of Guy Shoham