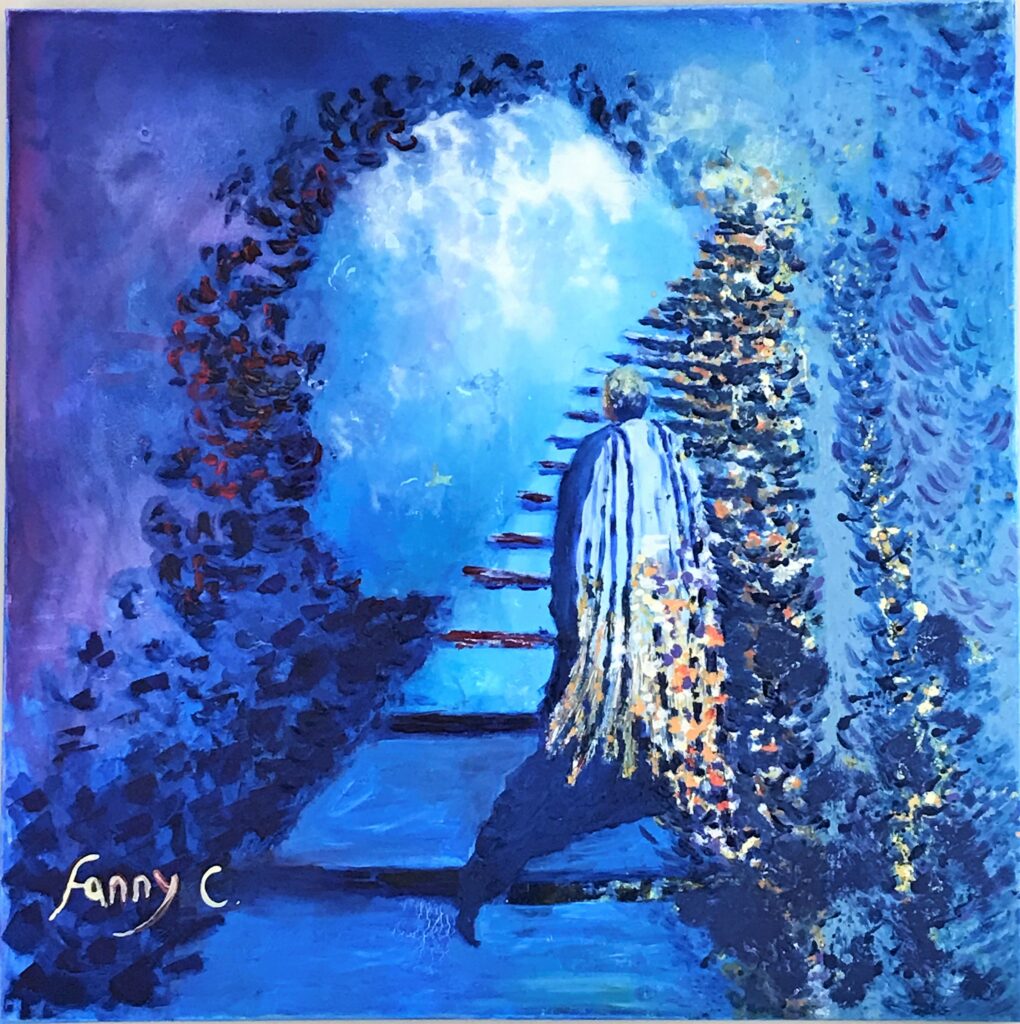 Fanny Chodosh, Israeli born artist, enjoys creating beautiful personal works that move the soul. Her passion shows through inspired by spiritual motifs, architectural relics of Jerusalem. She loves the intricacy of hidden alleys with beautiful arches, mystical tunnels from biblical times, and off the beaten track spaces in the Old city. "I love archaeology and reading about the new discoveries- it feeds my palate and reflect my deep connection to Israel." She employs an abundance of colours and textures in her oil paintings to convey the vibrancy and illusion of her subjects. Her pen and ink drawings capture the passion of the city featuring music, architecture, Jerusalem stone, and allegorical religion.
Fanny studied at the Moore School of Art in Philadelphia, PA and continued her education at Penn State University where she graduated with high honors.
Fanny's paintings are unique, spiritual, historical, and current to the times we live in wrapped up with the past. She creates artwork that leaves the viewer asking questions, seeing something different each time they view it, living the passion and being intrigued. She looks at the past 70 years since the birth of Israel and brings it to life with her passion.
Tell us a little bit about yourself and your background.
I was born in the south of Israel, known as the desert. I flourished from the love of my family to become the mother I am today. I learned about the struggles of life in the desert and watched the progression of the country and it's people to feed my inner soul and create my works of art.
What inspired you to become an artist?
I was inspired to become an artist from a young age. My mother was a huge influence to me. She brought out my creative juices in everything I did from cooking to making tapestries. Drawing came naturally – sketching designs for holiday dresses taught Fanny perspective. My paintings today incorporate many of my early lessons with my mother.
What is your specialty?
Oil paintings and pen and ink drawings
How and where do you work?
I find myself working on my art at all hours of the day or night whenever the spirit moves me. I've created an incredible studio that has become my second home. I also will work anywhere I have a pad and a pen. I find inspiration or it finds me.
What is the most indispensable item in your studio?
I love the sunshine that comes in from a large window in my studio. I always have a bright space in which to create. I sit for hours – stimulated by the sun.
Where do you take your inspiration?
I take my inspiration from the sights and sounds of the country.
Are you pursuing any themes?
Music, religion, architecture, and spirit.
What projects are you currently working on?
I am currently putting the finishing touches on an exclusive exhibit featuring over 60 pieces of my latest works of art.
What are your favourite items in your current collection?
I love them all! I don't release a piece unless I absolutely love it.
How do you know when a piece is finished?
That is great question. Sometimes, I'll think it is finished and I'll come back to it. Other times, I know it needs something else and when it comes to me, I'm able to finish it.
Do you do bespoke work?
Yes, I take my clients ideas and turn them into beautiful pieces.
What was the first artwork you ever sold?
My first work I ever sold was called "reflection". I remember the clients just fell in love with it the very first day we opened the gallery.
Which project have you enjoyed working on the most so far?
I find myself going from one piece to the next and enjoying the moment of creating. That way everything is fresh and my work doesn't get stale.
What do you want to achieve with your work and what are your wishes for the future?
I want to bring a smile to people's faces every time that look at one of my pieces. I hope that all these smiles make the world a better place!
Where can we find your work?
Rimonartgallery.com, rimon art on facebook, Instagram, updated etsy coming soon!