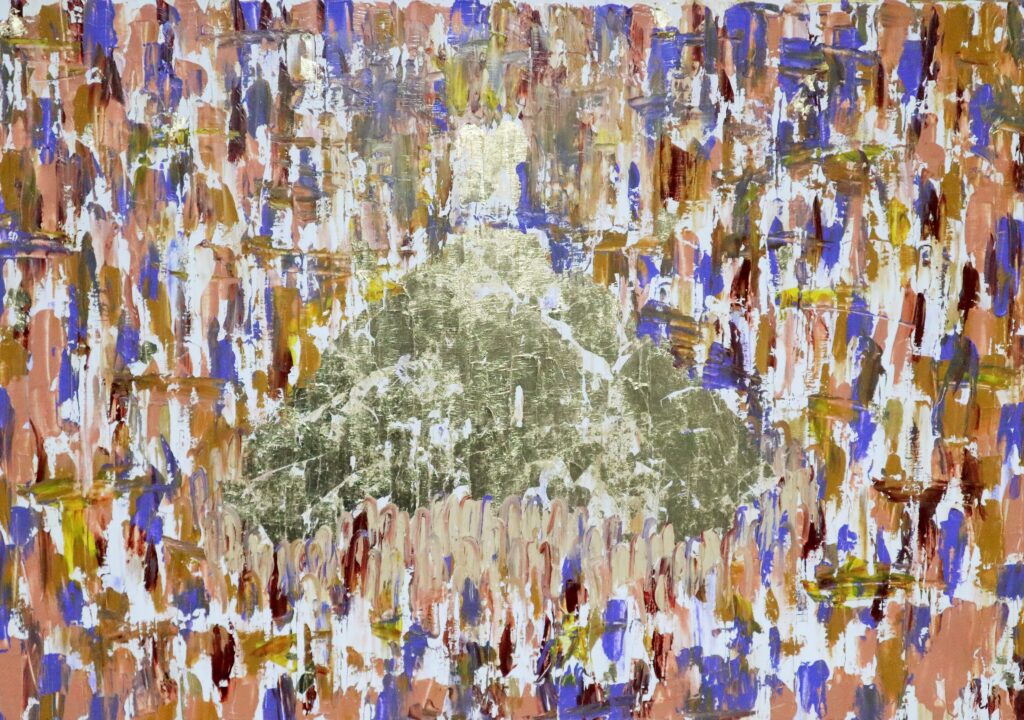 Photo: Courtest of Faigy Hager
Tell us a little bit about yourself and your background.
I am a mother of two adorable toddlers living in Passaic, New Jersey. I am also an occupational therapist and work full-time for the Newark public school system. I had been painting as an outlet for over 18 years when I decided to sell art on the side for fun.
When I started the process of selling I noticed that there were many other talented artists starting out who were having difficulty making sales, being that they were one individual in a sea of artists. It bothered me that there was so much unrecognized talent out there, so I created Faigy's Judaic Art Gallery This art gallery is a new concept in the Jewish art world, where it is creating a space for artists without a voice to showcase their work to the greater Jewish population. As a group of many artists together, we now have a voice!
What inspired you to become an artist?
I attended art classes since 3rd grade where I learned drawing, pastel and painting. I always loved anything crafty and creative so painting was a natural skill I honed even when out of art class and haven't stopped painting since!
So the truth is that I never formally decided to become an artist. It's the journey I chose to take when I was just 8 years old!
What is your specialty?
I specialize in contemporary art using oil paint and palette knives. This technique makes my paintings appear multidimensional, which gives them so much texture and life.
How and where do you work?
We live in a colonial, and hardly use the 2nd floor. I paint in one of the rooms upstairs and hope it doesn't get stained in the process!!
What is the most indispensable item in your studio space?
My palette knife without a doubt! I need a new one so badly, but each time I get a new one, it just doesn't work like the old one!
Where do you take your inspiration? Are you pursuing any themes?
My inspiration literally can come from anywhere! There is a saying by Van Gogh, "I dream of painting, and then I paint my dream". I usually think through an idea a few days in advance. I will then keep refining the idea while at work, relaxing or even sleeping! When I have all the details in place I start the hardest, but most satisfying part – painting my dreams!
Do you do bespoke work?
Definitely! I have a custom piece drying right now! Since I use thick oil paint, I need all my artwork to dry for an average of 2 months before shipping. It's hard for my customers to wait so long, but they say it's worth the wait!
What projects are you currently working on?
I work on many paintings at once and I have 3 that I am working on right now.
Candle lighting – I always dreamed of creating a painting of a woman lighting candles. This sacred commandment is one that we fulfill at the close of each week. Creating a piece that can encapsulate the moment was daunting, but I recently formulated a vision of the scene in my mind. I look forward to presenting a piece that is awe-inspiring in the near future.
Mattan Torah – I am going to be creating the mountain, tablets, and people out of gold leaves! I am so excited to see the final product on this one!
Jerusalem skyline – This painting is a contemporary piece featuring a gorgeous Jerusalem skyline. It is full of color and class! I will also be adding gold leaves to this one!
What are your favourite items in your current collection?
There is a funny pattern that I am noticing. Each time I love something, I hang it up somewhere in my house, and then all of a sudden it gets sold! I just sold the painting that was hanging above my couch so now the mattan torah painting will take its place soon! I wonder how long this new one will last before some happy customer purchases it! There is a magnificent modern piece in my collection that I absolutely love! I used it as the background of my website and feature it in almost all of my ads. It's a colorful painting of a hachnasas sefer torah. The colors are show-stopping!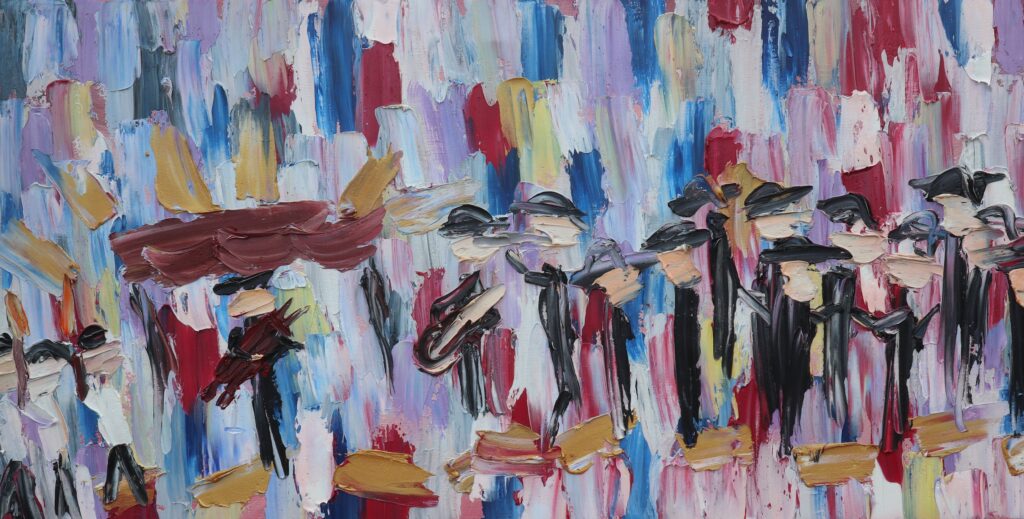 Photo: Courtest of Faigy Hager
How do you know when a piece is finished?
It's definitely hard to know when more detail in a painting will add or take away from the beauty. I usually stand back to absorb the overall effect of the painting. I look to see if I feel the "WOW" in regard to color, movement, and impact. If it does strike me as something special I run it by my greatest cheerleaders – my dear family!
What was the first artwork you ever sold?
I always promised I would never sell a painting of mine. Ever.
As a young artist, many relatives tried to convince me to sell one of my paintings to them, but I consistently refused.
Time moved on, and I simply ran out of space for all my art! It was a momentous and difficult decision I made when I finally decided to sell my first painting. The first painting I sold was one of chassidim dancing. I used colorful palette knife strokes. It's a cheerful painting, with many colors and I was sad to say goodbye, but at the same time very excited to begin the next step on my journey.
Which project have you enjoyed working on the most so far?
There is nothing as enjoyable to me as palette knife painting. So long as the palette knife is in my hand, I can assure you, I am having the time of my life!
I particularly enjoyed painting a piece called Festivals of Joy. In this painting, I incorporated several small pictures to represent each Jewish holiday. I especially enjoyed working on this painting because of the creativity and family involvement in finding the perfect item or picture to represent each holiday.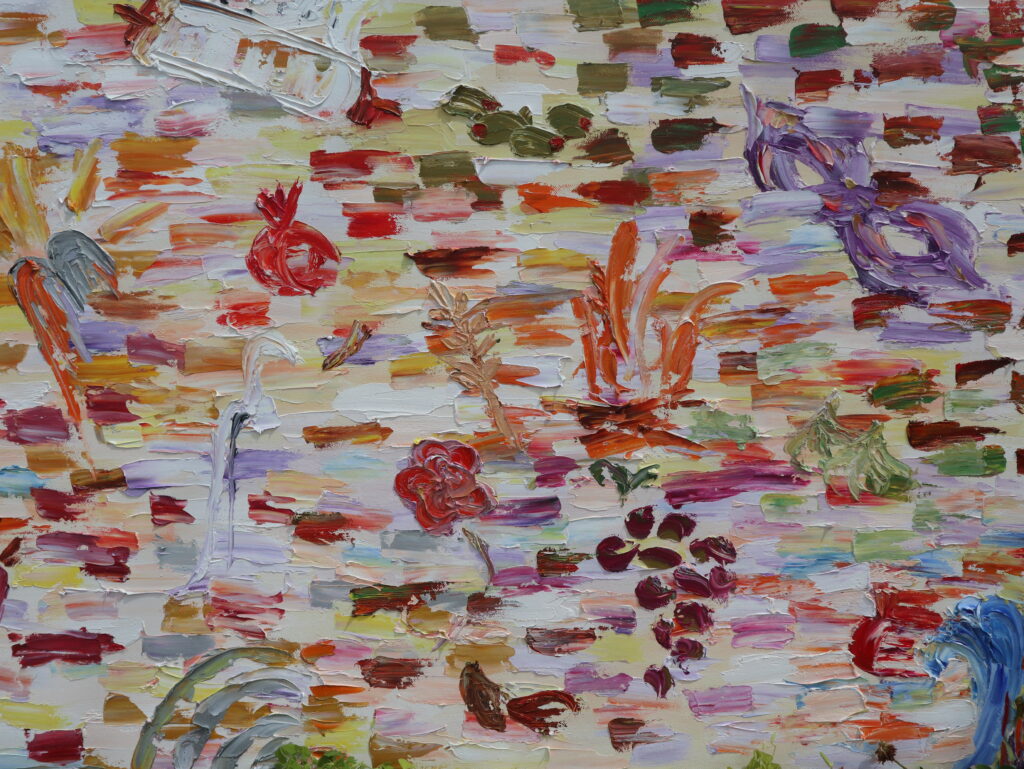 Photo: Courtest of Faigy Hager
What do you want to achieve with your work and what are your wishes for the future?
Painting is a hobby for me. It is not a job. I paint because I love, love, love painting! The more I paint, the better I get, so I'm constantly learning new skills to enhance my paintings.
Photo: Courtest of Faigy Hager
Where can we find your work?
My work can be found on faigyhager.com https://faigyhager.com/faigy-hager/
Instagram @faigys_judaic_art_gallery
And LinkedIn: Faigy Hager
Some of my pieces can be found on a new website that sells handmade Judaica at yidtsy.com