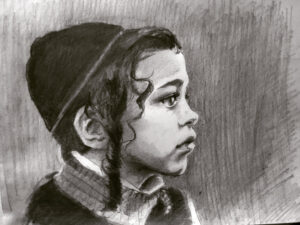 Photo: Courtesy of Esther Maxwell
Tell us a little bit about yourself and your background.
I was born and bred in Flatbush and enjoyed a childhood rich in religion and Jewish culture. I have always found so much beauty and authenticity in Judaism. My life's goal is to capture this beauty and to preserve it in my artwork.
What inspired you to become an artist?
I wanted to become an artist when I understood the verse we say in az yashir- "This is my G-d and I will beautify Him". This is my mission as an artist. It is my way of serving G-d. I have the opportunity to see so much of Judaism's charm and I want to spread this to others so that they can be inspired by it and use it to boost their connection to G-d.
What is your specialty?
Portraits. Ever since ninth grade I've been drawing portraits. I started out drawing the girls in my class, and then spread to drawing the people around me and specifically the Jewish people around me. Faces hold the most potential for communication to me and I enjoy the process of methodically capturing the character and the character's message in each portrait I do.
How and where do you work?
I do all my graphite work in a small 2.5' by 3.5' desk in my bedroom and all my paintings from my easel standing close by.
What is the most indispensable item in your studio space?
My TorahAnytime shiurim. Art can be crafted from almost any type of material- but you need a lot of patience and motivation. The shiurim I listen to keep me interested and stimulated even when working on a more systematic part of the art process; for example measuring proportions or shading large areas.
Where do you take your inspiration? Are you pursuing any themes?
Gadi Pollack is a HUGE source of inspiration for me. The man has accomplished so much in terms of beautifying and capturing religious themes. I aspire to reach his level of technique as well as his ability to highlight the delight in the Jewish lifestyle. I am working very hard on discovering which areas of Jewish life hold the most charm – is it the pre-upsherin boys with their long locks? Is it the elegant style of dress of the chassidim? Where do people see the most beauty in their religious life?
Do you do bespoke work?
I sure do.
What projects are you currently working on?
I am working on a series of child portraits. Children naturally have a lot of grace and when combined with Jewish themes they really highlight the sweetness of Jewish life.
What are your favourite items in your current collection?
I really enjoy the colorful portraits paintings I do. I feel they hold a lot of life and energy.
How do you know when a piece is finished?
When I can look at the piece from across the room and have it read back to me clearly. That is how I know that the proportions and composition is correct and that the values of light and dark are well defined.
What was the first artwork you ever sold?
My first artwork was an unsolicited drawing of a neighborhood house. After completing the drawing I knocked on the house's door to show my drawing to the owner. I was shaking like a leaf when the door was answered. This was my first time presenting my artwork and I didn't know how it would be received. The owner looked at my representation of her home and was so warm and enthusiastic about it. I wasn't planning on selling it, but her praise gave me the confidence to offer the piece to her. She accepted my price and actually gave me more for the piece than I had asked! I spent the next two month doing similarly unsolicited drawings and selling them to the home owners. I learnt a lot about perspective, line art, and business – but more than anything else, I learnt that my art is sellable and that you can make a living off of doing something that you love.
Which project have you enjoyed working on the most so far?
My paint pours. These pours are made by swirling wet runny paints over a wet runny surface to create blends of rich, soft patterns. I loved the spontaneity and vibrancy of the finished results. They are also a blast to create.
What do you want to achieve with your work and what are your wishes for the future?
I want to perfect my technique and ultimately support myself and my family though my art.
Where can we find your work?
I can be found at my Instagram page.
Photos: Courtesy of Esther Maxwell