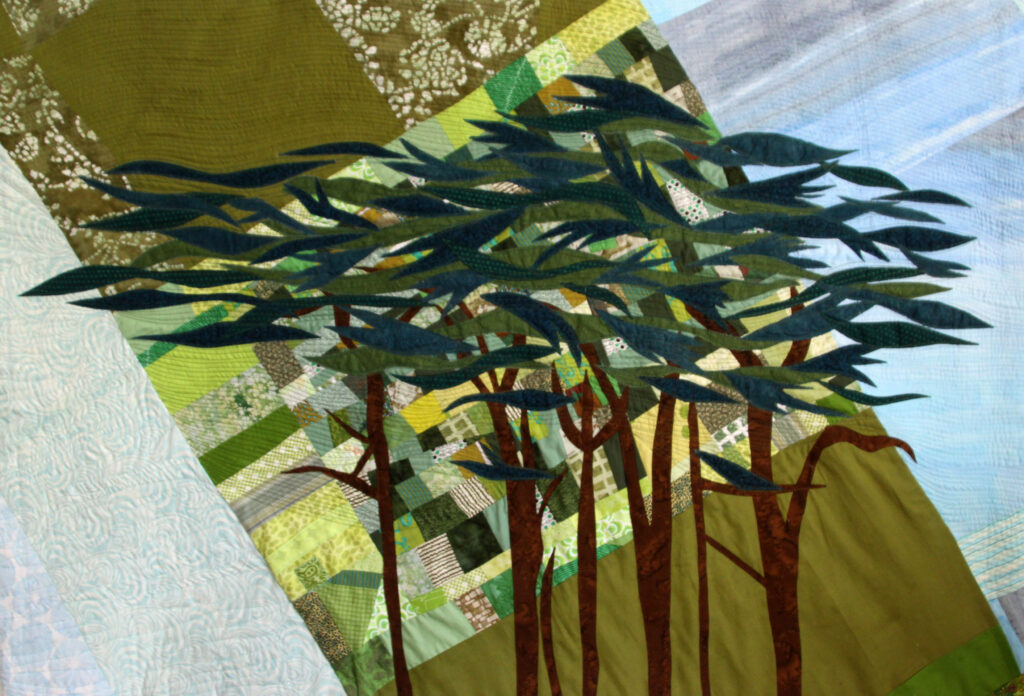 © Ellen November
Tell us a little bit about yourself and your background.
Drawing on the graphic nature of maps, my fiber art is cartographic in nature. Art quilts allow me to combine my skills in illustration, photography, graphic design and quilting.
A recent project was a series of work based on interpretations of the Rand McNally Thomas Guide Book of maps. Each piece in the series represents a coastal area of LA County. My work is part of a permanent installation at Harbor UCLA Medical Center in Southern California, the Western Museum of Flight, The Monday Club of San Luis Obispo and Crafted at Port of LA.
I received a BFA in Illustration from the Art Center College of Design in Pasadena CA and now reside in San Luis Obispo, CA, on the Central Coast.
What inspired you to become an artist?

From my earliest memories of a grandmother bringing out the craft box for me to my parents taking me to art classes at the Rochester Memorial Art Gallery on Saturday mornings, I always identified as a maker and creator. Choosing art school after high school was a given. Being in the creative 'zone' is a gift and a place I am most comfortable in.
What is your specialty?
I am currently focused on fiber arts. You can call them art quilts or illustrations done in fabric.
How and where do you work?
I work in my home studio which is in an attached casita. I have several projects going on at once and move from each as my muse directs.
What is the most indispensable item in your studio?
My sewing machine!
Where do you take your inspiration? Are you pursuing any themes?
I take my inspiration from my photography and from maps. I am also driven by political statements I am inspired to comment on.
What projects are you currently working on?
I am currently working on a series of work based on the Jewish holidays. This body of work is less literal than previous work. I'm using fabric I've created using ice dyeing. The results create the backdrop for the piece. Ice dyeing produces unpredictable outcomes, which I love.
What are your favourite items in your current collection?
I am obsessed with pomegranates. They are only available in the fall, so I have to act fast. I cut them in half vertically and print on fabric. The juice produces a variety of color on the fabric. Once the juice runs out, I brush paint on the fruit and continue printing.
How do you know when a piece is finished?
That is a great question. It takes time to know when a piece is finished. I put it up on my design wall and look at it for quite a while. Once I am satisfied with the result, I put a back on the piece and frame the edges with a binding.
Do you do bespoke work?
I have done a few commissions. The most intricate being a 72" wide piece that hangs over the patron's king bed. It represents the geographical area where they live which combines hills and ocean. I incorporated the patron's fabric that she brought home from Indonesia where she grew up.
It is so thrilling to hear from your client that I completely grasped and fulfilled her idea.
What was the first artwork you ever sold?
The first piece I sold was a cartographic work of the Palos Verdes area. It was from my Thomas Guide series which portrayed the ocean and land interspersed with historical references to the Indian tribes which once inhabited the land.
Which project have you enjoyed working on the most so far?
I have really enjoyed creating a series based on the Thomas Guide. It was very clear that they would all be within the same size range and would be recognizable to my audience.
What do you want to achieve with your work and what are your wishes for the future?
I'm always looking for the next inspiration. To date I have been inspired by my travels, where I've lived and politics. I'd like to leave a legacy of opening my viewers eye to a new way of looking at their world.
Where can we find your work?
https://www.ellennovember.com/
https://www.facebook.com/ellennovemberfiberartist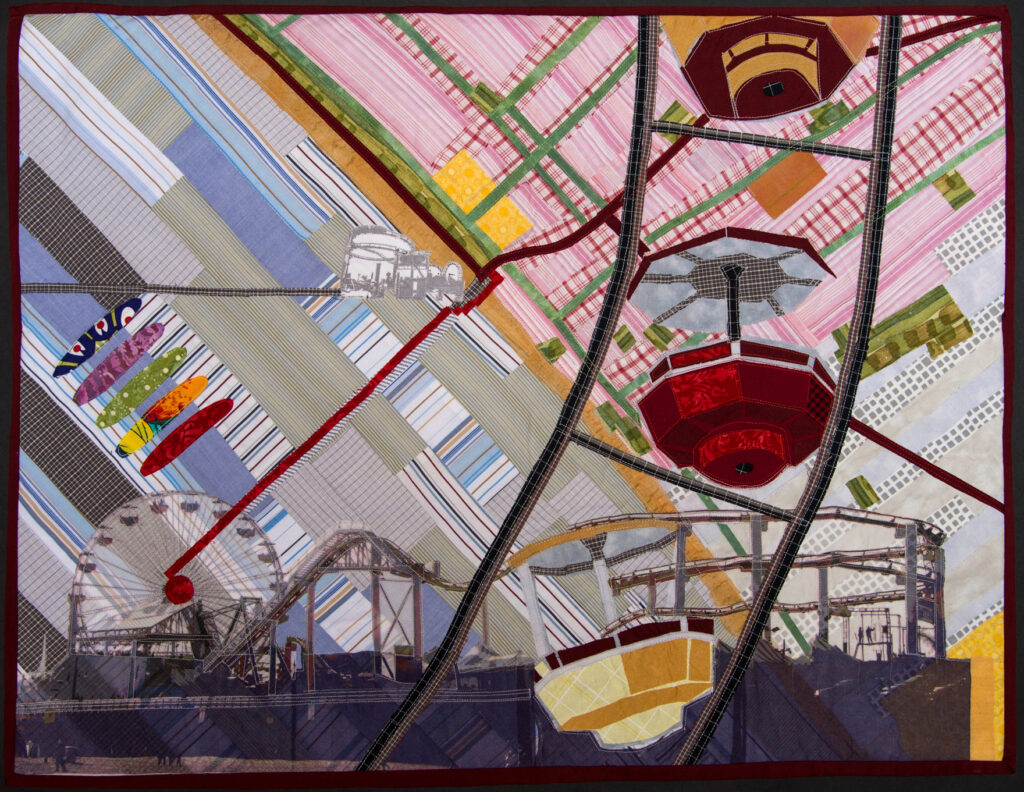 © Ellen November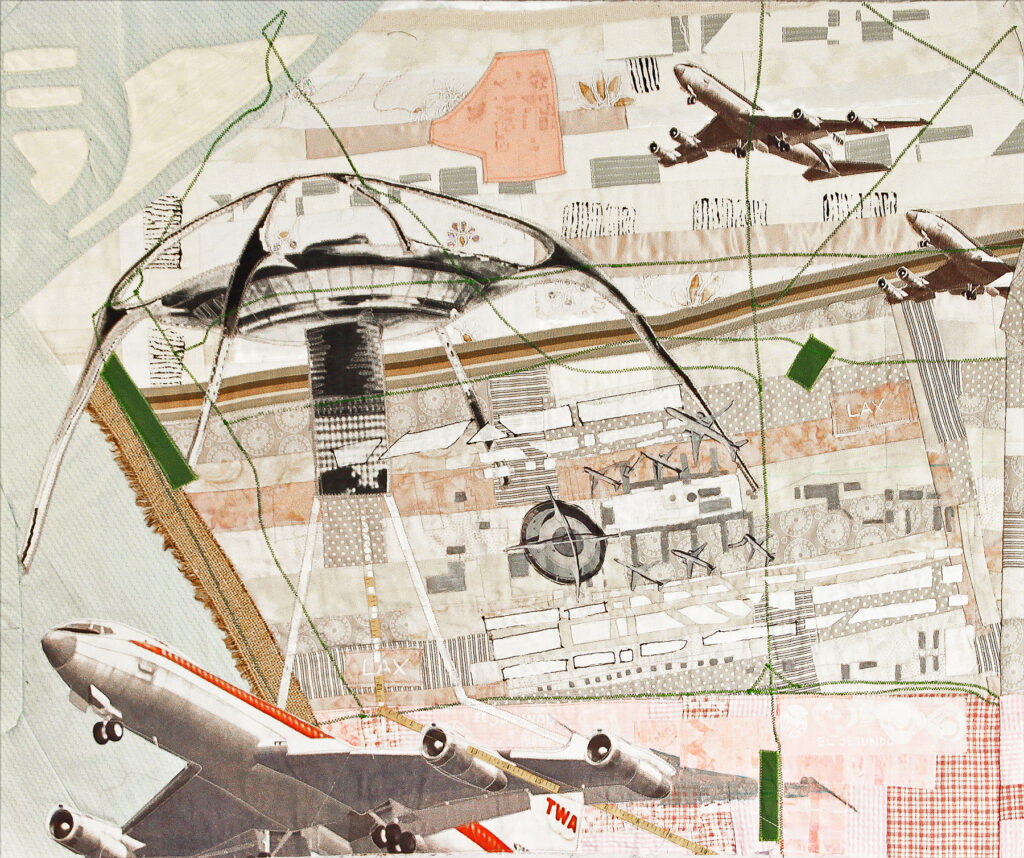 © Ellen November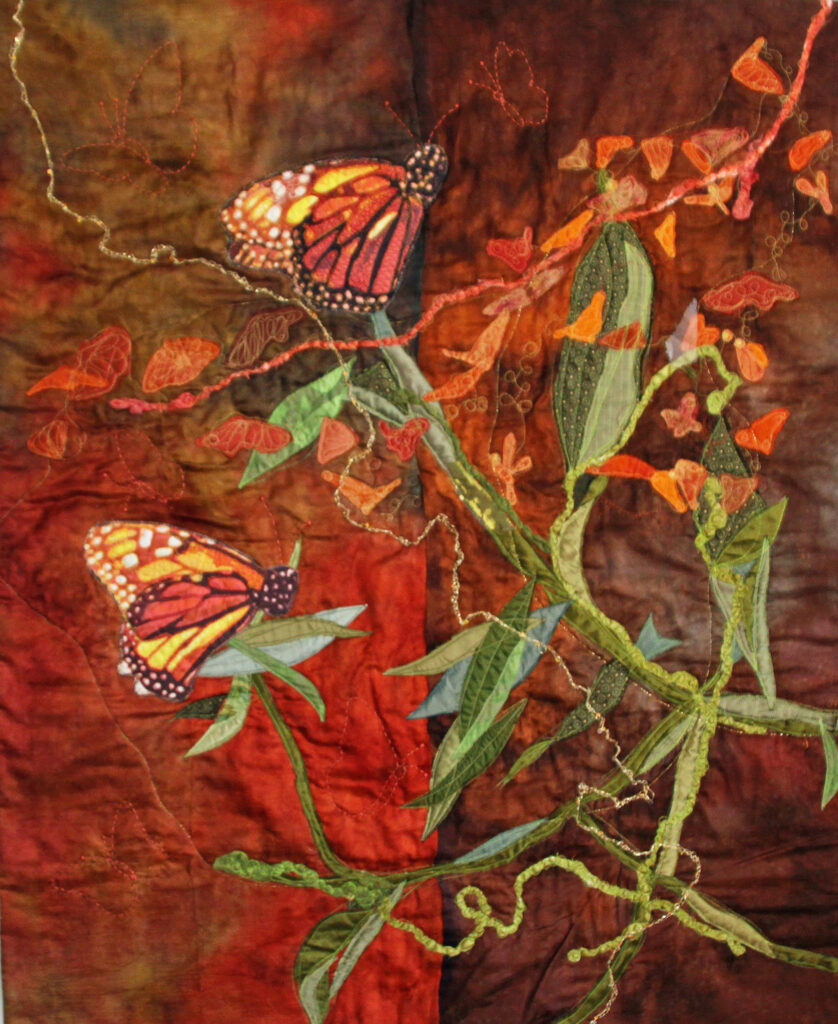 © Ellen November