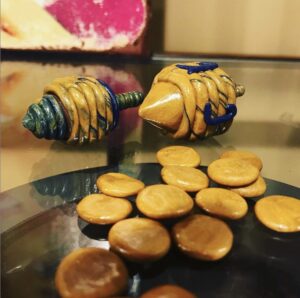 Photo: Courtesy of Clayed by Elana
Tell us a little bit about yourself and your background.
I was raised in a bicultural family in Massachusetts. My Jewish heritage influences a lot of my work. I was first introduced to polymer clay as a young child when my parents sent me to a therapist to help process their divorce. I wasn't really comfortable opening up to a stranger, until one day she had the idea to give me some clay and it just made me so much more comfortable to sit there playing with it. Ever since then, clay has very much been a therapeutic thing for me. I am actually starting grad school this summer to become an occupational therapist, and I am looking forward to hopefully being able to share the healing power of clay and art in general in that field.
What inspired you to become an artist?
There was no moment of inspiration; it is just something I have been doing for a long time. I only recently started to put more time into it and share my work on social media. I just realized that it is a very simple way to bring a smile to peoples' faces. There is so much in the world that is ugly and upsetting. Every time we open a social media platform we are bombarded with so many emotionally-triggering things. I just decided it would be nice to share some content that is cute, wholesome, and fun. That's what inspired me to share my art with a wider audience. It is light-hearted, I don't take myself too seriously, or consider my work to be high art, and I hope that makes it accessible and fun for people to follow along.
What is your specialty?
Polymer clay. I love to do all kinds of projects with it, and am still exploring the many possibilities. Since I started showing my work on social media, people have started to commission and it has really been great for me because it pushes my skill level outside my comfort zone.
How and where do you work?
Around my house where there is a hard surface. If I'm making an object or likeness I have never done before, I look at tons of pictures from all angles while I'm working. It helps me get a feel for whatever my subject is. I also like to watch creative shows while I work. Right now I'm on a Top Chef kick and it is perfect! I'm so inspired by watching the chefs perfect their craft. It gives my hands this feeling like they NEED to make something.
What is the most indispensable item in your studio space?
I am a purist—or maybe I'm just unsophisticated—so I don't use much in the way of tools. 90% of my work is just my hands, some clay, and the all-important exacto-knife.
Where do you take your inspiration? Are you pursuing any themes?
I would say one of my biggest inspirations is my Jewish heritage. I think that's a theme in my work. I make dreidels, menorahs, mezuzahs, Hamsa hands, and biblical characters. One of the things I love about Judaism is the rich material culture. I am so into creating functional pieces, which works really well with Judaica; at the same time I love to take something like a dreidel or a menorah and simplify it in a way that reminds people that this is not just a functional object, but a piece of art.
For example, I make clay dreidels (so on the nose, right?) and I actually prefer to make them without the letters, as odd as it sounds, because then it becomes apparent that these little items we all kind of take for granted as insignificant playthings are actually enduring symbols, and works of functional art. Most people want the letters, so I make them with letters, too; but that's a theme for me—simplifying Judaica in an artful way that reminds us of the richness of our cultural objects.
Do you do bespoke work?
Yes, some of my best works have been commissions!
What projects are you currently working on?
I am finishing up a realistic sculpture of a friend's beloved dog, and I am making a collection of "plant décor" which are miniature pieces to decorate the soil of potted plants.
What are your favourite items in your current collection?
I love the dreidels! So simple, functional, and they make meaningful gifts. I love seeing peoples' faces when they get one. In this era of mass production, it reminds me that handmade gifts are truly special.
How do you know when a piece is finished?
When I start to think: "If I keep touching this, I risk messing it up."
What was the first artwork you ever sold?
I started with the dreidels, but my first commission was a hobbit house which was actually a mix media piece. You can see it and much more of my work on my Instagram @clayed_by_elana.
Which project have you enjoyed working on the most so far?
I made a Sherlock Holmes that I really enjoyed! He is one of my favorite literary characters, and I got to use my own imagination with the facial features, but I based it on the descriptions in the book. I don't keep most of my work for myself but he is in my room, holding a little magnifying glass and a tiny pipe.
What do you want to achieve with your work and what are your wishes for the future?
I don't have high aspirations. I just want people to enjoy my work, and I want to keep improving my skills with clay. It would be great if I could make some pocket money from commissions while I am in grad school, too!
Where can we find your work?
Find me on Instagram @clayed_by_elana. Let the claying continue!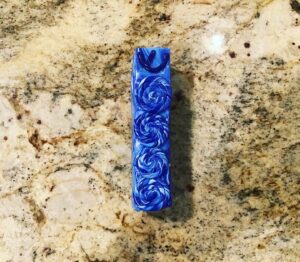 Photos: Courtesy of Clayed by Elana