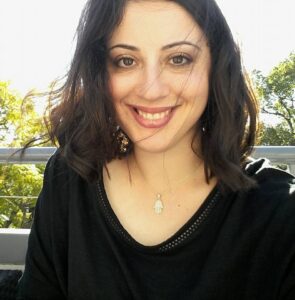 Photo: Courtesy of Diama Hanouka
Tell us a little bit about yourself and your background.
Growing up in Sydney's Eastern Suburbs was truly a delight. Beautiful weather, harbour views and a beach around almost every corner, made for a great place to grow up. After school, I attended The National Art School and then moved to Melbourne for a few years where I studied Patisserie, specialising in Cake Decoration. I spent my late twenties living in New York and London, and travelled to South Africa and Israel. I really enjoyed meeting so many other likeminded people all over the world. I made friends for life and learned so much about myself. Covid hit, and I have happily returned home to Sydney Australia.
What inspired you to become an artist?
My mother says I was an artist ever since I could first hold a pencil, at the age of 2. She remembers me drawing little dots with each and every colour pencil that I had in the set she had given me. Art was my favourite subject in school; I was making and creating artworks from home and entering galleries and exhibitions all throughout high school. Art was my love and my life, and it still is.
What is your specialty?
My style has changed and evolved over the years, and varies depending on my latest interest with a particular style. In my late teens, I painted a complete series of very large abstract canvases; using plaster, resin and bright coloured paints. This led to an exhibition when I was 19 with about 12 of these works. I also created a series of paper quilling artwork, that incorporated floral and Judaica design. More recently I have settled into watercolour and pastel mixed media art.
How and where do you work?
Sometimes I sketch and paint from a café, or I set myself up with a cup of tea, a candle and my favourite music or podcast at my desk from home. I like to get into a zone; and create and draw intuitively, whilst allowing the painting to unfold before me.
What is the most indispensable item in your studio space?
Definitely my watercolours!
Where do you take your inspiration? Are you pursuing any themes?
Marc Chagall's paintings have always been my inspiration; because of the beautiful vibrancy and boldness of colour, as well as the whimsical nature and Jewish themes. I try to incorporate these aspects into my artwork as a Judaica artist. Colour is very important to me, I like to include floral designs with symbols such as Doves, Hamsa, Star of David, and the buildings and hills of the Old City of Jerusalem.
Do you do bespoke work?
Each artwork is a unique and individual design that is painted by hand. The commission based art is personalised and choice of colour and size are chosen by the client.
What projects are you currently working on?
A custom designed painting for a children's play room; a large watercolour and pastel painting with Hamsa and floral designs of a whimsical nature using bright and bold colour. I am also working on my greeting card designs which I sell on my Etsy store.
What are your favourite items in your current collection?
My paper quilling pieces are my favourite, as I just love the process. It is very time consuming and meditative, with fine details. I roll up many pieces of fine paper and mould flower petals and leaves from them, which then get individually applied to the paper. I build the layers with watercolour paint, beads and cut out paper flowers.
How do you know when a piece is finished?
As I draw the last lines, or add a splash of colour, my hand automatically takes a break and I asses how I am feeling with the work. Does it need more of anything? Am I happy with the overall design? I wait for the intuitive feeling that the work is complete.
What was the first artwork you ever sold?
The first artwork I ever sold was a commission artwork for a family home. It consisted of a large abstract canvas, as a main feature artwork. I used epoxy- resin, plaster and acrylic paint to create a large dazzling waterfall painting, with bold blue and green colours. It was truly exquisite and very memorable. The family loved it and another one followed.
Which project have you enjoyed working on the most so far?
My Jewish themed greeting cards. It was so much fun painting a design from scratch, and then having them printed and sold in local shops.
What do you want to achieve with your work and what are your wishes for the future?
I am enjoying painting and drawing for the moment, allowing my creativity to flow from within, and seeing what I am capable of producing on paper. Personally, through my Gd given talent I am connecting to my true authentic self and through this personal and artistic growth, I will see what new pieces of work will be revealed in the future. I am excited and I look forward to it. Stay tuned!
Where can we find your work?
Instagram: https://instagram.com/art.bydiama
Etsy: https://etsy.com/shop/bydiama
Phone: +61 475 236 896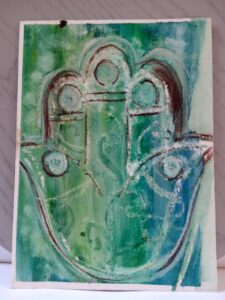 Photos: Courtesy of Diama Hanouka