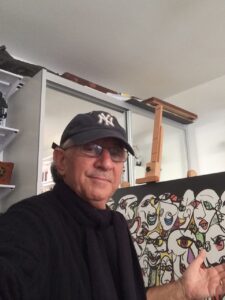 Photo: Courtesy of David Fellerman
Tell us a little bit about yourself and your background?

I am an artist poet and entrepreneur; a war baby no less; born in Blackpool on the North West coast of England and grew up in London post WW2. I was blessed with natural artistic and writing ability inherited with the family gene, these developed working alongside talented artists and writers of the day. I attended St Martin's School of Art during an amazing period in the early 60's whilst London witnessed a massive explosion in visual and musical culture. The war had left the city in ruins but this created a breeding ground for a new generation of artist's photographers and designers fresh out of art school and desperate to make their mark.
I was fascinated by the creative opportunities the city presented to me and grasped them with both hands, opening advertising agency, art studios, merchandising and a publishing business with offices in London and associates in New York & Sydney. We specialized in the burgeoning music industry and established sound relationships with top notch promoter's producer's managers and internationally iconic stars.
It was a family run business which introduced concert merchandising to the UK, working with artistes such as The Rolling Stones, Fleetwood Mac, Rod Stewart, Dire Straits, Bruce Springsteen, David Bowie, Bob Dylan, Led Zeppelin, Grateful Dead, Ted Nugent, Ozy Osborne, Adam & the Ants, The Bay City rollers, Rick Wakeman, Joan Armatrading, The Moody Blues, Sammy Davis Jr, Frank Sinatra, Tony Bennet, Liza Minnelli, Dean Martin, Ella Fitzgerald, Louis Armstrong, Gene Pitney, Shirley McClain, Elton John, Neil Diamond, Tom Jones, Shirley Bassey & Michael Ball, and many others…
My artistic and writing skills led to forays into programme publishing for concert tours shows plays and pantomime. This brought us to the attention of the late great 'Lord Bernard Delfont' ( Berny to friends) who invited us to work with the EABF Charity; this is the organisation who stage The Royal Variety Show every year at a premier London Theatre. In recognition for our work with The Entertainment Artist Benevolent Fund my wife and I were presented to 'Her Majesty the Queen' by Lord Delfont, which was a great honour for us and a memorable occasion.
In later years we embarked on writing and producing musical tribute shows touring the UK. This endeavour was creative and akin to creating moving paintings on a stage.
My wife Sylvia and I immigrated to Israel early 2013; once we settled in, I reverted to my creative roots, painting and writing poetry whilst drafting my memoirs.

I had dabbled in poetry for many years so when the opportunity came along to join Voices, an English speaking poetry group based in Israel, with international member's, I jumped at the opportunity. There are small Voices groups all over Israel who conduct regular monthly meetings (we are now doing this on Zoom). At our meeting each member reads his own poem based on one 'word' suggested at the prior meeting, we have a secret Email ballot and the best poems are featured in our monthly newsletter.
Over recent years I have been honoured by having several of my poems in the newsletter and was selected to be a judge by the editorial board for the Voices Israel Anthology 2020 now in its 46th volume. It is a great learning curve and the creative quality of the poetry is quite stunning, apart from the wonderful friendships and camaraderie of the people and the groups; it becomes a wonderful social activity with workshops and other activities all the year round.
This past summer I exhibited my art at the Ben Ami gallery in Tel Aviv in a blaze of publicity on YNET news, entering the Israeli gallery scene after several prior attempts. My work reflects in dramatic terms and colourful contemporary style images described by some as mesmerising.
What inspired you to become an artist?
I seemed to be able to draw from an early age, but it did not occur to me to take it up as a profession, until I left secondary school. My father (who also painted) had a friend who was a commercial artist. As soon as I realised this option was available for me I decided to pursue that as a career path; I found my way in through art school whilst simultaneously working as a goffer in studios around London. This great city, partly still in ruins, was full of wonderful opportunities and it was a good time to be alive.
What is your specialty?
I love people and have always been a people watcher; I love different faces and they intrigue me. So I enjoy drawing and painting extraordinary and surreal groups of characters; a sheer gaggle of garrulous animated faces in a variety of circumstances. I love creating spiritual and biblical scenes in a dreamy subconscious style. Oft times my work starts with a rough sketch which develops into an underpainting then evolves into an entirely different place. Each piece of art takes on a life of its own; I simply become the purveyor of innate creative forces.
How and where do you work?
I am fortunate to have a reasonably sized studio at home which doubles as my writing room; it has an ocean side view with enough light and space for a small office. In the room is my large easel and cupboard for storage, space for my paints brushes and other accoutrements. I have space for open front metal shelving containing music memorabilia, vinyl records (I love Jazz) and many books; I love to read as much as possible.
What is the most indispensable item in your studio?
My easel my paints and my lap top; painting and writing is how I connect to the world around me so I would be lost without these items.
Where do you take your inspiration? Are you pursuing any themes?
I get all the inspiration I need living in Israel with my lovely wife Sylvia. Our daughter Suzanne and her family live near us which is comforting. Great inspiration is derived from the people the colours the bright days and brilliant light and the wonderful Mediterranean Sea, a brief walk from our apartment which overlooks same. We have always loved Israel so living here permanently is the realisation of a lifelong dream; it has rekindled my creative energy and freedoms, which I neglected due to the constraints of work and business in the UK. My recurrent theme of animated faces has created an impact which I intend to develop over coming years with fresh new concepts and bigger paintings.
Do you do bespoke work?
Yes, I am pleased to undertake special commissions from individuals and organisations. Clients advise me of a style or theme, the size and perhaps specific colours and I go from there. A couple of years ago the Musical Director of the American touring production of 'Hamilton' commissioned a work from me; he wanted an original painting reflecting the show and arranged tickets for my wife and I to see Hamilton when we were in London. I returned to Israel and produced a new painting, Size 1 metre x 70 centimetres' and sent him a photo of same for approval. He loved the work so I sent it to the USA. He kindly sent me a photo of the painting sitting proudly above his keyboard in his home in Los Angeles.

My work hangs in private homes in London & Tel Aviv. One particular large painting three metres. X two metres, took more than three months for me to complete, but it was worth the endeavour and the client loved it. I like to work large scale whenever I can, indeed if I had a much larger studio space I would create far bigger and more exotic pieces. That may happen in the future.
What projects are you currently working on?
Presently I am working on a large canvas which I bulked so I could build out the face of the canvas; its working title is 'The Road to Jerusalem' it's been on my easel a while and is progressing slowly. I want to create something special. I am planning the process the colours and vision in my head and hope to finish it in a month or so. I am not in a hurry; the poem is likewise in draft form, they run in tandem.
What are your favourite items in your current collection?
I guess the favourite pieces in my current collection are 'CRAZY LIFE' and 'GODDESS of LOVE' as they both tell stories. All my paintings have a sibling poem. Each poem expresses my perception apprehension and conscious awareness relating to the work. I like to think of the painting and the poem as part of the same family, all part of the same creative process.
How do you know when a piece is finished?
That's a good question. I have to admit it takes me time to accept a finished work. I'm never 100% satisfied, but one has to draw-the–line somewhere, or you can go on forever and never be happy. I can look at a painting fifty times even when finished and still spot things I would have done differently. Generally the painting tells me; no-more, that's-it, stop-painting, it is then I sign date and varnish and string for hanging. I have a thousand ideas rattling around in my head and scribbled on paper, so there's no shortage of inspiration or ideas.
What was the first artwork you ever sold?
That's a long time ago; I was a young trainee commercial artist in my teens. I designed and created art for a cosmetics company who needed a series of product labels. The job came through a friend who owned a printing company. I was paid 15 Shillings (old money); today about 75p UK, or 3.5 NI Shekels, plus the client gave me a box of hair shampoos!!!! It was a great deal of money to me in those days and my family were very happy with the free shampoo.
Which project have you enjoyed working on the most so far?
That's a difficult question. I love a challenge so enjoy creating all my art and poetry. I get a buzz and adrenalin rush from the whole creative process; it lights my fire to pursue the best work I am able then show it to the world on my website. It's wonderful if one sells a piece; that way it hangs in a place it is appreciated bringing joy and provoking thought and comment. The sense of achievement when you finish a work and move on to the next piece is superb. Job done, so to speak. I never get bored.
What do you want to achieve with your work and what are your wishes for the future?
Recognition and more exhibitions and perhaps acceptance by the elites in the Art world. There is no doubt in my mind that at the pecuniary heart of the art business, in galleries specialist dealers, auction houses and perhaps museums, there is an unspoken cynicism and snobbery which seems to conspire to keep out new artists and some great new work. The system seems designed to keep the same pieces and artists moving through these monolithic organizations where prices are extremely inflated. At the same time many super talented committed artists cannot afford to pay their rent. The system needs to change, otherwise one will see a gradual decline in great new artists coming through, whilst artificial Intelligence digital creations and manipulation of the market takes control with the resultant effect of suffocating the careers of many young new great artists of the future.
Where can we find your work?
Some of my work is featured on my website at www.davidfellerman.com I sell pieces through the site and am happy to discuss bespoke art creations any time. Within the coming months I hope to publish on line an EBook combining my paintings and poetry.
All enquiries to my email david@davidfellerman.com