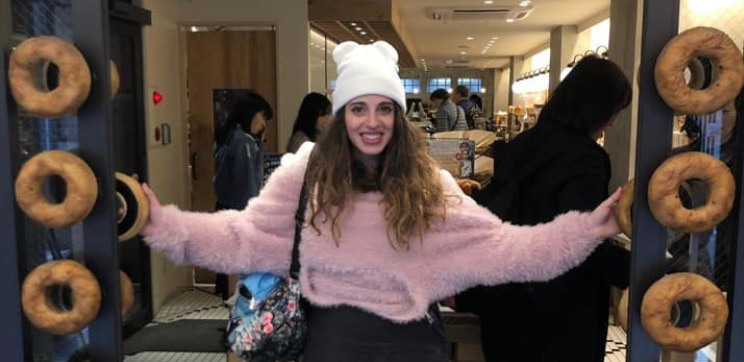 Hi, my name is Daniela, I live in London and I like snacks, and cats, and wild swimming, and Japanese anime, and making all kinds of things in my spare time.
Tell us a little bit about yourself and your background.
I'm a fine art masters graduate from Chelsea college of Art, and a Foundation and Performance Design graduate from Central St Martins. I've experimented with all kinds different mediums, from performance, to film, to needlework, to painting and drawing, to installation, to digital mediums, and I forever love trying new things.
What inspired you to become an artist?
I've been drawing and making things since I was three. I have always loved the more creative and thoughtful subjects and projects, whether it was writing, creating or drawing or writing analytical essays. In classes, I was non-stop doodling or writing poetry and getting told off. My grandma is a fashion designer and I have beautiful drawings from my Nonna, my Dad and Grandpa have taught me to appreciate seeing art and beauty whether it is in nature or galleries, and my aunt Victoria Shasha is an extremely talented artist and has encouraged me a huge amount. In fact, my whole family have given me a lot of support.
What is your specialty?
At the moment, I specialise in hand-finished prints which are digitally hand drawn with an Apple Pencil, scenes of nature and women, animals, and also hamsas, and then embellished with rose gold or holographic foils, as well as handmade tote bags, and handmade keychains. I also make cards in the same way.
How and where do you work?
I have a studio in Stockwell for large work but at the moment, due to time constraints, I work small, on my iPad and from wherever I am.
What is the most indispensable item in your studio?
My iPad and Apple Pencil.
Where do you take your inspiration? Are you pursuing any themes?
I love nature & animals and I love the iconology of Jewish imagery, particularly Jewish food, and I love finding ways to subvert that or modernise it and do something different with it.
For example, the playing with the surface design of the decorative hamsa as 2D wall-art and bringing in imagery of unicorns, and tropical plants and spray-paint effects.
In the same way I love making beautifully illustrated Jewish cards with colours and images very different from what we are used to seeing, for example, a Rosh Hashanah card with a hummingbird having nectar instead of a bee & honey, or instead of the standard blue & yellow and menorah on Hanukkah cards, having a rainbow mountain of donuts and a flying unicorn.
I also make keychains, badges and bags with jewish humour and modern concepts to appeal to a younger audience, like "jewnicorn" and "#nogefilter" and "holy guacamole" with a Chasidic avocado. I, and many young proud Jews around me love wearing our Judaism proudly, and it's fun to have cute and trendy little things that other Jews will totally get.
What projects are you currently working on?
I have just finished a range of Rosh Hashanah cards and now making some new Hamsa tote bags and makeup bags embellished with glitter and rose gold metallic details for an event this weekend for Arc De Noa.
What are your favourite items in your current collection?
I love all my wild swimming scenes with rives or ponds, and the holographic Palm Springs Hamsa.
I also love the concept of my new Rosh Hashanah card with 3D wooden bees on of a bouquet which is part of an environmental initiative for bee conservation – the back has lots of facts about why bees are so amazing and important in a hope to educate people not to kill them, and to realise how vital they are to the environment. All profits from this card will go towards a bee conservation charity.
How do you know when a piece is finished?
When I print it and it looks right.
Do you do bespoke work?
Yes, I do commission pieces, and personalised Hamsas with names & dates.
What was the first artwork you ever sold?
An acrylic painting of one of my sisters.
Which project have you enjoyed working on the most so far?
I love illustrating Jewish cards, and seeing them printed and bought to life.
What do you want to achieve with your work and what are your wishes for the future?
I want there to be cute and beautifully made things that are also Jewish available in the U.K. – they have in America but here it's very difficult to find. Better now than before, that's for sure!
Where can we find your work?
www.etsy.com/shop/littleshopinthesky
Instagram: daniela_littleshopinthesky
Cards available in Moshe's temple fortune, and Temptations gifts temple fortune, Tokoro Japanese in West Hampstead, and coming soon to Tapuach in Brent Street.
Hamsa Totes, prints and makeup bags coming soon to Temptation gifts too!