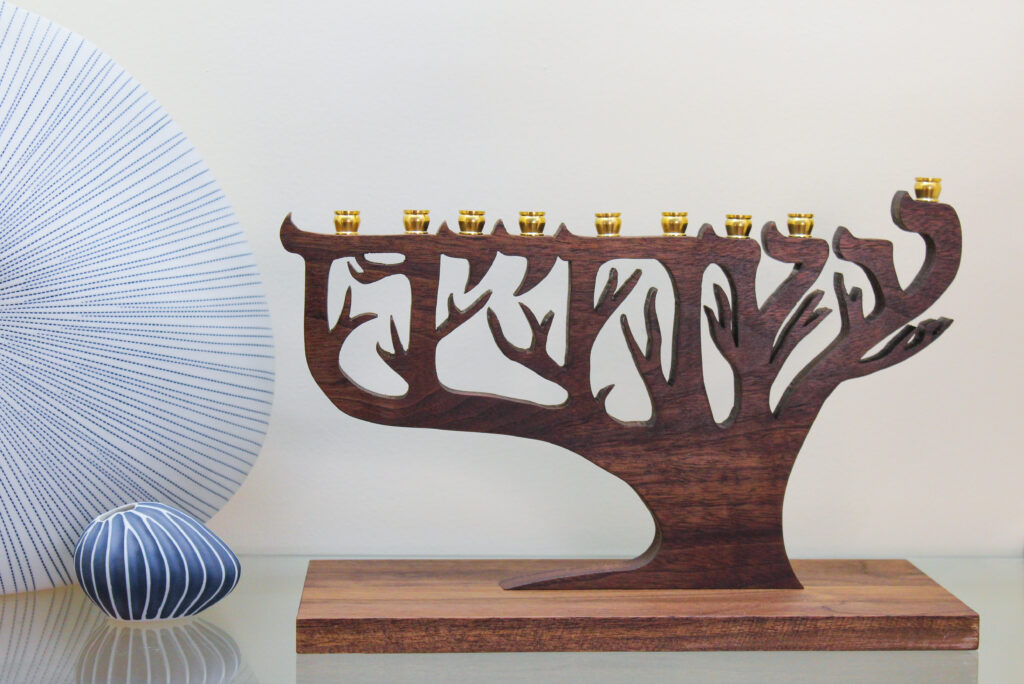 Photo: Courtesy of Daniel Bucksbaum
Tell us a little bit about yourself and your background.
I was raised in a Jewish home in a suburb of Detroit where there was essentially no Jewish community. My only sense of Jewish community came when I went to college, where I studied Middle Eastern politics. Since graduating, I've been searching for the right job for me, and I have since fallen in love with woodworking.
What inspired you to become an artist?
I began this hobby of making Jewish art by making my grandma a Menorah for Hanukkah last year. That year she had travelled to Israel for the first time, and knowing how incredible of an experience it must have been for her to finally see and walk in the Jewish homeland with her own feet, and touch the Western Wall with her own hands, and I knew I had to make her something to commemorate that experience that she could keep forever. So, I made my first Menorah, each candle resting on a Hebrew letter spelling "Israel" atop a base the shape of Israel. Her love for it inspired me to make more, and to begin selling them. In addition, her father, my great grandfather, was an excellent woodworker, and a founding member of our local temple.
What is your specialty?
Of all the woodwork I do, my specialty is Jewish-themed art. In terms of specific skills or tools, I would say my specialty is working with my scroll saw.
How and where do you work?
I do all my work in my basement workshop. I enjoy listening to music or podcasts while I work and treat it as my time to relax and unwind, while doing something I love.
What is the most indispensable item in your workshop?
The most indispensable tool in my workshop is my Scroll Saw. It's the first tool I ever bought with the sole intention of making my Grandma's Menorah with it. Now, I try to incorporate it in just about everything I work on.
Where do you take your inspiration? Are you pursuing any themes?
I enjoy looking at other artists' work online, but most of my ideas just come to me as I'm designing or making new projects. I like my projects to be a good combination of pleasing aesthetics and practical use.
Do you do bespoke work?
I absolutely do customizable work, and love taking requests. Some of my regularly sold and most popular items were originally custom orders.
What projects are you currently working on?
Due to popular request, I'm beginning to make Mezuzahs. I am also working on a variety of new, more creative Menorahs ahead of the Hanukkah season, as well as some Passover Seder plates before next Spring.
What is your favorite item in your current collection?
My current favorite item is my latest. It is my Walnut "Tree of Life" menorah, made with my scroll saw.
How do you know when a piece is finished?
I know a piece is finished and ready to ship when I feel it, check it for smoothness, soft edges, and other fine details. I don't feel comfortable shipping any product out to a customer if I can feel or see any noticeable imperfections on.
What was the first artwork you ever sold?
The first piece I ever sold was a pair of Maple Wood Shabbat candlesticks.
Which project have you enjoyed working on the most so far?
I really enjoy working on my Tree of Life Menorah and my Israel Menorahs. I love using my scroll saw to cut out Hebrew and create something from it.
What are your wishes for the future?
My only wishes are to improve my woodworking skills and the quality of my work, increase my range in products, and have my work in as many Jewish homes as possible.
Where can we find your work?
You can mind my work on my Etsy store here:
https://www.etsy.com/shop/WoodcraftingByDaniel
You can also follow my Instagram account: WoodcraftingByDaniel. I always welcome messages, suggestions, or special requests!
Photos: Courtesy of Daniel Bucksbaum