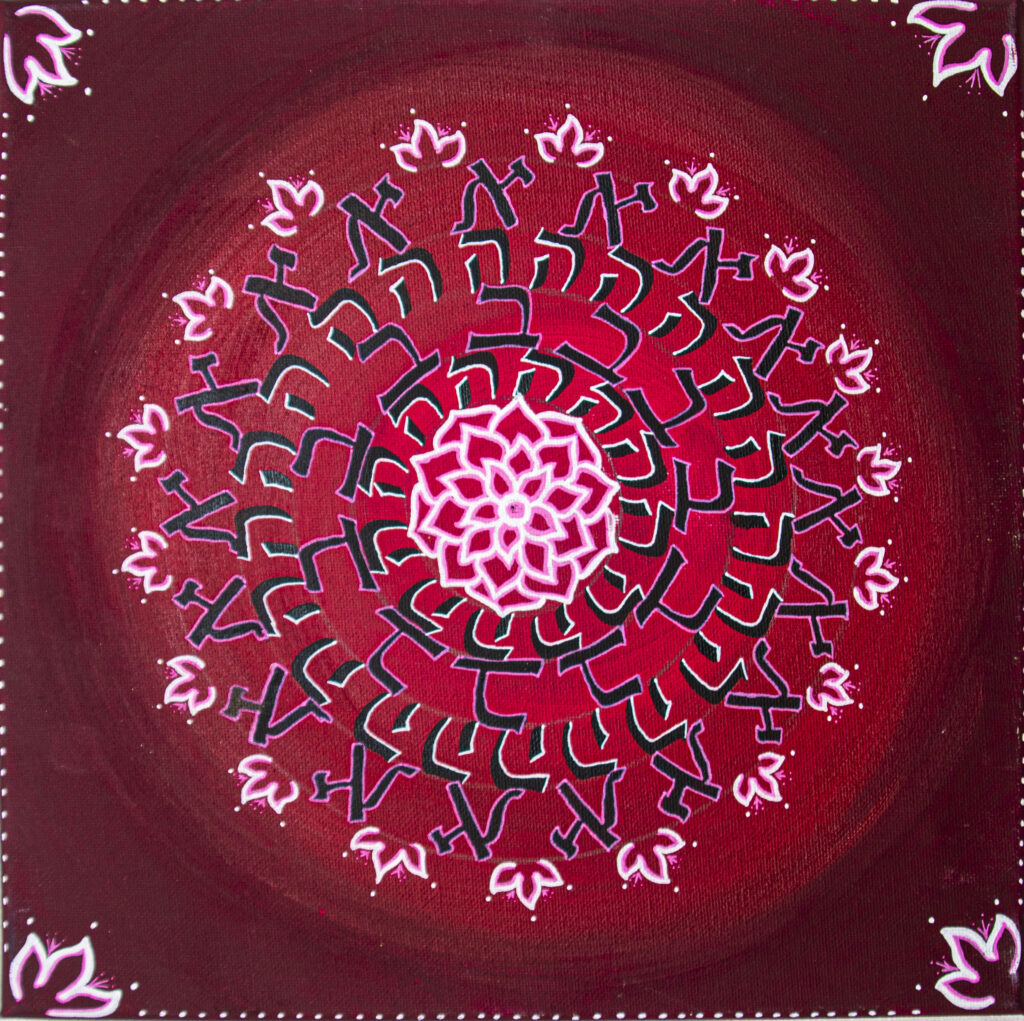 © Mandalia Art
Tell us a little bit about yourself and your background.
My name is Dalia Chen Azduwanis, I'm 53 years old, married and living in Ben Yavne.
I'm a painter and writer for many years, who loves calligraphy and has been writing for others, designing, and producing stages for schools and events.
For the past two years, I have been exposed to the Mandala painting that combines words – Mandaligraphy – and fell in love with it. It was obvious for me that I have found what my soul was longing for from this moment – the moment in which creative space opened for me and since then I could not stop drawing and creating, which I enjoy. I have been told for a long time that I have to do something with my passion. I have always been told that I am very artistic and that I could become a therapist and that it would be a pity not to do anything with it. The moment I decided to do something for me, was something that fulfilled me.
I am very attached to writing, and I believe in the power of words, and that language changes consciousness, that word resonate with frequency, and perpetuate it. There is a very significant meaning to the words we use. I am a believer in the Creator of the world and the power of prayer, and therefore I manifest it in my mandala using Tehilim prayer verses.
What inspired you to become an artist?
I am an artist with my entire soul; it manifests itself in all kinds of forms and expressions. I like to create an atmosphere of writing. About two years ago, when I was introduced to Mandaligraphic painting, it just struck me and accurately connected me to my love of writing and painting. I draw inspiration from observation, from situations, from nature.
What is your specialty?
What I love most is write.
How and where do you work?
I work at home on my big dining table. When the weather is good, I love to sit in my garden and paint. I lay out all my paints and tools on the table, which includes canvases, different types of paint, paintbrushes, writing nibs with different thicknesses, and different coloured inks.
What is the most indispensable item in your workspace?
The most essential items are a nib or a special brush for writing.
Where do you take your inspiration? Are you pursuing any themes?
I draw inspiration from watching as I sit quietly with myself by the sea, in the wild, or just in the garden. Inspiration comes when I am alone in my quiet place and where things come out of experiences and sometimes insights from awakened emotions.
What projects are you currently working on?
I am currently working on prayer / blessing mandalas; in parallel I am working on a series in different languages I created called "Love" . ​​I have already created something in in Hebrew, English, German and Chinese, and now I am working on Russian and Spanish. Later on, I want to add more languages, and a Mandela of If I Forget Thee Jerusalem…
What are your favourite items in your current collection?
Wow, I have a lot I love very much: I love the "Love" series, I have a mandala I wrote about "Songs of Depths I Called You Lord hear my voice your ears will be attentive to the plea of your forgiveness". I have a mandala that I wrote peace on and around – making peace in the high places he will make peace on us and all Israel and say Amen. Another mandala "and was a tree planted on water streams whose fruit will give in time and its leaf will not reap and all that will do well" – which is a mandala for resonating success. Another mandala written on it and around "the Creator of medicine and our healer G-d and cured" – to resonate medicine.
How do you know when a piece is finished?
How do I know when a piece is done – when I feel complete with what came out, I don't need to add more than I've already done. It already happened to me that I made a mandala and did not like what came out and then I changed it and it came out more beautiful than I thought or expected. I learned that art should go with the heart and most importantly not to be afraid to do something and to change it if necessary.
Do you do bespoke work?
I do custom work. A customer has requested a mandala with something about faith on an ellipse Canvas. I Created a Hamsa in the center of the ellipse. Inside the Hamsa I wrote Faith, the letter of faith came out in the centre so it is both faith and trust. In the Hamsa fingers, I wrote "Abundance", "Blessing", "Success" and around the ellipse I wrote the Cohanim Blessing – the customer loved it very much.
What was the first artwork you ever sold?
I showcased my artwork for the first time just a year ago, it was hard to say goodbye to the pieces. Only now, I agreed to sell because I have received a lot of positive feedback and requests. In the last week, I have sold two mandalas that I love a lot, one with the word "Strength" and one "Luck".
Which project have you enjoyed working on the most so far?
I really enjoyed working on my Peace Mandala, the Love Series, and Tehilim.
What do you want to achieve with your work and what are your wishes for the future?
I would like to be acknowledged and able to spread joy, holiness, faith and art. I would love for my work to be in Batei Midrash and synagogues. (I also create more variations of a mandala, for example of a boy's name and the Cohanim blessing around).
Where can we find your work?
You can find my Instagram, Facebook, and I am currently working on a shop at ETSY.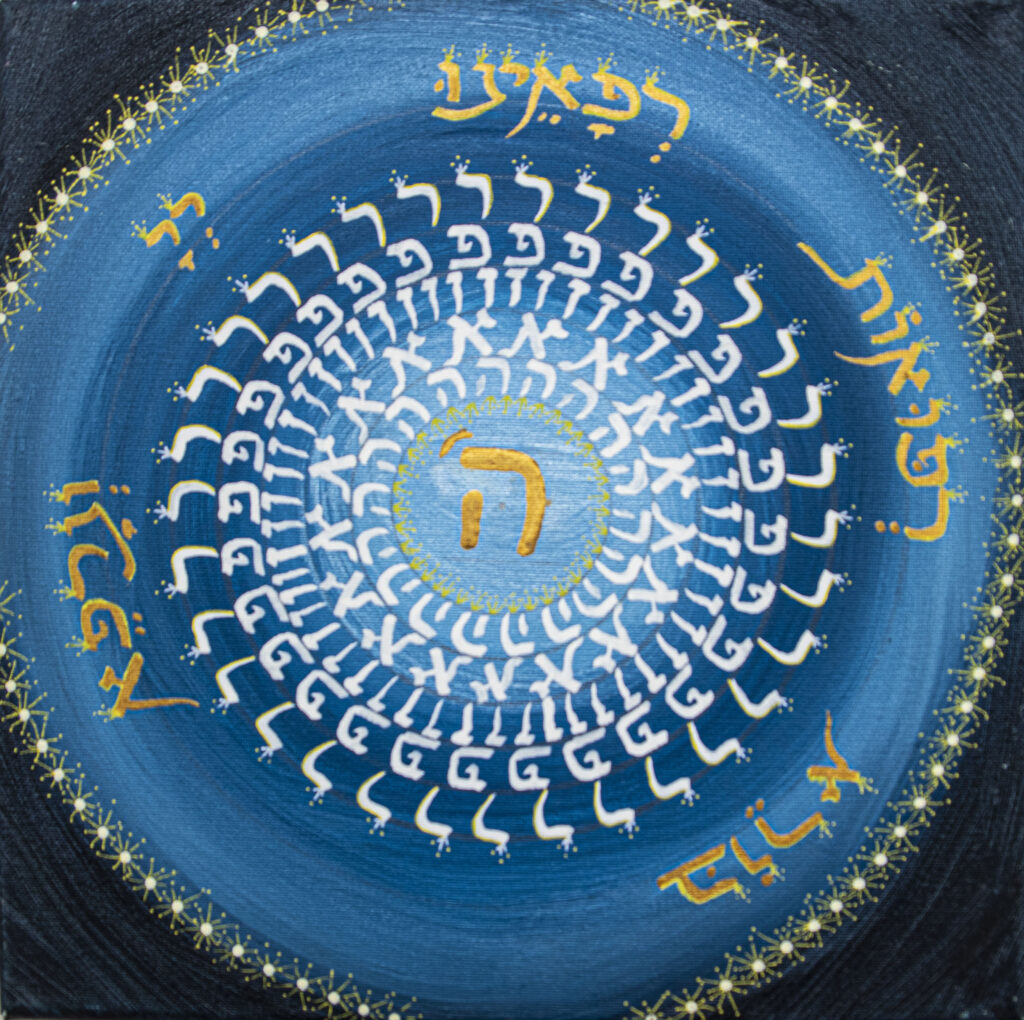 © Mandalia Art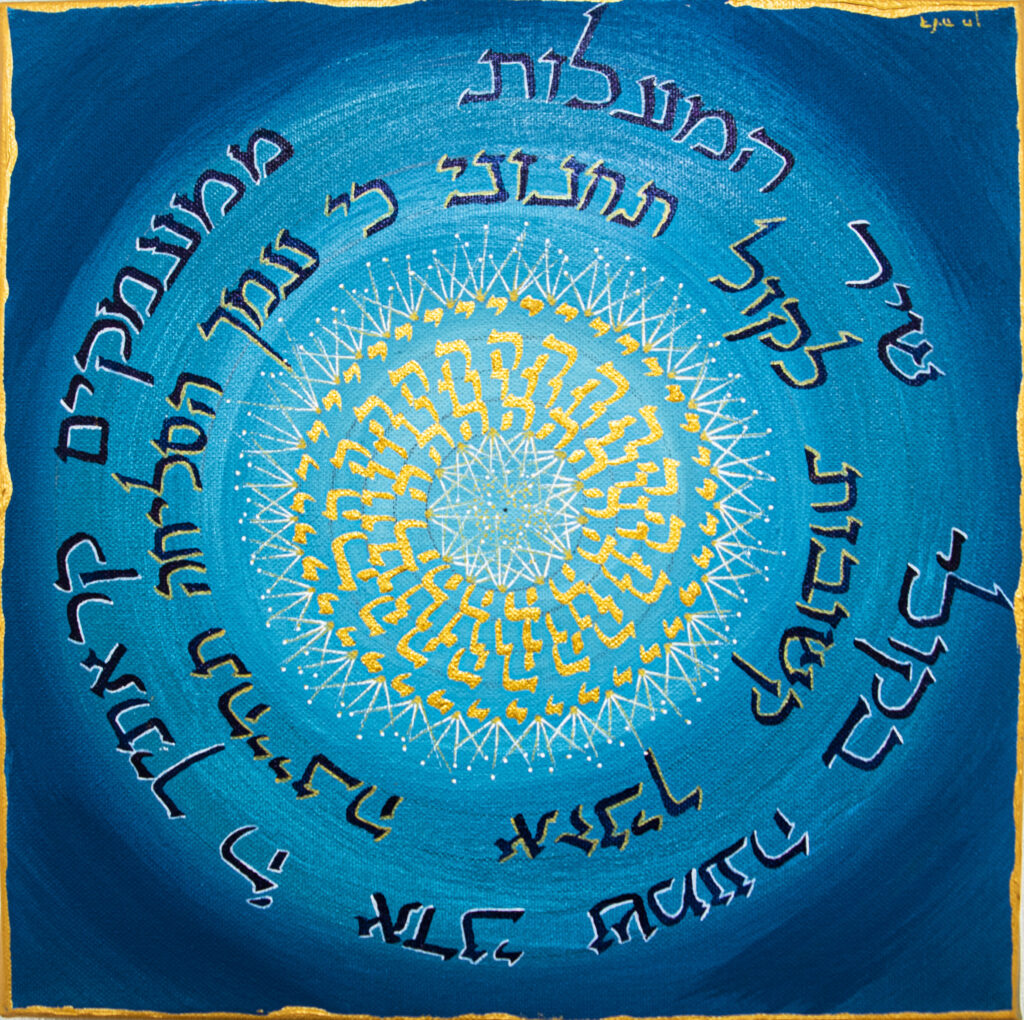 © Mandalia Art