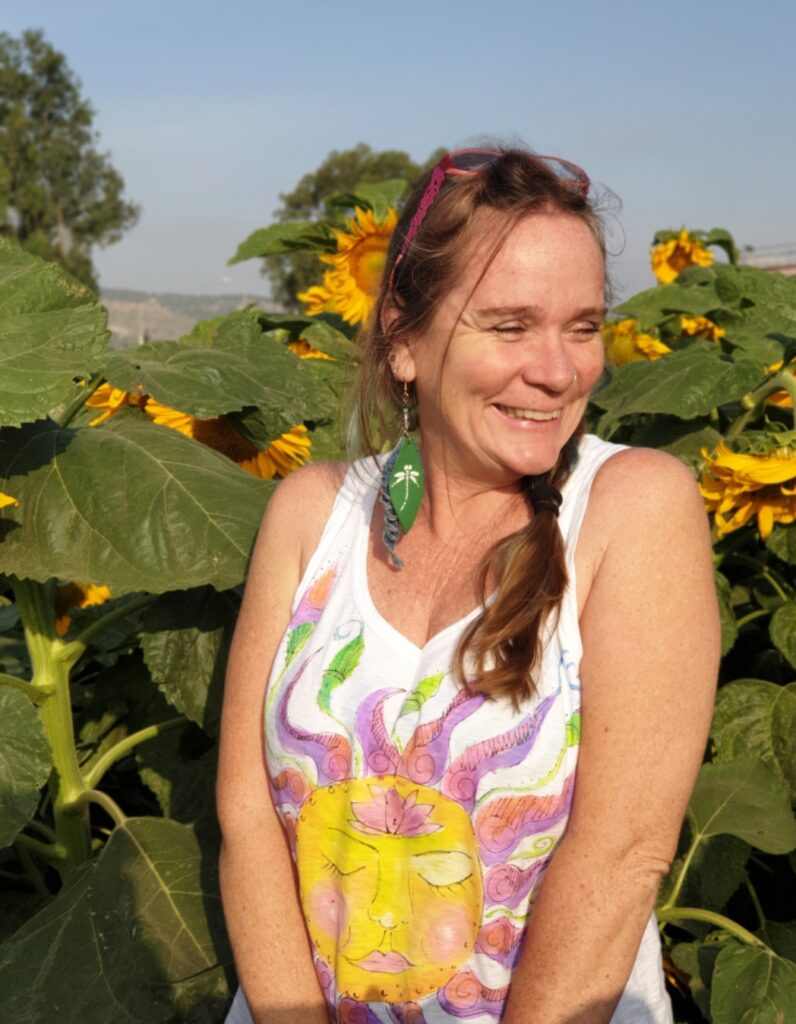 Claudia Fehr-Levin is an Art Teacher, Children's Book Illustrator, and the owner and sole designer of Cloudscape Designs. She creates hand painted T-Shirts, baby clothing, greeting cards, Judaica, dream catchers, prayer flags, T-Shirt necklaces, and many more items. She is passionate about photography and spending time with her four gorgeous children, who inspire here and keep her on her toes! She is surrounded by nature, an excessive amount of animals, and piles of washing! Her life is busy, constantly changing, dynamic, and very colourful. Claudia feels very blessed with the way things are!
Tell us a little bit about yourself and your background.
I was born in South Africa. I studied Textile design at Ruth Prowse School of Art in Woodstock. I have 4 brothers in my beautiful, extended family. I have family in South Africa & Switzerland. I first came to Israel on my own in 1993 to be a, volunteer on a kibbutz in the Yizreel Valley. Met my hubby on a kibbutz next door and the rest is history. After many exciting years of living all around Israel & on a farm in South Africa (for 6 years), having 4 kids (2 in Israel & 2 in South Africa), converting to Judaism, getting married again (in the Jewish faith) we have returned to our beautiful Valley! And love it!
What inspired you to become an artist?
I'd have to say I have always been drawing and painting. Ever since I can remember … sometimes I feel I can't breathe without a paintbrush in my hand. My dad was always very supportive & encouraging and would bring me the latest trends & materials every time he went abroad. My folks even let me paint a mural on my cupboard when I was really young!
What is your specialty?
Mmmm it's hard to say…I believe drawing, of all the things I do the common ground is drawing … I draw & paint on everything from T-shirts, earrings, greeting cards, dream catchers, children's books, wine labels, to jeans! My hubby always laughs & says if he'd sit still long enough I'd draw on him too!
How and where do you work?
I rent a little room on the kibbutz that I use as my studio .It's tiny, but just filled with all my goodies; I just love my studio days! The rest of the week I work at school and am surrounded by their beautiful work & creativity- nothing more beautiful than kids' art!
What is the most indispensable item in your studio?
My collection of fabric, beads, bits of & bobs for making all my mobiles, jewellery and for collage work in my graphics & illustrating. My phone with all its pics for Etsy, and of course my computer for my design work.
Where do you take your inspiration? Are you pursuing any themes?
From all around, right now the fields are a sea of yellow with all the sunflowers! My ultimate best! The tapestry of life! South Africa with its rich ethnic designs, patterns & colour. Israel with its gorgeous decorative Judaica motifs and vitality. I'm also very into re-using & up-cycling and am always on the lookout to make treasures from peoples outcasts. Hence my label: RE-USE, RE-CYCLE & RE-AL FUN!
What projects are you currently working on?
I'm currently designing wine labels for my Etsy shop, for Shavuot & "From Israel with Love". They are digital prints; a PDF that people can simply download & print up wherever they are in the world. I'm also working on some really funky & colourful T-shirts for a festival coming up on the Gilboa.
What are your favourite items in your current collection?
My greeting cards, a Chakra mobile, my boho, hippie T-shirts and my prayer flags with inspirational words in English & Hebrew.
How do you know when a piece is finished?
Sometimes you just know, but most times after life's little interruptions you get to see it with a clean eye & do the finishing touches or even change your direction & it turns out totally different from what you imaged, I just love that!
Do you do bespoke work?
Yes, I do. I used to be afraid to do them, the pressure of expectations but now I love them! It's so great to be able to do something that someone really loves!
What was the first artwork you ever sold?
I think it was for a logo my dad commissioned me for, back in high school or Art School …many moons ago.
Which project have you enjoyed working on the most so far?
Most definitely the collection of wine labels I was commissioned for by Vanden Wines. A company owned by friends of mine in Australia. I got to do 9 different designs depicting the family members and a close friend. They have just been out visiting in Israel and I got to see all the labels close up, on the bottles! And meet all the people that I drew, what an amazing experience!
What do you want to achieve with your work and what are your wishes for the future?
I'd really like me Etsy shop to take off. I think it's such a brilliant concept to get all us artists' work to get seen and bought from people all around the world. And as much as I love my studio, little piece of heaven I'd seriously like it to be bigger so I could have art classes there!
Where can we find your work?