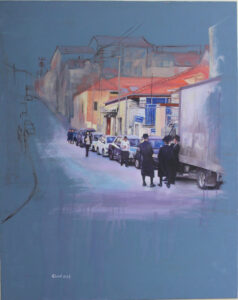 Image: שיחת חולין – Courtesy of Chomi Groman
Tell us a little bit About yourself and your background.
My name is Chomi Groman, contemporary figurative artist and painter. I was born to an ultra-orthodox family blessed with children and grew up in one of the old allies in Mea Shearim neighborhood in Jerusalem. I was raised on the values of manual labor and hand craft was a part of my day to day, especially things related to decorations and Hiddur Mitzvah. Traditional techniques of sewing, embroidery, decoration and designing religious artifacts were the main occupation of girls and women and the knowledge was passed on from mother to daughter. My father was a Sofer Setam when he was younger and he taught me Hebrew calligraphy. I was mesmerized by his abilities and I experimented with quill and ink writing various types of Hebrew scripts.
What inspired you to become an artist?
My dream to become an artist started at a young age; on the street close to my house there were Judaica and art stores aimed at tourists. I looked at the art displays that were frequently changing through the storefront and tried to understand the artists' techniques by gazing at the famous paintings for long hours and trying to copy them. When I realized that the people around me are enjoying my drawings, I understood that I can bring happiness and beauty to my environment through my art and decided to make it my main career.
What is your speciality?
The "contemporary figurative" technique is based on the painting elements of classical paintings as they were taught in the traditional academy. Nonetheless in my pictures I often leave unfinished parts or paint splashes in a spontaneous and instinctive way as an expression of the tension there is inside of me between reminiscing about my past in the traditional religious community that is trying to stick to the old ways to transitioning into a modern open society that is always looking forward.
Where do you take your inspiration from? Are you pursuing any themes?
In one of my courses in the art academy I met a Classical Painting Principals professor, Gustavo Bar Vansuela, who teaches techniques that he learned in Chile and Italy. I was very impressed by his style and knowledge and I kept in touch and collaborated with him. We work together in a studio. I get a lot of inspiration from him as well as form a lot of the big masters from the renaissance and from contemporary paintings that are continuing these traditional techniques and are adding to it the modern feel and abilities for example the painter Eran Reshef.
Do you take on commissions and create bespoke designs?
I am open to custom made painting orders in my style
Which project have you enjoyed working on the most so far?
I have a painting series that expresses my view of the land of Israel, the landscapes, the people, and the general feeling. The painting named "small talk" (in Hebrew שיחת חולין) describes a small alley in Beit Israel St in Jerusalem, the street in which the famous Yeshivat Mir is located. The view is painted from inside the window of my parents' house. This painting played itself out of my hand when I knew every detail of the view by heart and I really liked to draw them.
What do you want to achieve with your work and what are your wishes for the future?
I paint from an inner attraction to expressing ideas, pictures and feelings from inside my head out to the canvas. My aspiration is to sell my paintings and make a living from my work and know that my paintings are spreading moments of Jewish and Israeli beauty and are making people happy in many places in the world.
Where can we find your work?
These days I'm working on a website to sell my paintings. Meanwhile you can find me on Instagram: instagram.com/chomi_art and facebook.com/rucamagr.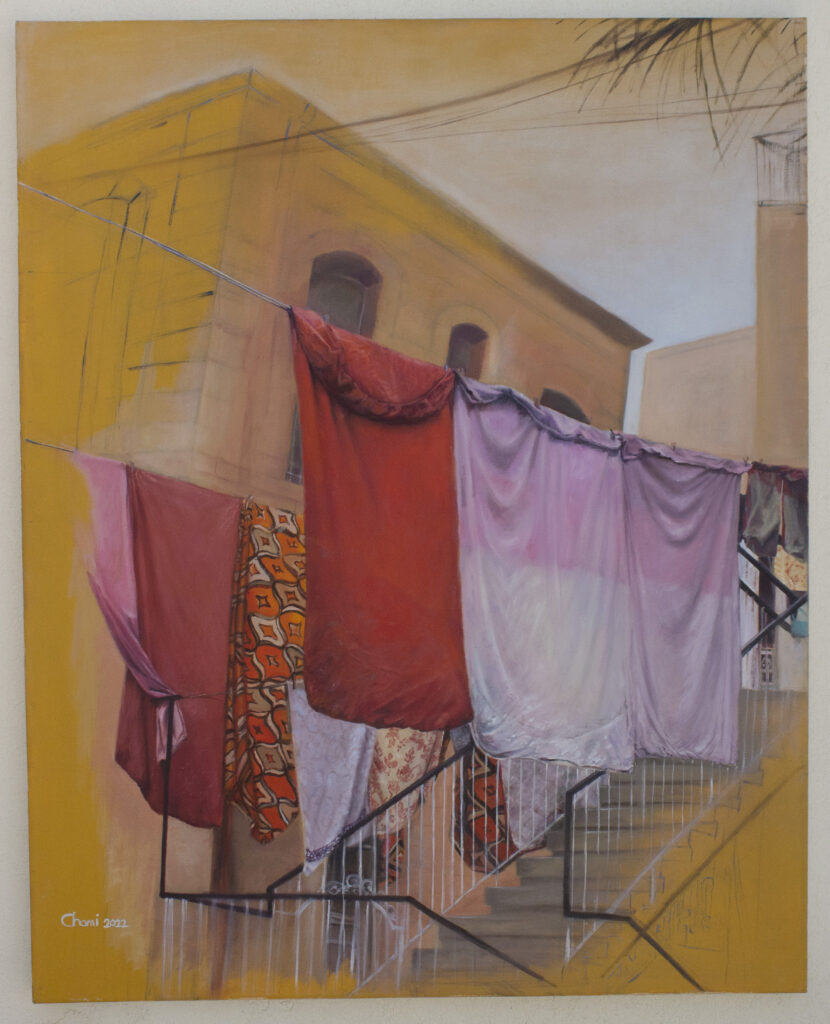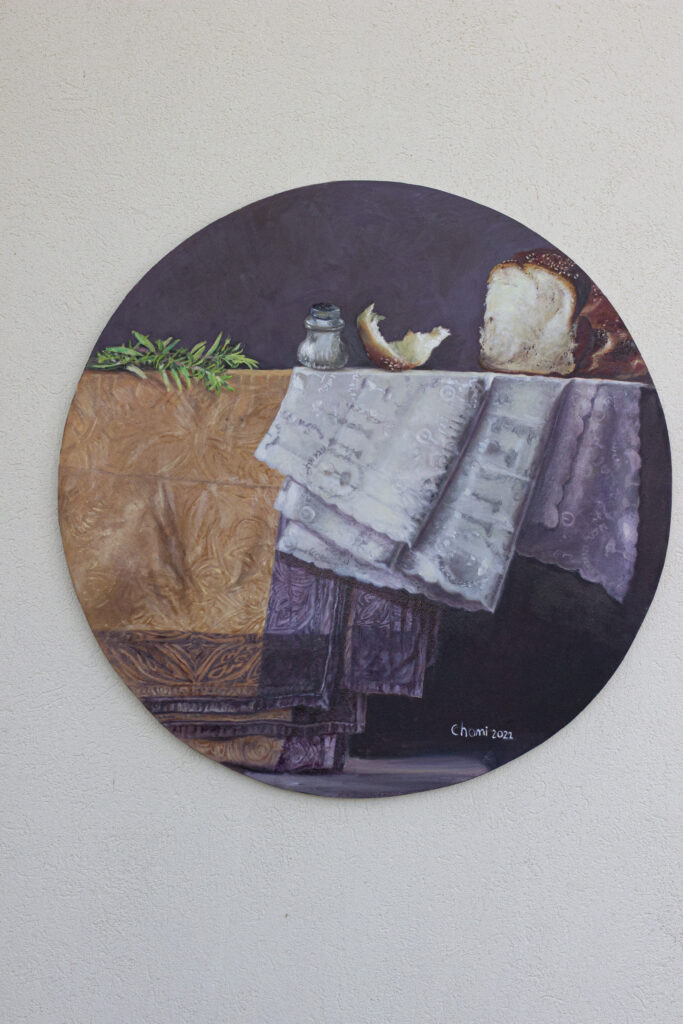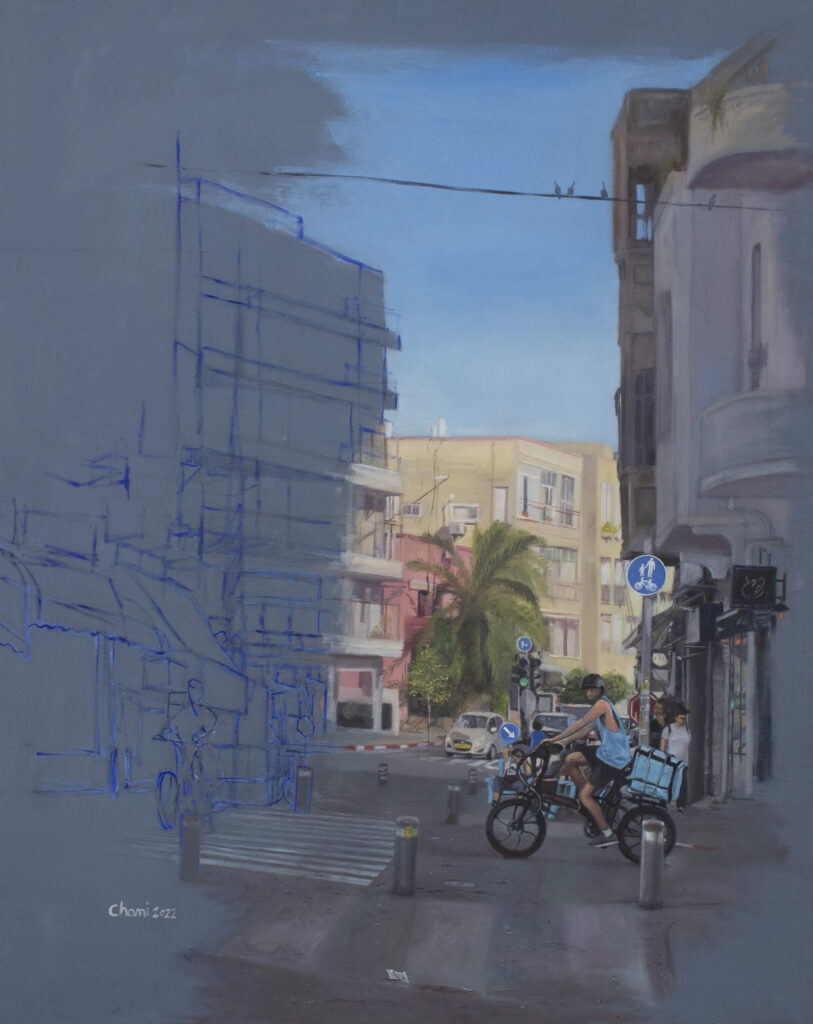 Images: Courtesy of Chomi Groman