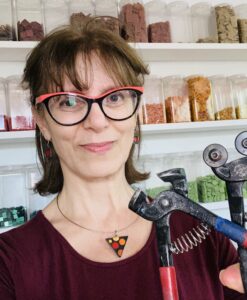 Photo: Courtesy of Cecilia Kremer
Tell us a little bit about yourself and your background.
Originally from Argentina, I am an Israeli American artist who specializes in Contemporary Jewish Mosaics. I teach mosaic art year-round at my studio in Newton, MA and facilitate community projects throughout the country. My work can be found in private collections and numerous Jewish institutions, in the US and abroad.
What inspired you to become an artist?
I have always enriched my life as an epidemiologist with a wide range of art forms but once I encountered mosaics, it just grabbed hold of me, and I decided to transform what used to be a leisure pursuit into a full-time career. Since then, I have devoted myself full time to the art of mosaics.
What is your specialty?
Contemporary mosaics in all its forms, especially Judaica, but also Pet portraits, and wearable mosaics, as well as personalized Jewish wedding mementos
How and where do you work?
I work in my studio in Newton, MA, USA, and when facilitating community projects, I work in the school, temple, or institution I am collaborating with.
What is the most indispensable item in your studio?
Music always accompanies me, whether I am working on a commission, by myself, or teaching mosaics to my students. Also, I would say that my to-do-lists are indispensable in my studio since they help me set my goals and organize my work schedule accordingly. In addition, the various tools I use to cut, shape, and grind mosaic tiles, definitely indispensable, some materials are also key, or at least, greatly important in my studio, e.g., Van Gough glass, and Italian Millefiori.
Where do you take your inspiration? Are you pursuing any themes?
Mmm… I guess my inspiration comes from everywhere and almost everything, from the most common places, like nature, modern design, and contemporary Jewish art, to the most unexpected things such as a simple color combination in a coffee mug, or a kid's t-shirt that can turn my creative impulse to an unexpected new design.
Do you do bespoke work?
Yes, I do. I create personalized tzedakah boxes and other gifts for kids becoming Bar/Bat Mitzvah for Jewish schools and Temples (e.g. see this Personalized Tzedakah Box). Each institution provides me with a list of each kid's respective selection of colors, and whether they want their name in Hebrew, in English, or in both languages). I also create custom gifts for donors, weddings, etc. For example, with shards of glass and pieces of broken plates from an Orthodox wedding, I created the following Passover Plate with a design of the 4-cups of wine. I love working and collaborating with couples to bring to life their vision memorializing their special day with a gift that will be cherished for years to come.
What projects are you currently working on?
I am currently working on a set of tzedakah boxes for schools and temples' kids becoming Bar/Bat Mitzvahed; I am developing new DIY mosaic kits such as Mezuzah kits as seen on My Etsy shop. Also, I have been working on a very detailed mosaic portrait for the last four or five months; and I am also working with three great mosaic artist colleagues on the design stages of a mosaic mural to be installed in a Community Health Center in Boston.
What is or are your favourite items in your current collection?
I enjoy working on absolutely every single one of my mosaic artworks since, overall, the process of making mosaics, is a very soothing, fulfilling, and therapeutic work, but those pieces that are meaningful to my customers, that fulfil their visions and help them celebrate their life traditions, give me the most gratification.
How do you know when a piece is finished?
When I feel there is nothing else I'd like to add, even though I should admit… it is much easier said than done.
What was the first artwork you ever sold?
Perhaps, one of my Mosaic mixed media figures
Which project have you enjoyed working on the most so far?
I enjoy making my signature elongated Passover plates probably the most but making mosaic portraits of beloved pets is another of my big favorites.
What do you want to achieve with your work and what are your wishes for the future?
I am quite happy and fulfilled where I am. I hope I will never run out of the creative impulse to continue making pieces of mosaic art for many years to come. I sincerely hope those creations can be, not only looked at, but also used and enjoyed by my customers when celebrating family traditions.
In addition, if I ever find a big stretch of 25hr. long days, I would like to assemble some of my favorite artworks into a book of mosaic Judaica.
Finally, I hope to leave a footprint in the world of art by continue to spread the art of mosaic in public places, both by myself and as a facilitator of mosaic community projects.
Where can we find your work?
Website: www.chromatile.com
Etsy: https://www.etsy.com/shop/Chromatile
Instagram: https://www.instagram.com/chromatilebyceciliakremer/
Pinterest: https://www.pinterest.com/chromatile/
Facebook: https://www.facebook.com/contemporarymosaics/

Photos: Courtesy of Cecilia Kremer