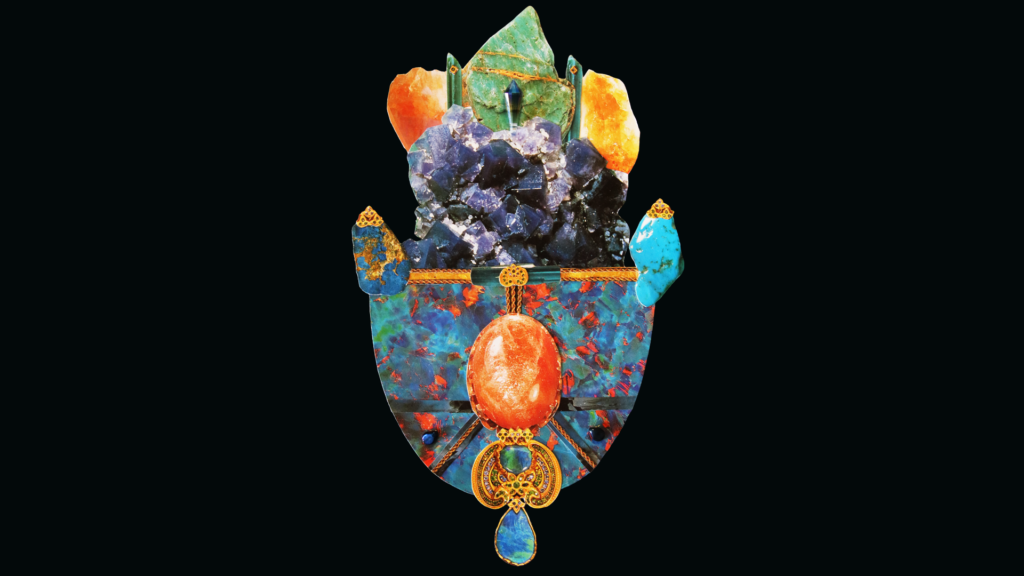 Photo: Courtesy of Art Lush
Tell us a little bit about yourself and your background.

I'm Art Lush, a mixed-media artist creating handmade Judaica and art from found and discarded materials.

One of my earliest, favourite forms of art was collage, and since then I've experimented with it in just about every form I can fathom – video collage, analogue paper collage, mosaics, and discovered materials assemblage. While my professional life has mostly centred on film and animation, collage has always been a form of art therapy and a way to creatively clean my palate between projects.
2020 is the year I decided to finally start exhibiting and selling my collage artwork and Judaica and having the extra time and solitude to focus on my art has been one of the few blessings of an otherwise tumultuous year.

What inspired you to become an artist?

While there are plenty of inspirations for my work, I never had a tangible catalyst or moment that inspired me to become an artist. As far back as I can remember, there's been a need to create, and like the gnawing twinge of hunger or the inescapable ebb of sleep, creating art has always existed within me as another necessary requirement of survival. As I've grown up I've realized art has been my therapy, my connection to my culture and history, and a way of reimagining, repurposing, and even loving the broken, discarded, and forgotten things of the world.

What is your specialty?

I'm very hesitant to say I have a specialty as I've always been a multi-disciplinary artist who prefers to mix media upon media rather than settling on just one medium or material. I'd say my general specialty is in harvesting the materials for my pieces; from sidewalks, to markets, beaches, bookstores and everywhere in between, I fancy myself a bit of a scavenger and have a corvid's eye when it comes to spotting shiny, beautiful keepsakes and materials to bring back to my crow's nest of treasures that I incorporate into my work.

As for a specific specialty, since this is a spotlight on my Judaica art, I would have to say my hamsas. They're all so different and a complete world of their own, but each theme, or strength, or energy they are built to embody comes through so strongly, and a large part of that success is finding magical materials in the wild to harness the energy I wish for them to resonate.
How and where do you work?

I think the how of my work is a lot simpler to answer than the where, especially as I've never really had a proper studio or workshop, and like many since covid, I find myself in humble surroundings without additional space to dedicate just to my craft. Even though it may seem like I need a lot of space for the nature of my work, I limit myself to only so many materials to work from before I head out in search of more….Which brings us to the how of my work.

My work process involves a step that's a lot closer to curation than creation, but flows seamlessly into the latter. I spend a lot of time sifting through and categorizing my materials, and in doing so, become inspired by them and start imagining their creative reincarnations.

What is the most indispensable item in your studio space?

The pieces of art I've made just for me to hang on my wall and remind me of what I'm capable of creating, even through ill health, small workspaces, and limited tools. Those reminders of self-gratitude and appreciation are invaluable especially when outside forces are intent on sapping our motivation and self-love.

Where do you take your inspiration? Are you pursuing any themes?

My inspirations are eclectic and plentiful. As is hopefully apparent in my work, I love drawing on and using organic materials, nature, and cosmology. The moon is undoubtedly one of my favourite muses and features prominently in my cosmic Judaica collections.

I love pursuing distinct themes in the forms of series and collections, but I have some overall themes that I try to keep at the centre of all of my work, and the most prevalent would be the alchemical nature of my work, which at its root I feel is incredibly Jewish. Especially with Chanukah on the horizon, I think it's so important to remind people that this holiday, and our culture, has often been about making something incredible from nothing.

Through the shtetls, pogroms, and countless generations of rebuilding life from scratch, our resiliency and ability to create new life from the discarded is something I feel great pride in and through my work I want to encourage others to make the most of what we have and remix and reuse materials that would otherwise turn up in a landfill or be lost forever.

Do you do bespoke work?

I'd say bespoke work is about all I do, in the sense that every single piece I make is one of a kind and there are no reproductions of physical materials or pieces. When I'm commissioned to make a piece like my hamsas I'm often given a material or thematic prompt and then I pull fitting pieces from my crow's nest of found materials. I really enjoy this process of creating commissioned work because it means my patrons trust my interpretation of their vision and let the pieces come together organically.

In response to requests, I've also begun scanning and photographing my pieces to sell as prints with customized colour palettes and additional text and designs.

What projects are you currently working on?

Right now I'm working on probably my favourite collection of 2020, my gemstone hamsa series, which marries two of my favourite artistic materials – paper and gemstones. They are composed of a wealth of materials; paper cuttings from gemstone and geology books, swarovski crystals, gold and silver fittings and accents, silver leaf, and of course, gemstones.
As of this interview I've just finished my "Dreidel Heads" Chanukah card series and sent them to the printer, which I'm very excited about. The series started as a lark, as I'd stumbled upon an antique gambling tops plate in a beloved vintage cowboy book and built from the novelty of Chanukah-themed surrealist art. In a very happy coincidence, I ended up with 8 cards and by the time I finished the series it felt so much more important than just kitschy Chanukah cards, but a fun way to connect over great distance with family and loved ones after such a hard year celebrating all of the major holidays in isolation.

What are your favourite items in your current collection?

Oof, that's a hard one, as I feel so connected to each of my hamsas and the distinct beauty each one possesses. I think the Mighty Malachite and Opulent Opal hamsas are my favourites of the moment, but each hamsa is created intentionally with its own unique protective and resonant energy, so they draw me in completely different ways, depending on how I feel.

How do you know when a piece is finished?

Since my art is a mixed-media, multi-material layering process, I don't have trouble with finishing so much as reigning in direction and composition early on in the creation of a piece. I often spend the most time on the foundation, because once I feel comfortable with the overall shape and composition of a piece the rest of the process flows very naturally for me.

What was the first artwork you ever sold?

I actually don't remember! I do however remember the first time I felt comfortable showing a loved one my art and being met with understanding and appreciation, and as an artist that feeling is invaluable.

Which project have you enjoyed working on the most so far?

Creating art has been one of the highlights of this year and as such, many of my projects have brought me much-needed levity and calm during these difficult times. While I've laughed my way through so many projects this year, I think the ones I've enjoyed working on most would be my gemstone and cosmological hamsas, for their intensive and holistic creation process.

What do you want to achieve with your work and what are your wishes for the future?

I like this question because in my case I feel my work and my wishes for the future are intrinsically connected, as I'm often imagining the Jewish future I wish to see when I'm creating Judaica.

I call myself and my work 'judeofuturist' because I want to draw on our rich, complicated, and beautiful history to imagine the infinite bounds and possibilities of Jewishness. As always I just want to remind people, especially marginalized Jews like myself who are minorities within the Jewish community as well, that they're not alone, and that there's no wrong way to connect with or express your Jewishness.

With Chanukah on the horizon I'm wishing for all of the Jews out there who have had such a difficult year celebrating all of our high holidays at a distance and in isolation to find solace and connection in the simple things, and as our people have always done, transform difficult circumstances into something beautiful.


Where can we find your work?

I'm most active on Instagram and that's also where the majority of my work is hosted and sold: @_artlush_

I've also recently opened an etsy account to sell some original pieces and prints: www.etsy.com/uk/shop/ArtLushShop
Photos: Courtesy of Art Lush