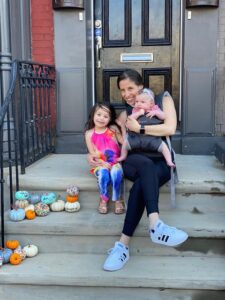 Photo: Courtesy of AZ designs DC
Tell us a little bit about yourself and your background.

My name is Arielle and I'm the woman behind the shop name and the heart behind each canvas and hand-painted card. I started painting one day as something creative to do while I was home on maternity leave with my first daughter and it turned into a small shop overnight. Alongside the help of the local business in the historic Blagden Alley DC I have been able to share my joy of painting with the local community during holiday markets. My goal is to create unique pieces that create positive energy to the customer who buys them and to those they gift my items to.
What inspired you to become an artist?
My two daughters.
What is your specialty?
Small Art on Canvas and unique greeting cards.
How and where do you work?
We are located in the historic Bladgen Alley, Washington DC.
What is the most indispensable item in your studio?
All my colorful paints.
Where do you take your inspiration? Are you pursuing any themes?
My belief in my Jewish religion.
What projects are you currently working on?
Hand painted Hanukkah cards.
What are your favourite items in your current collection?
Pomegranates and Hamsas.
How do you know when a piece is finished?
When it feels right.
Do you do bespoke work?
No.
What was the first artwork you ever sold?
Hamsa.
Which project have you enjoyed working on the most so far?
Creating hand-painted unique greeting cards.
What do you want to achieve with your work and what are your wishes for the future?
I hope to create positive vibes through my colorful art and cards. My wish for the future is to have an art studio and to create unity throughout the Jewish community with my art.
Where can we find your work?
Photos: Courtesy of AZ designs DC