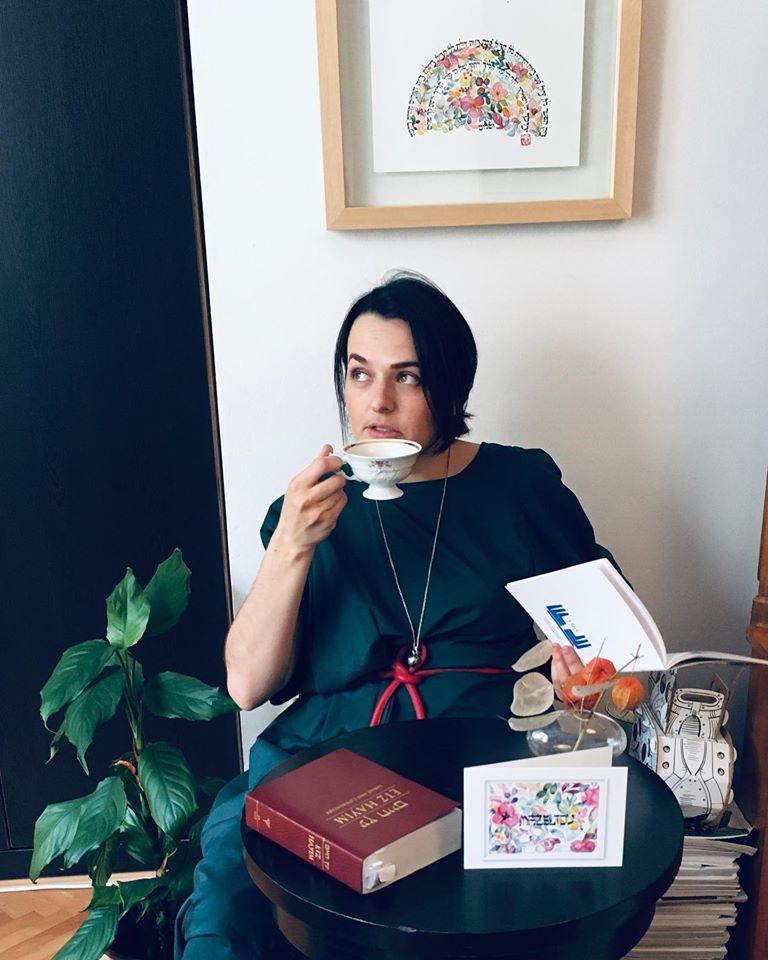 Photo: Courtesy of Anna Kozemjakin
Tell us a little bit about yourself and your background.
I was born and raised in Ukraine. I have a master's degree in History and Jewish studies from the International Solomon University (Kyiv, Ukraine). I spent one year in Stockholm at the "Paideia – European institute for Jewish studies in Sweden ". I loved to study, travel the world and enjoyed every moment, but still searched for more.
In Sweden I met my husband (who is hazzan in the Sarajevo Jewish community) and moved to Bosnia and Herzegovina. In Sarajevo – the European Jerusalem and home to the famous Sarajevo Haggadah, I had lots of free time, so I started to search for that "more" by taking some arts and crafts classes.
What inspired you to become an artist?
Art always fascinated me. I loved huge art books, which my father brought from his trips. I could sit and look through them for many hours, looking at smallest details and thinking what it was all about.
In Bosnia, after getting to know different art techniques and lots of reading and research, it brought me to the point when I wanted to do something new and something mine.
So, I wanted to learn not the regular Hebrew script, but the Rashi script – the original script of Ladino – as an hommage to the rich culture of Sephardic Jews here in the Balkans.
A deep interest in Jewish texts, Tanach and Talmud are the main inspiration behind my Hebrew calligraphy works. And even though it took me a while to develop my style, but I am very happy where this journey takes me.
What is your specialty?
I write Hebrew texts in Rashi script, which is something new.
I started to work on my calligraphy with abstract ink decorations many years ago and have very inspiring pieces. A few years ago, I wanted to create various floral styles for Home blessings and Priestly blessings in watercolours. I really enjoy working on that project too.
How and where do you work?
I have a little corner in my apartment, where I work and enjoy the beautiful view on the park behind my building. Nature inspires and gives me new ideas. If I go out I usually take my little sketchbook with me for drawings or for picking up nice flowers in the forest.
What is the most indispensable item in your studio?
It would be a few items, which I use almost every day: feather quill pens, brushes and my paints.
Where do you take your general inspiration? Are you pursuing any themes?
My inspiration comes from many sources. First of all, the Holy Scriptures – Tanach and Talmud, which are full of deep and meaningful texts. Second of all, I like to put symbolic meaning to my works, inspired by richness of Jewish culture.
Besides that, my love for the nature and spending lots of time in the mountains helps me choose particular colour palette, layout of the text, and it let's me play with different forms.
Do you do bespoke work?
Yes, I mainly do bespoke work! When someone approaches me wishing to order something special and fresh, something immediately clicks and my head bursts with ideas. It really keeps my mind fresh and energised, it always helps seeking creative approaches to my work. And I always learn something new from these experiences.
What projects are you currently working on?
I am working on creating new calligraphic forms of the cursive Rashi script – Solitreo, something like "levha" or shadayot.
What are your favourite items in your current collection?
I have many favourites. Most of all I love my "Eshet hayil"- Woman of valour artwork with green leaves and pomegranate flowers, and new circular calligraphies, which symbolise the circle of life.
How do you know when a piece is finished?
You never know when the piece is finished, but after some years I learned to trust my gut and eventually I know when the piece is done. I also try to be available to my customers during different stages of creating my artwork, so when they say I should stop – it's done!
What was the first artwork you ever sold?
Very first graphics of the Sarajevo old Sephardic synagogue.
Which project have you enjoyed working on the most so far?
Every project and every piece is made with lots of love, so this "hobby" brings only joy. Besides creating original art, I enjoyed creating book covers for the Shabbat prayer books in my community, also – making postcards was amazing. When you see the final product – it gives strength to work harder and to work more.
What do you want to achieve with your work and what are your wishes for the future?
Preserving Jewish culture and traditions in the small community like ours, by teaching them long forgotten Ladino script through Hebrew texts, which they are familiar with and easily recognise (blessings, classical texts from Tanach and Talmud).
Also, every artwork of mine is made with lots and lots of love, so I want the person who orders from me to feel the same love and positive energy filling their homes.
Where can we find your work?
Instagram: https://www.instagram.com/kozemjakin.anna_art/
Facebook: https://www.facebook.com/anna.petruchek
Photos: Courtesy of Anna Kozemjakin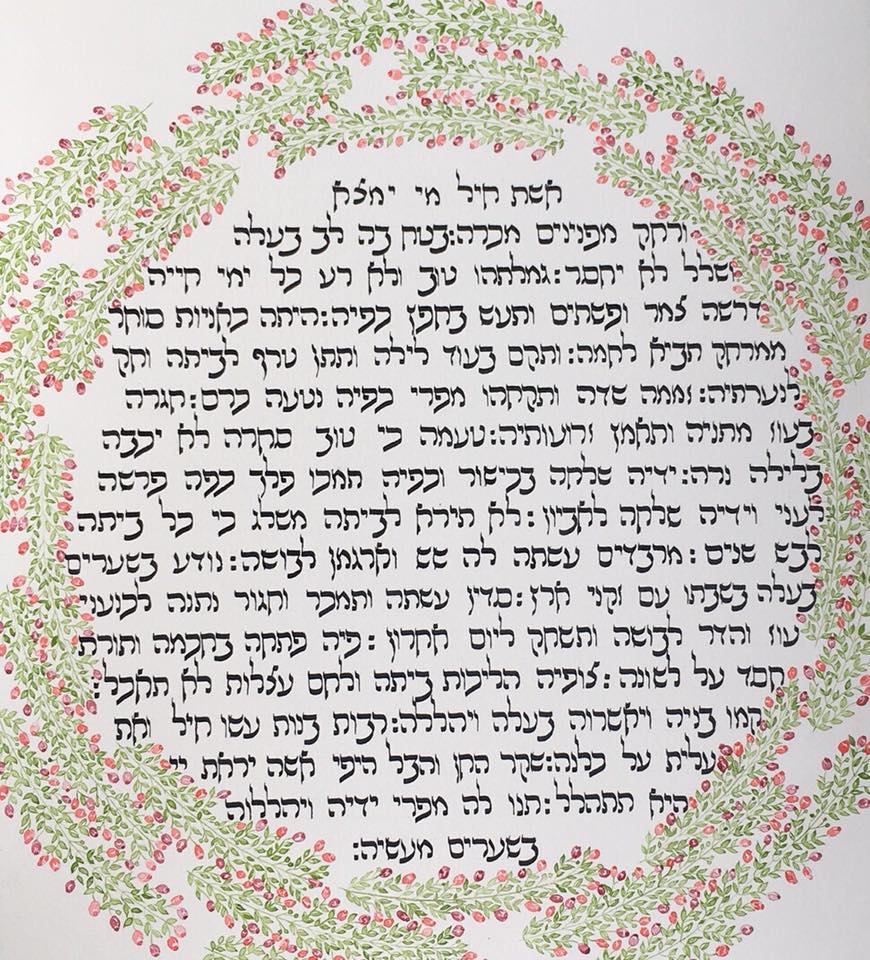 Photo: Courtesy of Anna Kozemjakin