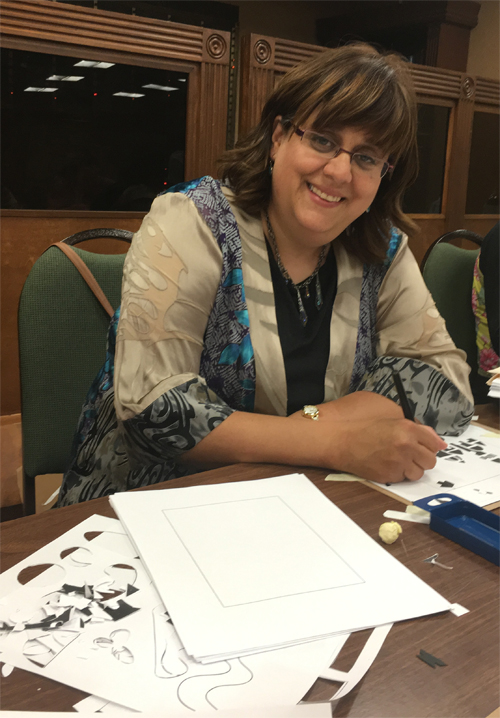 Ann D. Koffsky is a writer and artist. She has written or illustrator of more than thirty Jewish published books, including Creation Colors and Judah Maccabee Goes to the Doctor. She is also an editor and art director at Behrman House Publishers.
Inviting and joyful, Ann's works utilizes a unique combination of acrylic paint, collage and papercut techniques.
Several of her illustrated books have been PJ Library selections and her work has been been featured in The Washington Times, The Philadelphia Inquirer, Jewish Action Magazine, Mishpacha Magazine, and Hadassah Magazine.
Previous to her position at Behrman House, Ann was an adjunct professor of art at Stern College for Women. To learn more about Ann's artwork or books, visit her website at www.annkoffsky.com.
Ann lives in West Hempstead, NY with her husband and three children.
Tell us a little bit about yourself and your background.
Hi! I am an artist, illustrator and author.
What inspired you to become an artist?
The challenge of it!
What is your specialty?
A combination of paint and papercutting.
How and where do you work?
I work in my home studio. I sketch, and then create patterns and textures in acrylic paint, and overly them with intricate papercuts that I cut from high-end papers.
What is the most indispensable item in your studio?
An xacto knife and 100 pack of blades. Great for slicing paper—and not bad at opening a UPS package, too!
Where do you take your inspiration? Are you pursuing any themes?
Great question. I recently was highly inspired by the work of Van Gogh; other times I am inspired by a text or a story. The work of Gaudi's murals inspired me recently as well. It's ever changing.
What projects are you currently working on?
Right now, I'm working on the illustrations for a new book, Kayla and Kugel's Hanukkah. It's the third book in the series.
What are your favourite items in your current collection?
I recently painted a set of 10 mini canvases. I kind of love those right now.
How do you know when a piece is finished?
When I have nothing more to say with my paint.
Do you do bespoke work?
Sometimes. I've done a bunch of Ketubot for people. And several murals. It's always exciting to make a personal piece for someone—very meaningful.
What was the first artwork you ever sold?
I created some spot illustrations for a small organizational newsletter. I think I got $75!
Which project have you enjoyed working on the most so far?
I loved creating the Creation Colors series of panels. The panels now hang in the Hebrew Academy shul in West Hempstead, and they were also used to illustrate a book.
What do you want to achieve with your work and what are your wishes for the future?
Connection, Health, Happiness, World Peace, and Kindness for all. That covers it, I think!
Where can we find your work?
You can find my book CREATION COLORS on amazon here: https://www.amazon.com/Creation-Colors-Ann-D-Koffsky/dp/1681155451