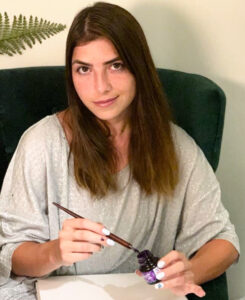 Photo: Courtesy of Lia Baratz
Tell us a little bit about yourself and your background.
I'm 29 years old, I'm a Graphic Designer and Calligrapher, and got married last month. I was raised in Michmash – a small religious village located a few miles from Jerusalem, and I studied in Jerusalem, which deeply influenced my art and inspiration. I was born to a Zionist family – my father is a publicist, which published researches related to Judaism, Christianity and has a special focus on the ancient Dead Sea Scrolls. My mother is a Ph.D. and works in computer software.
I have loved drawing since I was very young, and it was just natural for me to study design after my army duty.
My greatest passion is the art of calligraphy – the visual art related to writing. I love calligraphy as it combines art, design and culture – Jewish or other. Calligraphy taught me how a letter can express emotion, which is not necessarily the meaning of the word. Words and letters also allow me to express my attraction to the spiritual world. While my design work is usually based on digital processing – calligraphy also requires manually writing using a broad-tipped instrument and brushes. The Jewish calligraphy allows me to prepare various artworks and connects me to my Jewish origins.
What inspired you to become an artist?
I always loved to express myself via visual art. On one hand, I was attracted to aesthetics and beauty, and on the other, I looked for a way to have artistic freedom, free of common rules, which specify beauty. I was inspired by expressionist artists and abstract art, such as the American artists Willem de Kooning and Jackson Pollock. I also try to continuously study new techniques and methodologies through courses and books, such as the Calligraphy course I took by the amazing calligrapher Shiri Lenzer, or the Calligraphy book by Izzy Pludwinski.
What is your specialty?
I'm dealing with various graphic design, such as print, digital media, UI/UX and others, but my specialty is Jewish Calligraphy and Typography, which was recently expanded to Ethiopian languages. I love designing Jewish-oriented artworks for the home, such as house blessing, Challah cover, wall pictures, and artworks based on wedding glasses.
How and where do you work?
I like to change my environment when I create new things. I love working in places which inspire me, but these sites might be completely different. For example, last week I worked in the rooftop Café of the Mamilla hotel, 200 meters from Jerusalem old-city walls, and also in the picturesque village Ein Kerem near Jerusalem. This week I worked in a winery, in the Tel-Aviv flee market, and as I occasionally do – near Tel-Aviv beach.
The varying people, cultures, and landscapes excite me and help me invent.
What is the most indispensable item in your studio?
Other than my MAC laptop, which allows me to do digital processing, calligraphy also requires manual writing. My parallel pen is the most indispensable item in my studio – while the historic calligraphy pens were used to write biblical books, parallel pens are easier to use and can achieve even better, sharper and cleaner results. I use ink in various colors, and can also design letters with gradient colors using two ink colors.
Where do you take your inspiration? Are you pursuing any themes?
I look at my art as an adventure and my mobility encourages me to leave my comfort zone and constantly inspire me. While I don't pursue specific themes, other than Judaism as a main them, I'm gaining inspiration in various ways such as reading the Weekly Torah portion, and listening to music.
Do you do bespoke work?
While it is more profitable to copy items for many customers, bespoke work is my true passion. Many of my artworks are prepared for specific clients, after I study the client's interests and characteristics, such as custom-made wedding glass artworks or house blessing.
What projects are you currently working on?
I'm working on several projects now, such as branding for a restaurant, branding for healthy consumer products, but the most inspiring project I'm doing now is an amazing art project related to the Jerusalem theme in the Ethiopian community culture and history. In this project, we combine photography, graphic design and Jewish and Ethiopian calligraphy. This important project allows me to express my interest in symbols, primitive calligraphy and their relation to tradition.
What are your favourite items in your current collection?
I like many of the artworks and I actually cannot choose one which one is my favorite.
How do you know when a piece is finished?
A tough question…. Sometimes I feel that a piece is never finished, and requires endless work. As a designer, I'm struggling between two concepts – 'the more the merrier' and 'Best is the enemy of the good'. I believe that I should finish a piece when I find the right balance between the two.
What was the first artwork you ever sold?
When I was 15 years old, I prepared an acrylic picture of Herzl and hanged it in my parents' living room. I didn't plan to sell it but a neighbor who visited us saw it and was so excited that he offered me a sizable price for this piece.
Which project have you enjoyed working on the most so far?
The wedding glass artwork is always enjoyable but one of the projects I recently did is one I'll remember. A few weeks ago I was approached by a guy who got married a year ago, but unlike others he had two glasses rather than one. His wife had a tragic event and got the Rebbe's permission to break the glass too. Her brother was sadly killed in 2014 during the 'Tzuk Eitan' Israel–Gaza conflict, and she wanted to commemorate him through her wedding glass. I was deeply touched by their story and prepared a piece which integrates their pictures and broken glasses.
What do you want to achieve with your work and what are your wishes for the future?
I'd like to create works which express the combination of modern contemporary aesthetics with traditional Judaica.
Where can we find your work?
Photos: Courtesy of Lia Baratz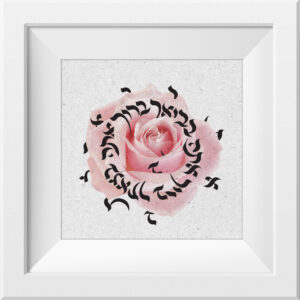 Photo: Courtesy of Lia Baratz