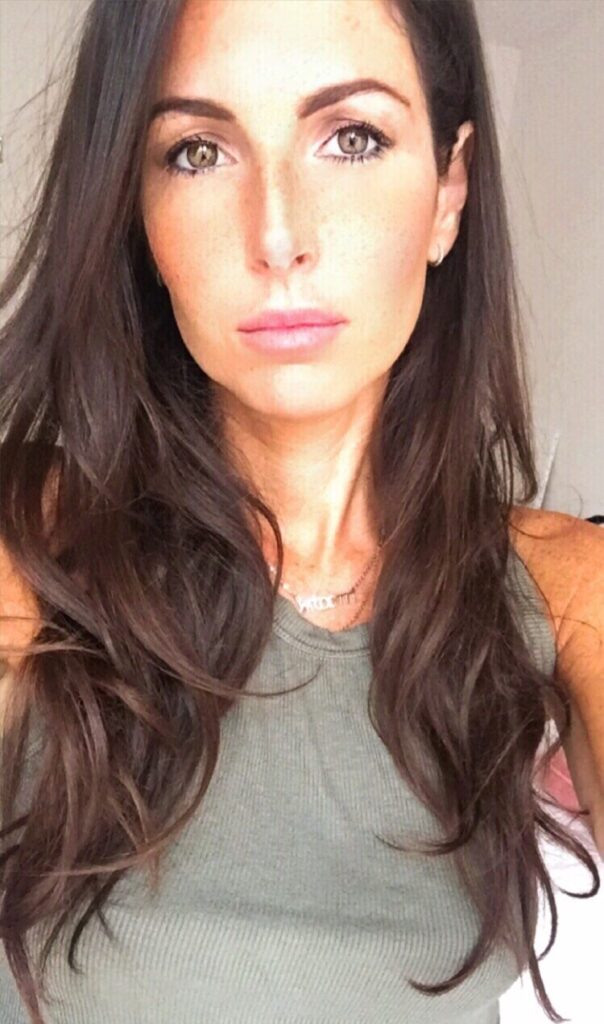 Photo: Courtesy of Alexandra Teboul
Tell us a little bit about yourself and your background.
I am an interior designer by training, specialising in visual merchandising for large luxury houses. I had the chance to work for the luxury brands Chanel and Poiray. My field requires a lot of creativity, curiosity and rigour.
I am overflowing with creativity in both my personal and professional life.
What inspired you to become an artist?
I have been creative from a young age. I was drawing plans for my dream house when I was barely seven years old. I made dresses for my dolls and painted a lot. I constantly feel the need to create. I am inspired by what surrounds me. I think this creativity comes from my father, also being in the field of architecture. He took me to the construction sites, curious to see how the craftsmen worked.
During the confinement, I went back to painting. I have always been fascinated and as if bewitched by Judaic art. Transcribe spirituality through painting. We feel a power, an emotion behind certain paintings. This is what made me want to become this "artist".
What is your specialty?
My vision is rather modern, minimalist and timeless. A vision that resembles me. I like to work on textures, volumes, monochrome. In particular, black and white, colours of elegance and purity, two opposites, both light and dark.
I like to integrate Hebrew words. A word to give it meaning, a message to get across.
Play between a smooth texture with a rough surface like sand, as you can see on my ALEPH piece.
How and where do you work?
I work at home and particularly in my bedroom. I created a small space for myself at the corner of my window. Once in my bed at night, I can observe my canvas in progress … I think about it, and inspiration comes to me, I make changes … I take a step back from the piece, sometimes for several days.
What is the most indispensable item in your workspace?
My spatula.
Where do you take your inspiration? Are you pursuing any themes?
A lot from the Kabbalah, the meaning of Hebrew letters. Jewish art and symbols. Then I let my imagination run wild.
Do you do bespoke work?
Yes, I take custom orders but always making sure to respect my vision of Judaic art. I want to keep my personality. So if that doesn't sound like me, I can say no.
What projects are you currently working on?
Currently, I am working on a series of canvases of different sizes, where I represent the ultra-Orthodox segment of society in a modern and minimalist way.
What is or are your favourite items in your current collection?
I don't have many yet, but I would say my Menorah painting for now. I have shown the 7-branched menorah that could be found during the Temple period. One of the most important and sacred Jewish symbols. I wanted to transcribe the miracle of the menorah, the contrast of the golden flames on this painting in black monochrome.
I worked in volume. The painting is in 3D. It contains the four letters that we have on the Dreidel. Nun, Gimel, Hei, Shin "Nes gadol haya sham" which translates into a great miracle that happened there.
How do you know when a piece is finished?
I know it is over when in my opinion, nothing is missing, that I have managed to transcribe my feelings and that the piece completely seduces me.
What was the first artwork you ever sold?
A painting of Hebrew letters on dark wood and in black monochrome paint. I have had several orders since then.
Which project have you enjoyed working on the most so far?
I love them all because they are different. I had so much fun out of each of them. Even if some took longer than others to be completed.
What do you want to achieve with your work, and what are your wishes for the future?
I want to be able to reach a large number of people with my works. Share my passion and my vision of Judaic art. It transcribes my way of seeing religion in a modern and open-minded way.
Where can we find your work?
http://www.hakolart.com/galerie/alexandra-teboul/
Instagram: @alexandrateboul.art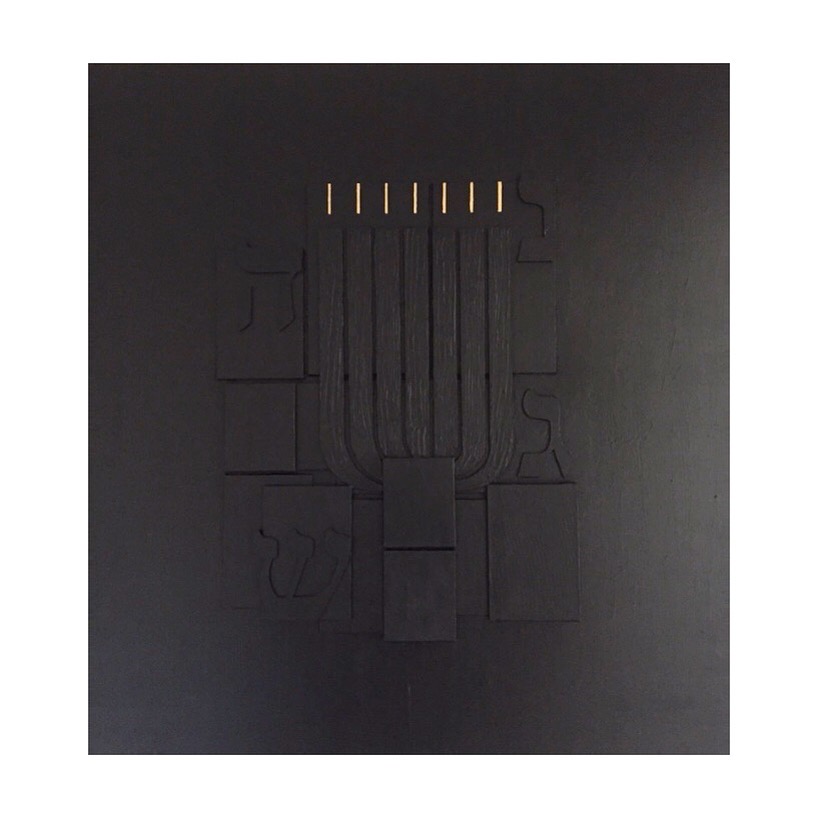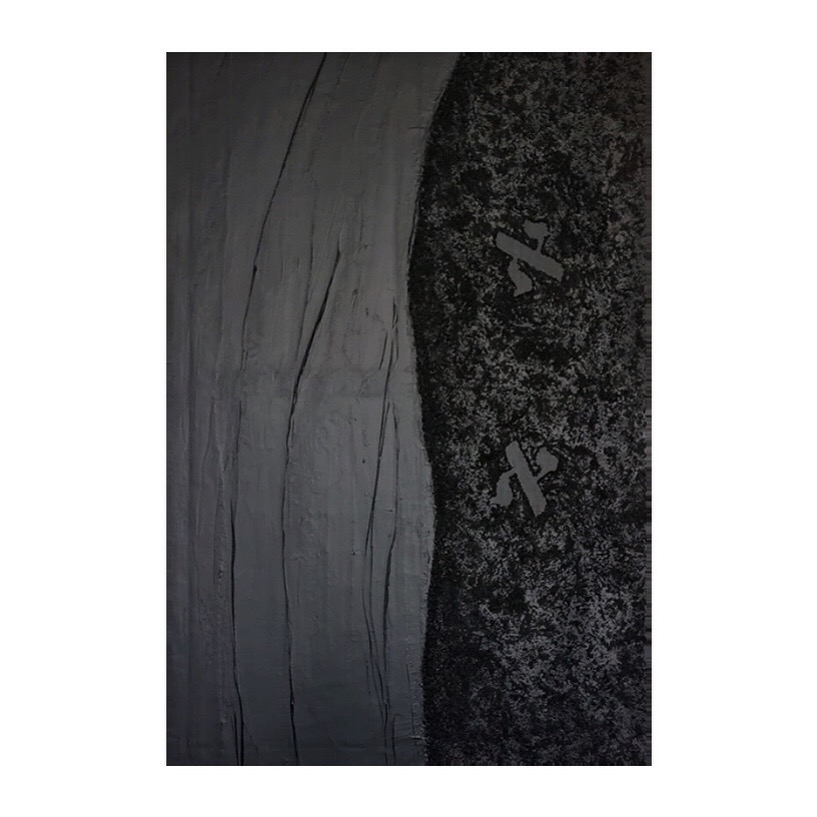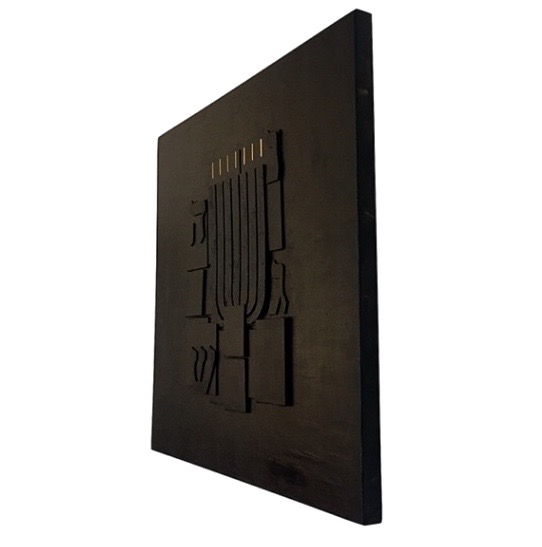 Photos: Courtesy of Alexandra Teboul