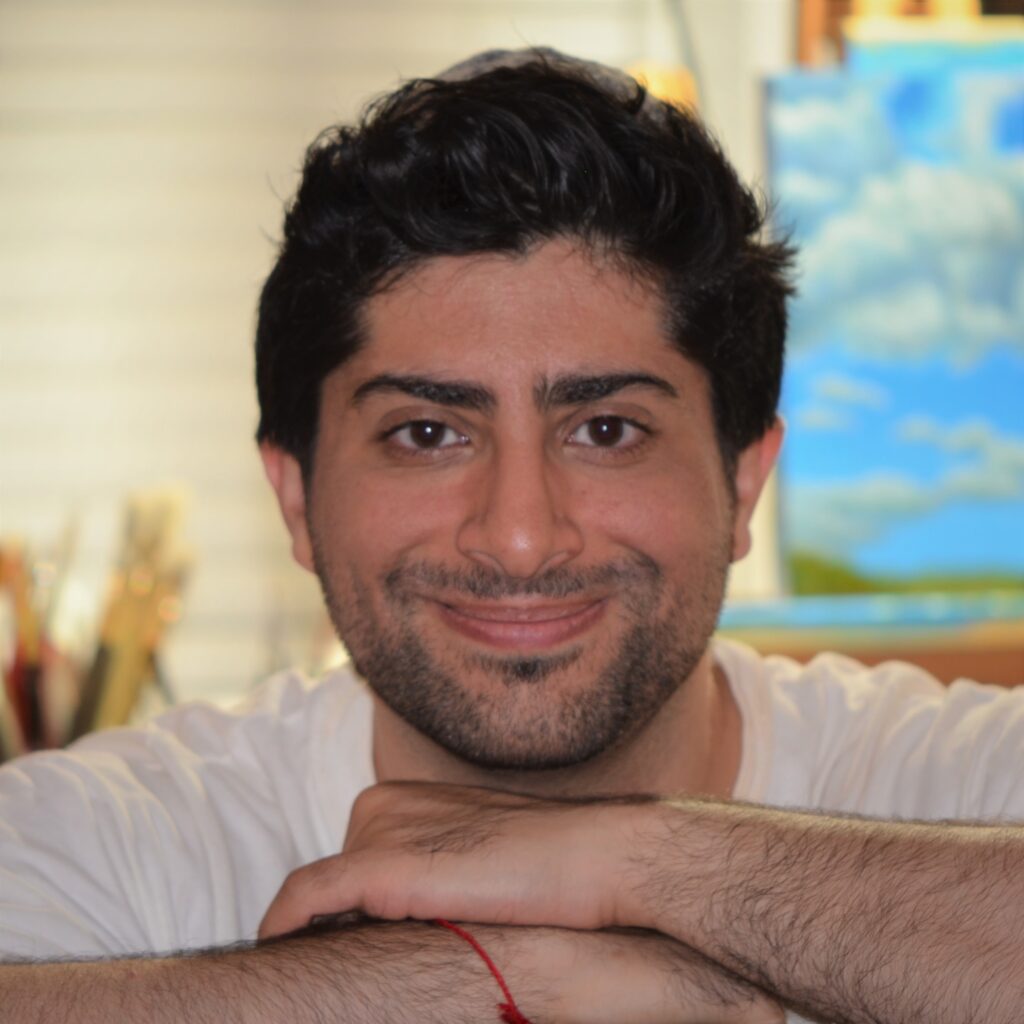 Photo: Courtesy of Alex Aronov
Alex Aronov is the self-taught multimedia artist and woodworker behind the brand Aleph Aleph. He skillfully hand-carves and creates Judaic items from wood, metal and stone.
Tell us a little bit about yourself and your background.
I emigrated with my family from Uzbekistan as one of the many refugees leaving Communist Bloc countries when I was five. I was raised with a strong enough Jewish identity that shortly after elementary school, I made the decision to be sent to a local yeshiva, in Queens, so that I could learn to read from the Torah for my bar mitzvah. After my bar mitzvah I chose to leave my friends and family to continue my Jewish education in a yeshiva in New Jersey. From yeshiva I attended college for a bachelor's in nutrition and Exercise Science, thinking that I would pursue a career in Health and Fitness. I feel as if I have come a long way since. Today I live in Brooklyn, New York, with my wife and son, where I create full time.
What inspired you to become an artist?
About ten years ago, I was perusing an arts and crafts store and I saw a wood whittling kit on display. I thought the word "whittle" was funny and bought the kit. I started carving figurines that a friend thought looked like mezuzah cases, and things spiraled out from there.
You see art was always something that I loved. As a child I loved to draw, and I have been drawing as early as I can remember. Drawing was always something that I did. My notebooks were always filled with doodles and anytime I had a project or diorama I would always jump at the chance to create.
I played music and explored painting, minoring in studio art in college, but the majority of my art education came from YouTube, books, and the willingness to experiment. I'm an autodidact- I'm happy learning and teaching myself, and I fuel my need to create by understanding how something is made, and then exploring.
I had never thought of art as a career, but here I am. I love making things you can experience with your senses, and how the feel of the objects I make can help connect you to the mitzvah. The feel, smell, and sound of different species of wood or stone from various parts of the world each tells a different story. I've worked in other fields, retail, restaurants, personal training, sales, customer service even a matzah bakery but it became clear to me that crafting Judaica was what I was meant to do. It just felt like the right path. In fact, I would never have met my wife if not for this path!
What is your specialty?
I strive to create objects from wood, stone and metal that are at the same time functional, and works of art. However, I believe woodwork carving is my specialty. From a design standpoint, I prioritize function as what steers me to create a beautiful piece. I have a certain admiration for my materials. They were once alive or are incredibly changeable, whether through, age, sunlight, temperature, or use by the owner. Wood will darken if grasped by hands over time, while aging copper develops a colorful patina. I keep this sense of dynamism in mind when I create, with the hope that these objects each transform alongside their users.
How and where do you work?
I have a small basement studio in Brooklyn. I am what some would call a hybrid woodworker, meaning that I use hand tools such as chisels, hand planes and knives alongside machines. With metal, I hammer, drill, saw, file and solder. With stone I carve using hammer and chisel, rotary tools or turn on a lathe. What inspires and challenges me each day is the pleasure I have of making pieces with my hands.
What is the most indispensable item in your studio?
Tough question! I use the medium to guide the tool choice. The indispensable tool of the day varies with what I'm working on. I would have to say that my carving knives, chisels, handsaws, hand planes and sharpening stones are some of my favorite tools though, especially since using them set me on this path. Holding them, I feel as if I can make anything, and I use them every day. My lathe is another important tool in my shop. It is one of the most versatile tools I own. I use it to form pieces and even buff finished pieces. My other tools or machines help me to work faster and more efficiently.
Where do you take your inspiration? Are you pursuing any themes?
I get my inspiration from being present. I used to take "inspiration vacations" when I got stuck on a project or idea. I would leave my everyday environment armed with a camera or sketchpad and take a hike in the woods, visit a museum, synagogue or a garden, and just try to take in the moment.
Sometimes my inspiration comes in searching for a solution to a problem I encounter exploring various woodworking techniques. For example, the drilling process used to hollow out the wood for my mezuzah cases would sometimes blow a hole through some pieces of wood. Instead of throwing them out as failures, the "Holey Mezuzah Case" design was born. Very little goes to waste in my shop. The Torah pointers I make are a direct result of that. The carved cocobolo hands are made with the offcuts from the small mezuzah cases I make.
Nature is one of my largest sources of inspiration. I try to incorporate organic shapes and flow that mimics natural forms inspired by the Fibonacci sequence, coral reefs, trees, other flora, caves and more while also encouraging the natural colors and patterns of the raw materials to come through in a finished piece. I do my best to follow the flow of the material to create intentional movement or to seek a balance between nature and manmade form. I love the Japanese concept of wabi-sabi- accepting the imperfections of life/nature and seeing them as beauty.
The Torah is another huge source of inspiration. Specifically, the book of Bereshit, Genesis. The ultimate creation and Creator. Sometimes a phrase or an idea is so powerful it translates itself directly into a design.
Do you do bespoke work?
I do, and I consider it a prime learning opportunity. When a client comes to me with an idea for a custom piece, I use the situation as a chance to explore a new technique or try out a fresh idea. The opportunity to explore the creative process is incredibly enjoyable, especially when the client puts full faith in my ability. I also find that many people have difficulty in expressing what they look for in an object outside of its function, so in working with the client to get to know their individual needs, I also get to develop a deeper connection to the piece in the process of making it for a unique individual- an audience of one.
What projects are you currently working on?
I have a new line of items that I am really excited about. I will be releasing them in the next couple of months. They include Challah boards and candelabras.
With the challah boards I'm using new techniques and beautiful woods. My inspiration came directly from Bereshit. And my design makes you focus on the natural beauty of wood.
The candelabras are a milestone, celebrating my accomplishments in my craft and in my ability to work with different materials. I incorporate wood and metal or stone using organic forms and the culmination of the techniques I have learned in the last ten years of making.
I have a few years worth of ideas I'm looking to try out, and I've just been waiting until I had the skills to see them through. In the drawing pad I have a few ideas that I have been brewing for the last 4 years deciding what material would best suit them. They include a Kiddush cup, menorah and tzedakah boxes. I am also working on designing a few new mezuzah cases using metal and wood.
What are your favourite items in your current collection?
The idea that any one of my items is used for a ritual or to beautify a mitzvah makes all of them special to me, making it hard to choose a favorite. That said, the new challah boards and candle holders/candelabras might be high on the list!
I also love the "Holey" mezuzah cases (I also like puns). They take a while to finish, but completing each one is so satisfying, and knowing they add to someone's home adds a certain sense of something extra. The Torah pointers are reminiscent of excitement, wonder, and growth, in the hands of a young boy or girl of bar/bat mitzvah age reading Torah for the first time. Each piece is tied to an element of Jewish life and contributes to building someone's memories and feelings about their home! The whole aspect that any one of my items would be used during a ritual or to beautify a mitzvah makes all the things I make special to me. It really is hard to choose a favorite.
How do you know when a piece is finished?
Sometimes I just know and sometimes I ask my wife or a close friend. Sometimes a piece just needs time and I let it sit on the shelf until I develop the skills and/or the inspiration required to finish it.
What was the first artwork you ever sold?
When I first started, I made pieces and gave them away. That rewarding feeling of creating beautiful gifts was so important to me, that I had a hard time selling my work, worried I would miss that feeling. Then a friend was determined to purchase a mezuzah case from me, and they expressed how glad they were that they could support me so I could continue to make beautiful things for others! That resonated with me and convinced me to try my hand as a professional artist.
Which project have you enjoyed working on the most so far?
I don't like to throw out scraps, so sometimes after a project I use the offcuts to make toys for my son. The process of making him something is always rewarding, especially knowing that no one else in the world has something like it, and that I was the one to be able to gift this toy to him. The same goes for making gifts for my wife such as the candelabra I surprised her with recently, or the ring box I used to propose to her, or any of the other pieces I have created for loved ones over the years.
What do you want to achieve with your work and what are your wishes for the future?
I hope someday to design an Aron Kodesh or take part in the designing of an entire synagogue. Each year I take on larger projects and materials outside my comfort zone. Currently, I am learning digital 3D design, and I hope to add ceramics, stained glass, glass blowing, welding and more to my repertoire. I hope to gain enough knowledge to teach and pass on a love for such craftsmanship.
Where can we find your work?
Website:
Facebook:
https://www..facebook.com/alephaleph
Instagram:
https://www.instagram.com/aleph_aleph/
Pinterest:
https://www.pinterest.com/aleph_aleph/
YouTube:
https://www.youtube.com/channel/UCuEqIS75-FOdeui-RIuYpVw
Twitter: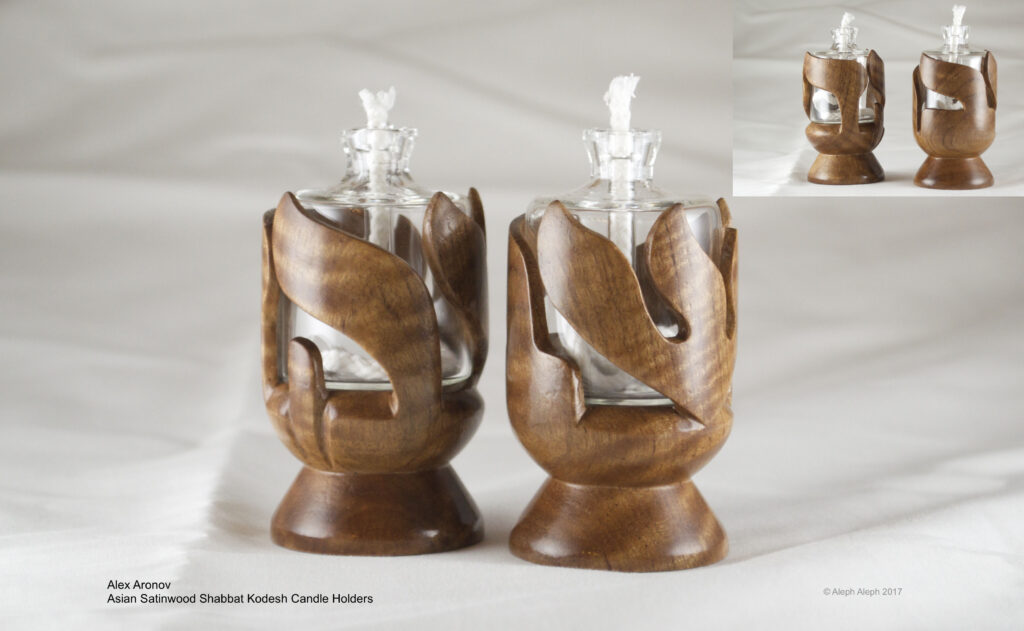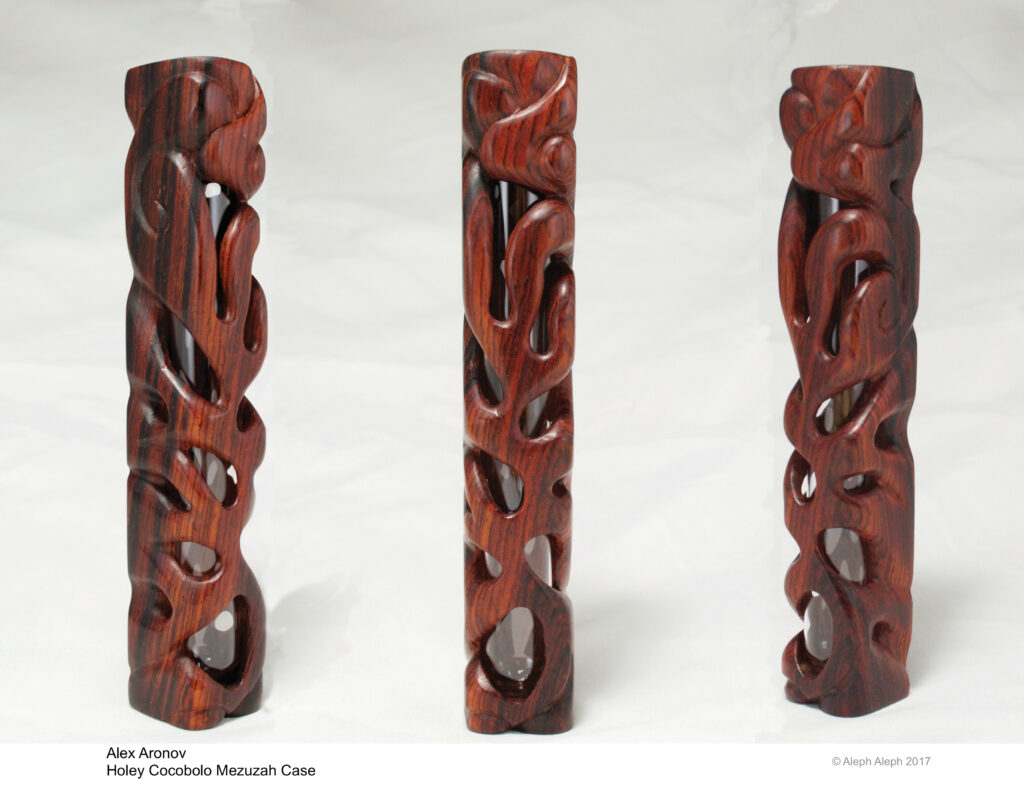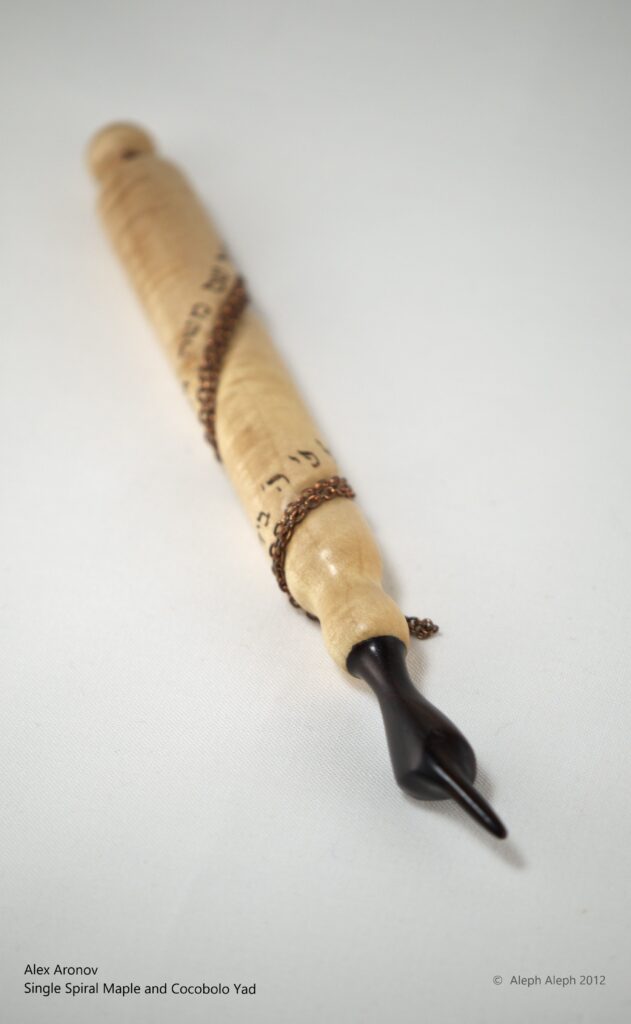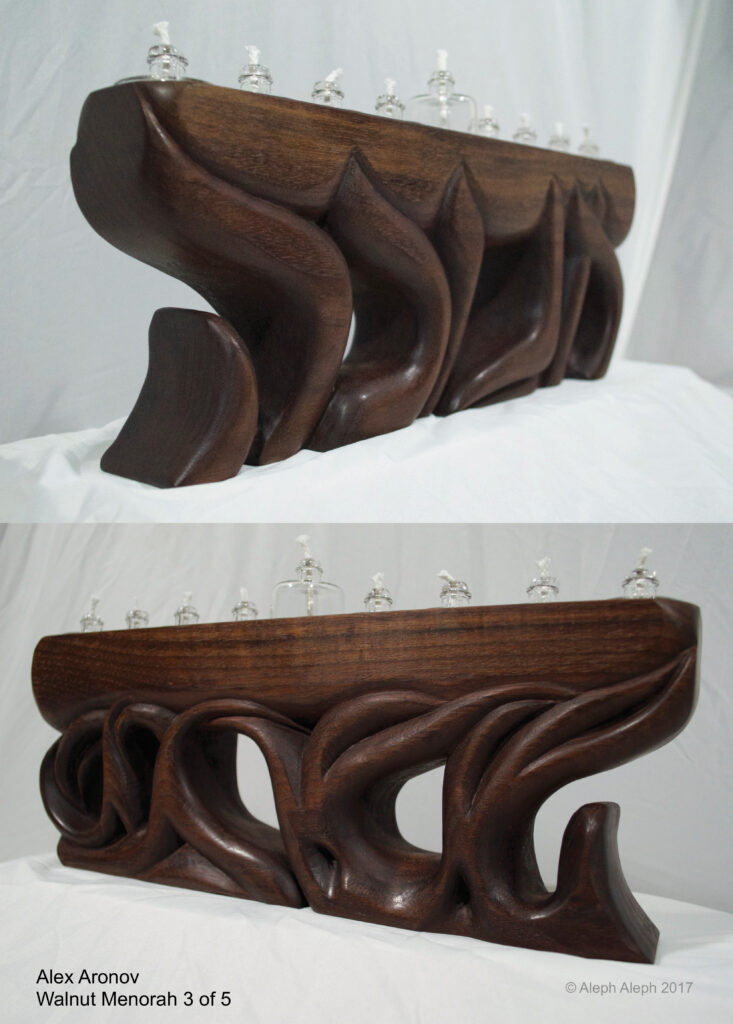 Photos: Courtesy of Alex Aronov