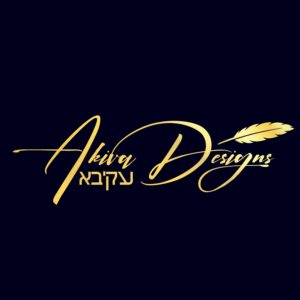 Photo: Courtesy of Akiva Designs
Tell us a little bit about yourself and your background.
My name is Akiva, I am 30 years old, married with three children and live in Bremen where I am a member of the orthodox Jewish community. I am a freelance artist for Hebrew Calligraphy and love everything that has anything to do with Jewish art.
What inspired you to become an artist?
Calligraphy has always fascinated me. Especially Hebrew and Arabic Calligraphy, which I believe is very beautiful. I always wanted to start practicing it but somehow it always seemed impossible. At some point, I purchased an inexpensive calligraphy pen and started practicing this art. I quickly realised that it works very well for me and haven't stopped practicing ever since. It took some time to develop my skills to a level I could show my artwork to the public.
What is your specialty?
I don't like outlandish abstract paintings. Personally, I prefer to keep with tradition and write the Hebrew letters in a classical style.
How and where do you work?
Primarily, I work from home but due to my job I am regularly travelling all over Germany, which leads me to take my utensils with me wherever I go in order to finish my artwork and keep my creativity flowing.
Where do you take your inspiration? Are you pursuing any themes?
Everyday live inspires me. My children, my wife, my friends and of course the Jewish religion as well.
Do you do bespoke work?
Until now I haven't had many opportunities to work on bespoke pieces but in general I have no problem with it.
What is the most popular item in your collection?
"Hatikva" has had the best responses so far. On the one side positive– from the Jewish perspective and from friends of Israel – and on the other side negative ones, mostly from Arabas or anti-Semites. They feel offended if you don't call Israel Palestine. I don't make politics, I make art; so I'm trying to ignore it.
What projects are you currently working on?
Only yesterday I have finished a piece of Psalm 67 in the shape of a menorah.
What is your favourite item in your current collection?
The penultimate artwork that I have published. The Shema Israel.
How do you know when a piece is finished?
When I have put the idea I've had in my head on to paper.
What was the first artwork you ever sold?
A classic Home Blessing.
Which project have you enjoyed working on the most so far?
I have to say that working on my last piece of Psalm 67 was very enjoyable.
What do you want to achieve with your work and what are your wishes for the future?
I hope that I will have the opportunity to turn my hobby into my main profession.
Where can we find your work?
On my website, Instagram and Facebook.
Photo: Courtesy of Akiva Designs