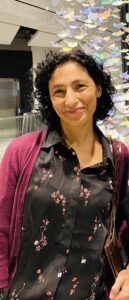 Photo: Courtesy of Adriana Fallas
Tell us a little bit about yourself and your background.
I was born in Buenos Aires, Argentina, and I moved to Houston, Texas, in 2014. Although I dedicated my career to Business and Management, Art has always been part of my life and recently it's become a much greater force of self-expression.
What inspired you to become an artist?
Self-expression and the experimentative quality of art making drives me to create. I find joy in the process of searching for new ways to fulfil my curiosity. For me, art is a mental exercise where I practice my ability to be ok with failing and lack of control.
What is your specialty?
Even though I often work on the wheel, I spend much more time building ceramics and mosaics by hand.
How and where do you work?
Part of my process is to contemplate and meditate about the art pieces I want to bring to life, and that happens at all times even when I am working in other tasks. I work at home and at various ceramic studios.
What is the most indispensable item in your studio?
All I need is clay.
Where do you take your inspiration? Are you pursuing any themes?
My roots and identity as a Jewish Latin woman and mother bring me to each piece. My inspiration evolves around elements that represent my identity. Pomegranates, Hanukiot, Mosaics and Mates. Pomegranates and Hanukiot are essential symbols in my expression of Judaism. Mosaics carry aesthetic value that speaks to my Sephardic heritage. Finally, Mate is a traditional South American caffeine-rich infused drink, which is drunk in specialty cups called Mates that I enjoy making.
Do you do bespoke work?
Most of the time the pieces I create are made for a specific person and purpose. Recently I used a more than six decades old lace knitted by my grandmother for texturing a ceramic Shabbat candleholder for my mother.
What projects are you currently working on?
Right now, I am working on designing different shapes for Hanukiot.
What are your favourite items in your current collection?
I love all my pomegranates, in particular a set of three pomegranates I made using Speckled Buff clay and Emerald over Turkish Amber glazes.
How do you know when a piece is finished?
When it comes to ceramics finishing is something that comes from the process. I could choose to modify or keep working on a piece but the material always has the last say. There is no way back when the clay dries. And, there is limited change that can be made when the piece has been glazed and fired.
What was the first artwork you ever sold?
A set of coffee cups. The Speckled Buff clay that I used combined with Robin's Egg on Turkish Amber glazes give the pieces an organic and earthy effect.
Which project have you enjoyed working on the most so far?
Definitely, "Yerushalayim" hanukiah. I made this piece, my very first hanukiah, while planning a trip to Israel. The whole process felt like a journey, a path that I wanted to take.
What do you want to achieve with your work and what are your wishes for the future?
My ultimate goal is to work in experimentation and finding new techniques for self-expression.
Where can we find your work?
Instagram: @rimon.cajol
Web: https://rimoncajol.onlineweb.shop/
Photos: Courtesy of Adriana Fallas