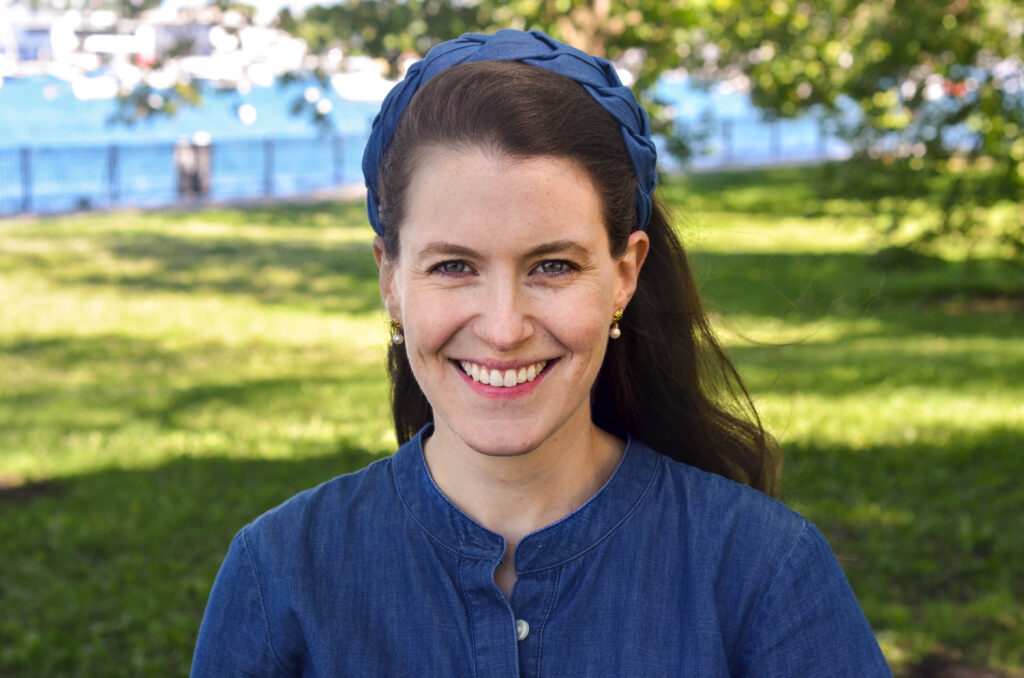 Photo: Courtesy of Adina Silberman
Tell us a little bit about yourself and your background.
My name is Adina Silberman and I currently live in Chicago with my husband and daughter. I am trained as a dentist and have a lot of hobbies including art and graphic design. Jewdles is a brand new line of illustrated Judaica that brings new life to traditional design. Bold and abstract strokes of bright color are the basis of Jewdles illustrations, and our line of products – from waterproof Sukkah posters to Birkonim that can be fully customized for any special occasion – are sure to bring a burst of colorful joy to your home and events.
What inspired you to become an artist?
I have been creating art for as long as I can remember. As a child I was encouraged to think creatively, use my hands, and get messy. When I was in grade school and then in high school and onward I always elected to study art, ultimately completing a minor in studio-art as part of my college degree. My area of interest is not just one. I dabble in various media including but not limited to drawing, painting, graphic design, and photography.
What is your specialty?
Most recently my artistic speciality has focused on graphic arts.
How and where do you work?
I primarily work as a dentist but create my art on the side from home.
What is the most indispensable item in your work space?
I use my iPad Pro to draw and to create my imagery.
Where do you take your inspiration? Are you pursuing any themes?
Jewdles takes inspiration from the symbols associated with Judaism and Jewish holidays. The artwork is bold, lively, and familiar.
Do you do bespoke work?
Certainly. I have done many custom projects for friends, family, and others.
What projects are you currently working on?
Currently I am working on expanding Jewdles to include products for all of the Jewish holidays, as well as items that can be used year-round.
What are your favourite items in your current collection?
I absolutely love the vinyl Sukkah posters that we sell. They are inspired by the sights, sounds, and smells of the High Holidays and are a wonderful piece of artwork to hang in your Sukkah. Aside from the visual appeal of the work, the posters are high quality and will not fade or wear.
How do you know when a piece is finished?
It is always hard to know when to put my pencil down but there is usually a gut feeling when I take a step back and look at the work after a few minutes or a few hours that, yes, it is finished.
What was the first artwork you ever sold?
The Jewdles Sukkah posters were the first works I sold.
Which project have you enjoyed working on the most so far?
There is no one project that I have enjoyed most. Because all of my work involves a similar subject matter, it all brings me joy in different ways.
What do you want to achieve with your work and what are your wishes for the future?
I hope that every Jewish household, classroom, and synagogue can be inspired by a piece of Jewdles artwork in some shape or form.
Where can we find your work?
https://www.etsy.com/shop/MyJewdles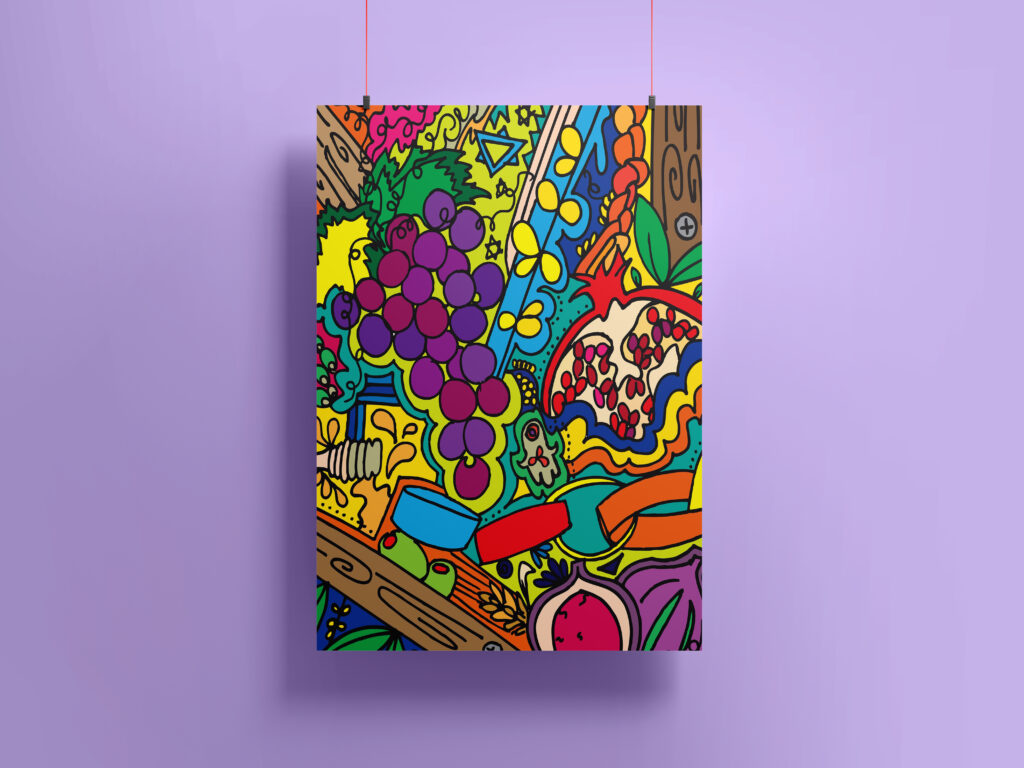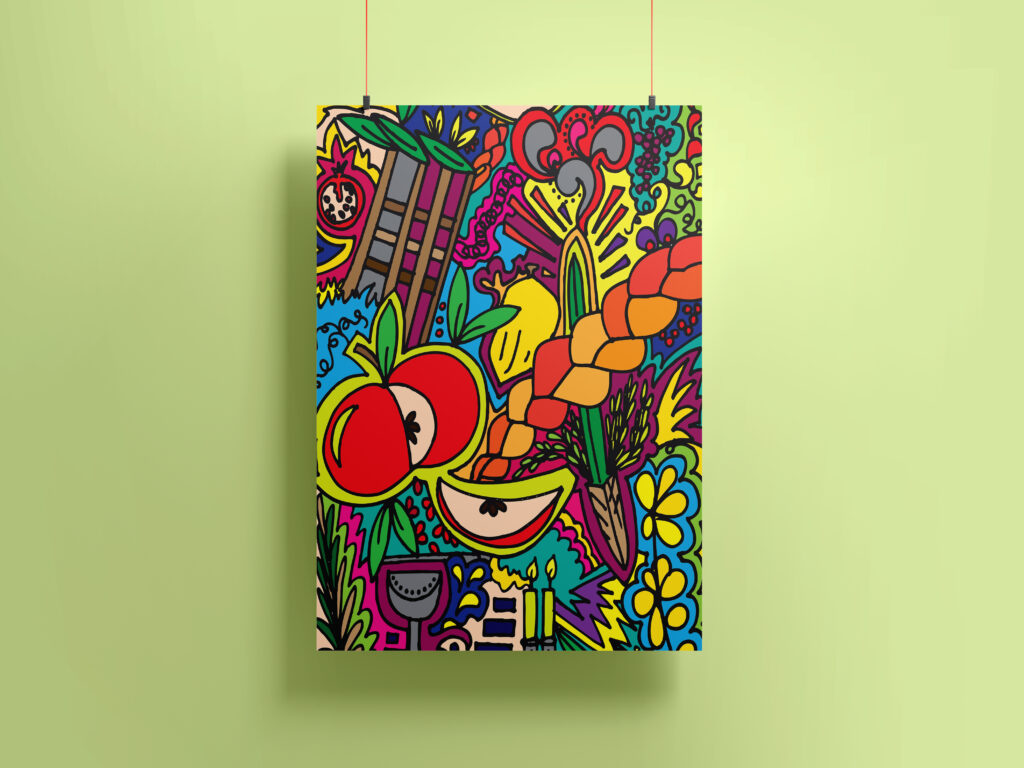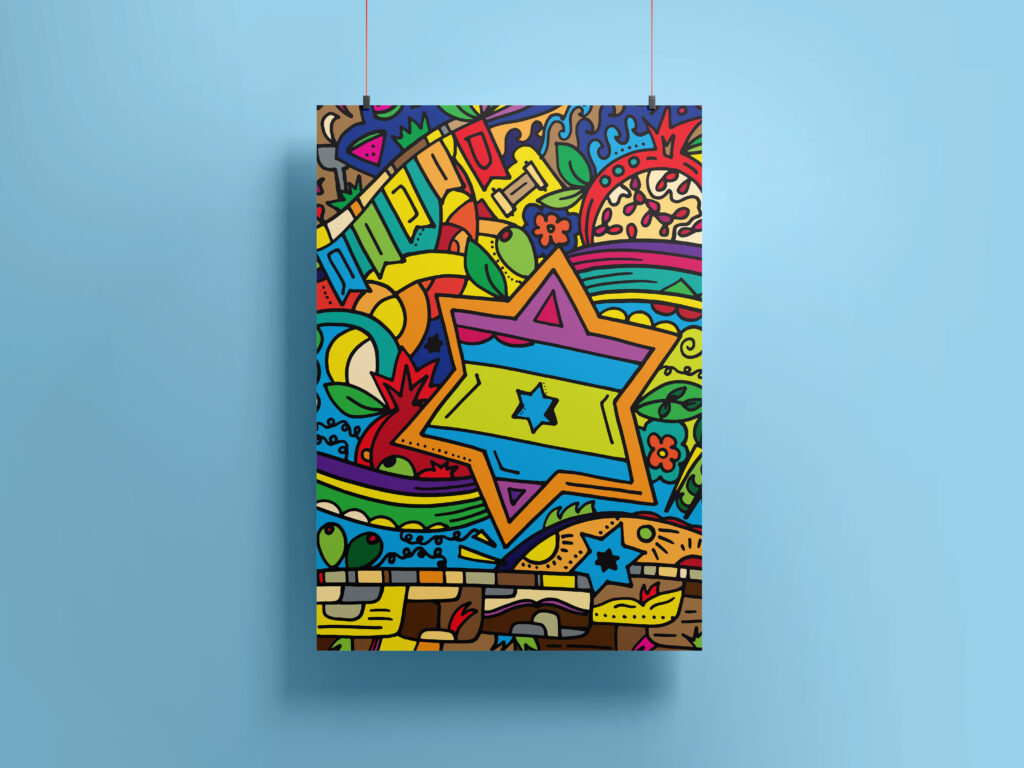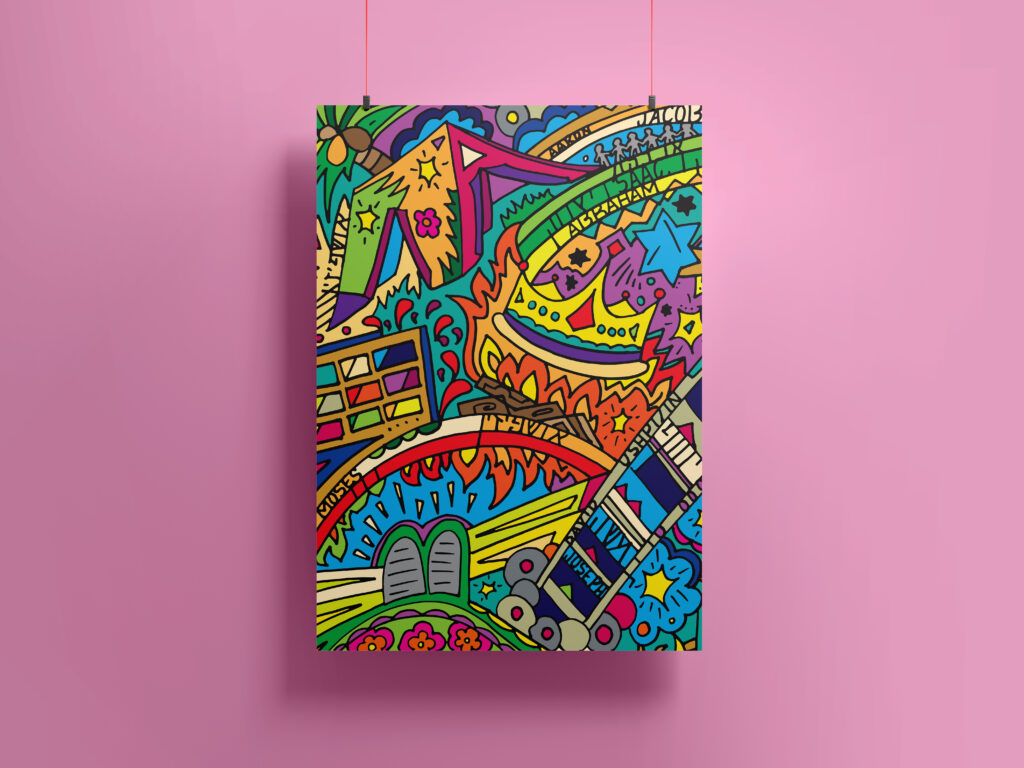 Photos: Courtesy of Adina Silberman