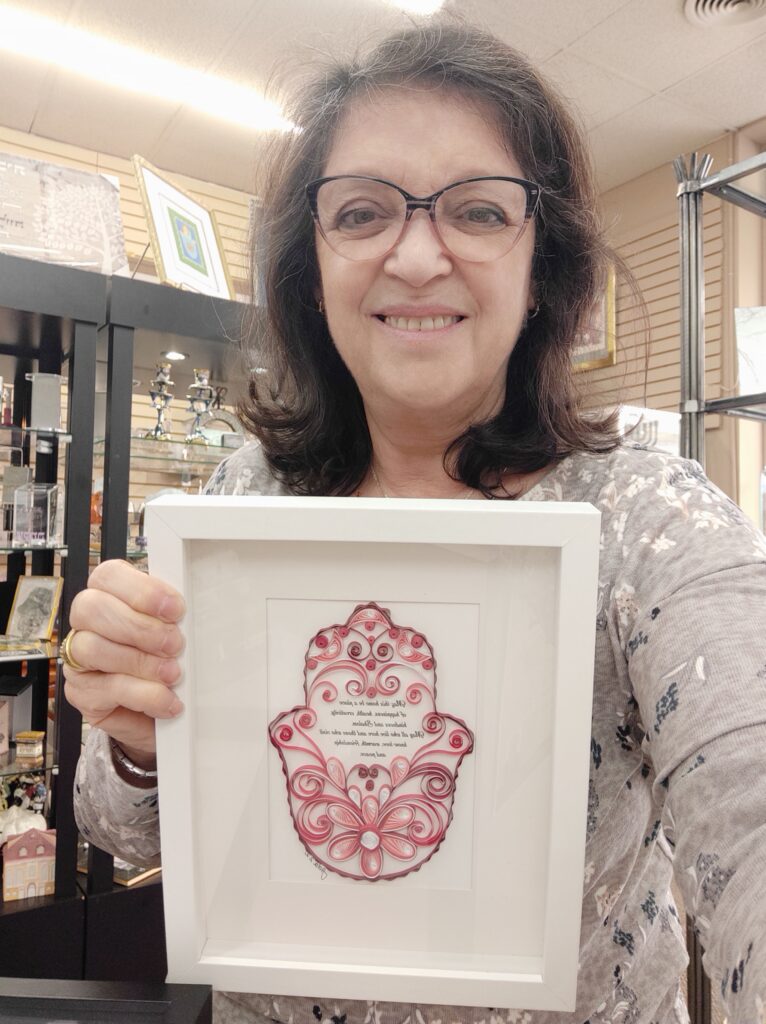 Tell us a little bit about yourself and your background.
I was born in Buenos Aires, Argentina where I lived until age 12. One of my fondest childhood memories are of my grandfather taking me to Shul with him and the joy he got from seeing me sing the prayers and Hebrew holiday songs. Another one of my favorite memories is at my grandparents' house with my grandmother. She had an armoire that was always locked, but when I visited, she would unlock it for me and show me her antique Russian jewelry that was passed down to her from her mother and grandmother. For me, those were magical times; ones that connected Judaic and personal heritage to love and beauty.
During the week, I attended a Jewish Day School and, on the weekends, my parents sent me to an art school, which, as a child, I hated. And still, at age 10, I sold my first piece to a local boutique; it was a beaded handbag. It was only later in life that I realized that my parents could see in me what took me years to discover.
At age 12, as antisemitism was growing in Argentina, my parents made the hard decision to emigrate to Israel. We moved to Israel and I went to live on a kibbutz in one of the most beautiful places I know, next to the Sea of Galilee. I stayed on the kibbutz until I finished the army, when I got married and moved with my husband to a Moshav, where we grew organic vegetables (pioneering at the time) and exported flowers.
In 1984 my parents and brother decided to move to NY, and in 1991 my husband, our 2 sons and I followed them to NY. From NY we moved to Florida where we've been until we moved to Atlanta to be closer to our grandkids.
What inspired you to become an artist?
I've always had a need to create, whether it was that first beaded hand bag at age 10 in Argentina, learning to knit sweaters and blankets. I learned to crochet and made Amigurumi (Japanese art of crocheting or knitting stuffed animal dolls) and later crochet all the kippot for my son's wedding. I continued to bead handbags and bracelets, but everything was always just for family and friends.
About 15 years ago, a friend showed me a box that had quilled flowers on it. I had no idea what quilling was at the time, but my reaction to the box was immediate; I felt transported back to my grandmother and her magic box. I felt that I had found the key to my own magic box! Everything converged and I could visualise creating that incorporated my Jewish memories and the beauty of nature into beautiful pieces. And although the evolution of considering myself an artist was just starting, everything I made were still just gifts for family and friends.
It was really with the start of the pandemic, when I lost my job, that my daughter-in-law encouraged me to focus on my quilling full time and try to sell my pieces. I guess it was the validation of outside purchases that cemented in me my own view of myself as an artist.
What is your speciality?
My art is quilling. Quilling (also known as paper filigree) is an art form that involves the use of strips of paper that are rolled, curled, twisted, looped, shaped, and glued together or otherwise manipulated to create shapes that make up beautiful and original 3D designs.
Within quilling, my specialty is Judaica. I love to create unique pieces that are meaningful and usually drenched in the beauty of both Judaism and nature. My heritage is so rich that there is an abundance of beauty, wisdom, and positivity that I feel connected to and wish to share with others.
Where do you take your inspiration from? Are you pursuing any themes?
I often start with an idea in my mind and then I let it evolve and flow like a river, until it feels complete in my mind. Growing up Jewish in Buenos Aires and in Israel, I am especially inspired by nature and Judaism; two things that greatly impacted my life growing up. Of course, once I became a grandmother, my grandkids provided a whole new spectrum of inspiration, so I incorporated that into my pieces as well. But for all my ideas, whether a blessing, a greeting or a good wish, I try to infuse things that are meaningful into all my art. I also believe that since doing this brings me so much joy, that joy gets infused into each of my pieces; and that makes me happy.
I often pursue Jewish themes: a lot of blessings, passages or stories from the bible, Hebrew songs, prayers, holidays and Judaic symbols. Since nature was such an integral part of my life in Israel and is also such an integral part in Judaism, I use the 7 Species, especially pomegranates and trees. But I also love doves, birds, flowers and anything that reminds me of the sky and water.
For my commissioned pieces, clients often have a general idea of what they want and I take inspiration from that.
Do you take on commissions and create bespoke designs?
Yes, I do take on commissions and create bespoke designs.
My pieces are all custom made and can be made in English, Hebrew or Spanish.
Which project have you enjoyed working on the most so far?
Quilling brings me so much joy and I enjoy the process of creating and the challenges of each and every one of my works; each project brings me joy in different ways.
I was asked recently, what my favourite piece is, or the one that most speaks to me; and although I love all my pieces, the one that really speaks to me is the Tree of Life.
I connect to it on so many levels! Although it has a profoundly Jewish foundation, I actually drew inspiration for that piece from one of my favorite children' stories, the Giving Tree by Shel Silverstein.
There were so many metaphors to work with: roots, strength, protection, wisdom; the tree gives so much, on so many levels; the idea spoke to my heart and I just let it flow.
What do you want to achieve with your work and what are your wishes for the future?
I want my art to bring joy to others. I want to share the uniqueness of handmade art so that when someone passes by one of my pieces, maybe it will bring a smile to their face, make their heart happy with a memory, or appreciate that someone else thought of them in a special way. I also want more people to become familiar with and appreciate the art of quilling.
For myself, I always try to grow as an artist. I'd like to learn calligraphy in Hebrew and English next so I can incorporate it into my work.
Where can we find your work?
You can find my work on
Etsy: https://www.etsy.com/shop/AdaStudioDesigns 
Instagaram: @adastudiodesigns
Website: https://adastudiodesigns.wixsite.com/website
Facebook: https://www.facebook.com/adastudiodesigns/
If you are in the Atlanta area, you can find my work at the Judaica Corner Store and at the Gift Shop at Temple Kol Emeth.
Images: Courtesy of Ada Sapir