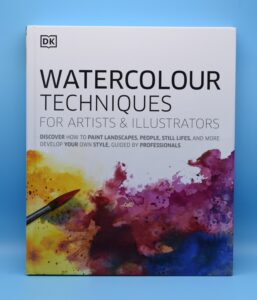 Photo: Courtesy of Judaica in the Spotlight
Are you interested in watercolour art and looking for a step-by-step guidebook to teach you everything you need to know about the theory behind and a variety of techniques to get started? Or are you maybe practicing watercolour for a while already and are looking to further your repertoire? Either way, this is the perfect book for you!
Watercolour Techniques for Artists & Illustrators is an essential resource not to be missed in anyone's art section of their home library. This comprehensive guide will give you a superb foundation not only to get started with watercolour but to take you to the next level in your practice.
Before delving into a variety of techniques, you will learn the basics of watercolour such as what materials to use, how to sketch a subject, and what palette you should use. Once you familiarise yourself with the basics you will have plenty of opportunity to learn and practice the various techniques presented to you in this book.
Divided into three sections, this essential guide will take you through beginner, intermediate, and advance techniques. This includes, but is not limited to, how to apply watercolour paint in different ways on to paper, how to work with negative spaces, how to paint skin tones as well as how to use ink and charcoal in your work.
This book gives a wonderful introduction to a variety of subjects ranging from landscapes and townscapes to patterns, botanical art, and portraits. You will enjoy learning how to paint woodlands, harbour scenes, winter landscapes, loose flowers and all the other subjects presented.
Something we enjoy very much about Watercolour Techniques for Artists & Illustrators is that it includes expert advice given by artists and illustrators who work in the field every step of the way using a variety of styles ranging from classic to contemporary. Following their guidance will help you not only to further develop your skill, but to discover your own unique style on the way.
Our team can highly recommend this book. The artwork chosen to display is very appealing, the explanations are beautifully written, and the steps are easy to follow.
You can find it for a great price, and free shipping, here.