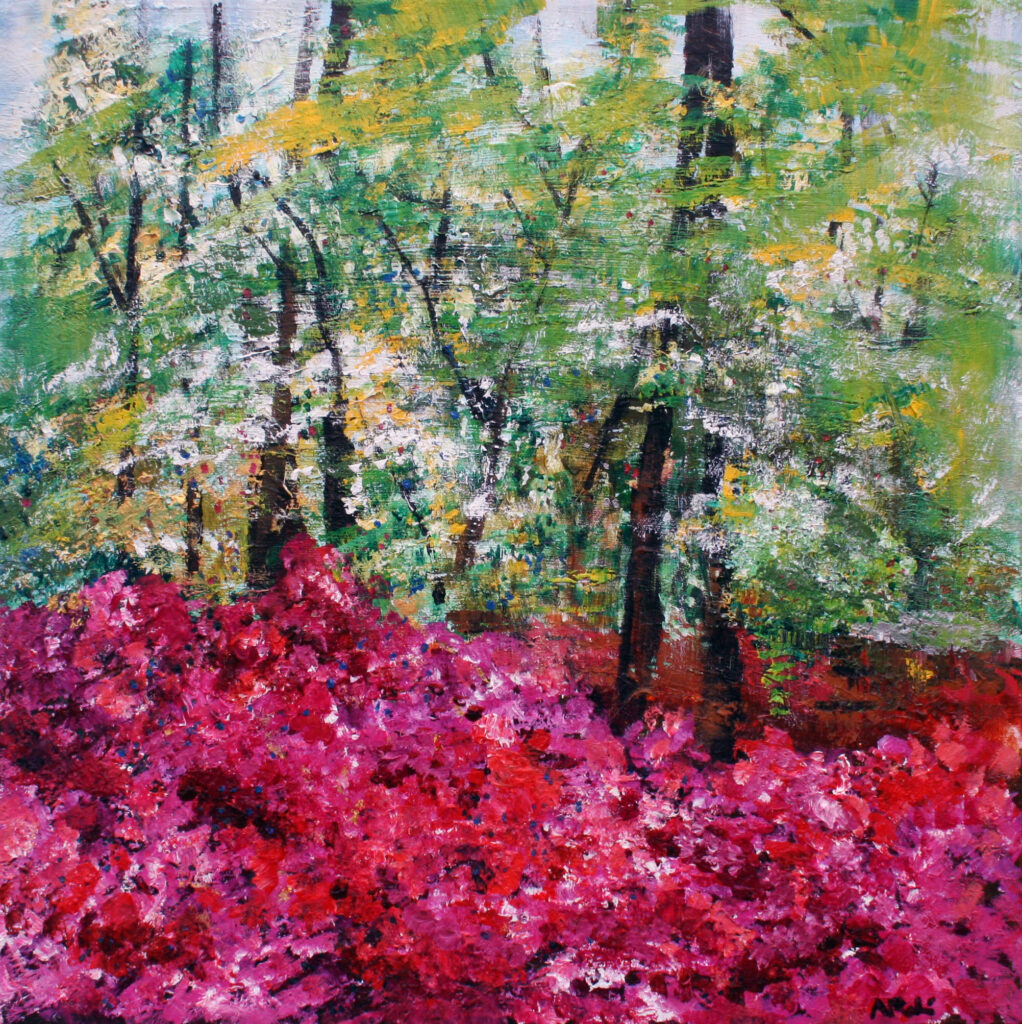 Title: Rhododendron Glade Norfolk Botanical Garden
Artist: Alyse Radenovic
Medium: Acrylic on Canvas
Dimensions: 24.000 x 24.000 x 1.000 inches
Date: 2018
Alyse Radenovic's painting captures the Rhododendron Glade in the Norfolk Botanical Gardens as seen in daylight. While Radenovic has painted most of the trees in the background of the picture, a pair can be seen amid the azaleas, which dominate the foreground. The placement of the trees makes them appear close, yet far away at the same time. Both the trees, as well as the azaleas, are bent in different directions, adding depth to the painting, and creating an atmospheric perspective of the various elements of nature seemingly going on forever. Motion can be seen in the illusion of continuous light breaking and reflecting through the trees and rhododendron glade.
Radenovic has used a complementing colour scheme in her painting. In order to create the trees as realistic as possible, the artist has worked with hues of green, yellow, white, brown, and black. The leaves were painted in various shades of green, with elements of white and yellow aiding in creating the illusion of light breaking through the gardens, reflecting on and from the leaves. The trunks and branches were painted in shades of brown and black. For the azaleas, Radenovic has focussed on hues of magenta, as well as using white and darker shades, aiding in creating the illusion of shadow and light. For the sky, hues of light blue and white have been utilised. The carefully selected colour scheme, and the play with light and shadow, aided in creating the depth and atmospheric perspective we can see in this artwork.
The texture created by Radenovic's strokes gives the viewer the feeling of wholeness, even though the painting as a whole is not symmetrical. The artist created an asymmetrical balance within the different elements she has portrayed in the painting. The asymmetrical balance enhances the realistic portrayal of nature in this piece.
Using her talents, Alyse Radenovic has successfully captured a beautiful spring day when azaleas are in bloom in the Botanical Gardens of Norfolk, Virginia. Her painting is delightful and pleasant to the eye. The beauty of it lies in both the detail, and the whole. A perfect choice for anyone who loves rhododendron and nature in general.
Personally, I appreciate beautiful nature and always have freshly cut flowers from my garden in my home. I would not hesitate hanging a painting capturing nature so beautifully.
Alyse Radenovic is a Jewish American fine artist who works from her studio in Alexandria, Virginia. She has been painting since 2007. You can find her artwork on her Website, Facebook, Instagram, Fine Art America, and Amazon.
Are you curious to get to know more about this very talented artist? We have recently interviewed Alyse for you! You can find her interview here.
Rhododendron Glade Norfolk Botanical Garden has been reviewed by Austrian Crime Author Marie Anders. You can find her books in both German and English on Amazon, BookDepository, Weltbild, Thalia, and Chapters Indigo. Follow her on Facebook, Instagram, and Twitter for updates.