Reviewed by Miriam P. and the five-and-a-half-year-old Julie H.
I spent the last weekend by the coast in County Kerry with my partner, John, and his wonderful family. Liam, his older brother, joined us for a visit together with his wife and their young daughter, Julie, giving me the perfect opportunity to review Inbal Amit's Hebrew 1 and 2 Workbooks she was so kind to send our team earlier in the week.
Julie is a very curious, inquisitive and creative five-and-a-half-year-old girl who beamed with excitement when she saw me taking Inbal's workbooks out of my bag. Julie was intrigued the moment she saw the inviting cover designs and was delighted when she discovered all the colouring opportunities the books have to offer.
After lunch, we went to the sitting room together and started learning the letter א using Hebrew 1. While Hebrew 1 focuses on teaching the print alphabet, Hebrew 2 engages the student in writing the cursive script. In any case, it is highly recommended to finish the first workbook before starting with the second one. This is designed to help the learner when reading printed material first.
It was wonderful being able to watch Julie familiarise herself with the first letters of the Hebrew alphabet and how eager she was to patiently learn to write her first Hebrew words! She particularly fell in love with the artistic element of the alphabet and even preferred it to the Latin one she had already learned in school. We may have a future calligrapher on our hands!
The illustrations in the workbooks are simply adorable. I particularly enjoyed the clear instructions as well as the very useful information given in both Hebrew 1 and 2. The quizzes in between are fun activities for students and teachers alike. As mentioned before, Julie fell in love with all the different colouring options and did not want to put the workbook down even for a second. She even woke up the entire house early the next morning to continue learning the alphabet before breakfast was even served!
Learning the basics of Hebrew is a fantastic activity for parents to do together with their children! Perfect to spend time with them and keep them busy during holiday periods and on weekends.
Julie's mother Róisín, an educator herself for the past decade, joined us after a while and complimented not just her daughter's penmanship but both of Inbal's workbooks as well. As an Irish teacher in a private primary school in Galway, she understands how important and helpful workbooks can be when teaching a new language to a young child, one letter at the time. Róisín particularly liked Inbal's approach of teaching words that are similar in both languages and like this capturing the students' interest in continuing to learn the new language at hand.
Neither of us would hesitate for one second to recommend Inbal's workbooks to anyone interested in learning Hebrew. The workbooks make early learning fun and stimulating, leading to a wonderful educational experience for everyone involved.
Inbal's workbooks make a wonderful present to give to your relatives and friends with young children or to adults who want to learn the alphabet one step at the time before taking formal classes.
Would you like to learn more about Inbal, her passion for the Hebrew language and what inspires her? We recently had the pleasure of interviewing Inbal Amit for our magazine. You can find the entire interview here.
You can purchase the workbooks on Amazon:
Hebrew 1 & 2 Workbooks are available on Amazon (and local Amazon marketplaces):
Hebrew 1 Workbook: https://www.amazon.com/dp/B09PHG42YW
Hebrew 2 Workbook: https://www.amazon.com/gp/product/B09QF44HHT
Follow Inbal on Social Media:
Instagram: @_LearnHebrew
Facebook: Learn Hebrew Books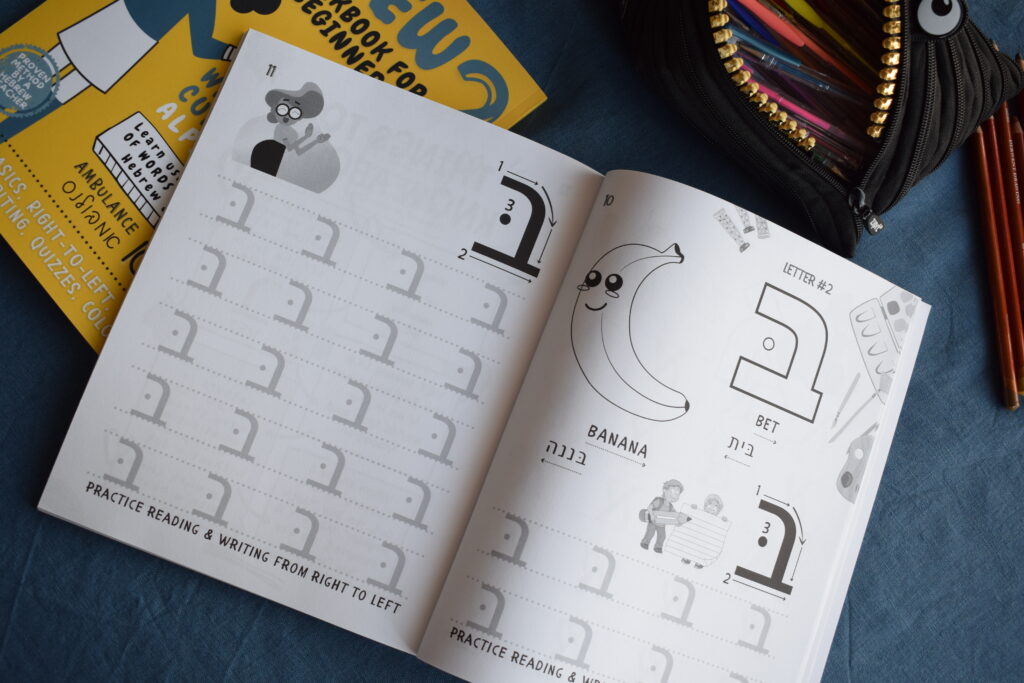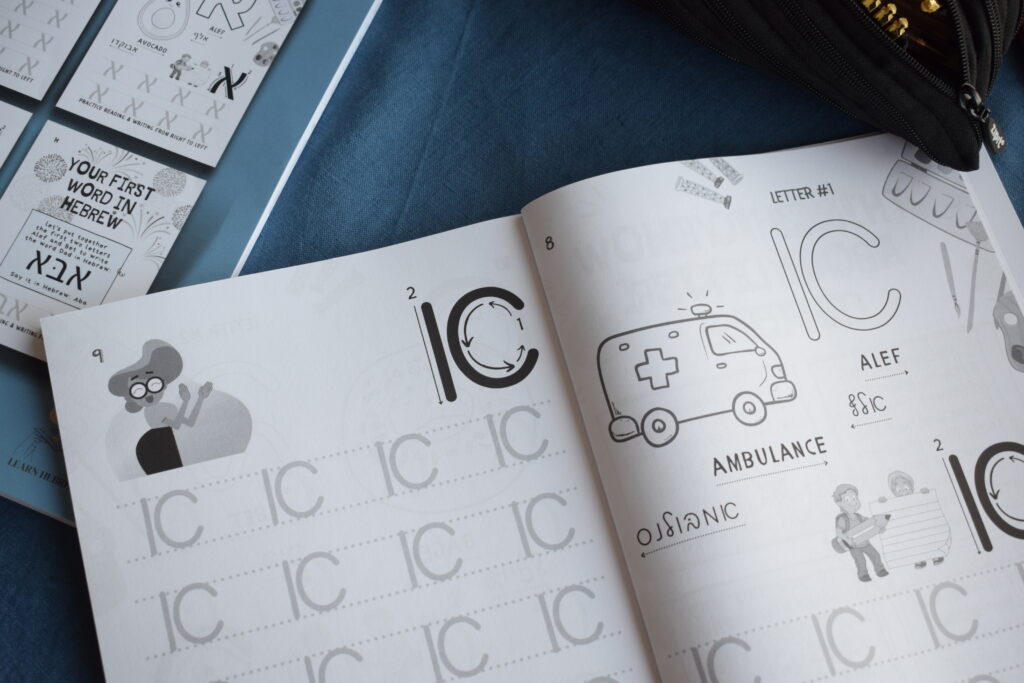 Photos: Courtesy of Judaica in the Spotlight