Bahá'í Shrine and Gardens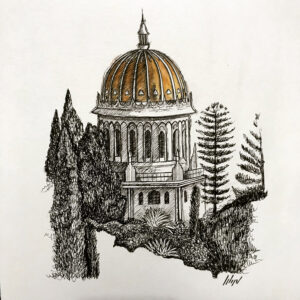 Photo: Courtesy of Saba Shahriari
'Jerusalem prays, Tel Aviv plays and Haifa works'. We all have heard this saying at one point or another in our lives. But is this really the first picture that comes to mind when thinking about Haifa? The majority of people we know, based in and out of Israel, associate Haifa automatically with the magnificent structure of the Bahá'í Shrine and Gardens.
A place of pilgrimage for the members of the Bahá'í faith, the Shrine of the Báb is an architectural masterpiece marrying Eastern and Western styles in perfect harmony. This holy place was designed by Canadian architect William Sutherland Maxwell and was completed in 1953, a year after his passing.
William Sutherland Maxwell, a native of Montréal, played a very important role in the establishment of the Canadian Bahá'í Community. Born in Montréal on 14 November 1874, he had always been interested in art, architecture and design. In 1899 he moved to Paris and attended the École des Beaux Arts where he studied architecture and met his future brother-in-law, Randolph Bolles. Through him he first got into contact with the Bahá'í faith when he met the woman he would later marry in London, England. Randolph's sister May Ellis Bolles.
After getting married in 1902, the couple moved to Montréal where they set up Canada's first Bahá'í centre in their home. Making it a place welcome to all. May Maxwell became a practicing Bahá'í after meeting ʻAbdu'l-Bahá on a pilgrimage to Akko 1899. Her husband would formally join the faith in 1909.
Upon his return to Canada, William Sutherland Maxwell decided to start a business with his elder brother Edward. Together, the pair built the company that would become the largest architectural firm in Canada prior to World War I. Their portfolio included many Canadian landmarks we love dearly, such as the Montréal Museum of Fine Arts.
Ellis and William Sutherland Maxwell had one daughter, Mary, who would later marry Shoghi Effendi, the Guardian of the Bahá'í Faith, in 1937. This event changed the course of their lives drastically. While Ellis was a practicing Bahá'í before she met her husband, he became a much more active force after the wedding of his only daughter took place. Together with his wife, he visited a variety of cities on the East Coast to help develop the faith.
May Maxwell passed away in 1940 upon arrival in Buenos Aires, Argentina, where she suffered a fatal heart attack. Until his own passing in 1952, William Sutherland Maxwell's found himself in a period of spiritual awakening. These were the years his own faith would blossom. After May's passing, his son-in-law, Shoghi Effendi, invited him to stay with them in Haifa where William Sutherland Maxwell would serve him and the Bahá'í World Centre for many years in various administrative roles. This was also the time period where Shoghi Effendi would refer smaller building projects to his father-in-law in order to obtain advice on how to improve specific design elements. For an architect with a wealth of experience such as his it was something that came very easy. This exchange led Shoghi Effendi to ask William Sutherland Maxwell to work on the designs to complete the golden-domed Shrine we can all admire today. The Queen of Carmel.
When William Sutherland Maxwell came to the project, a small part of the structure that was neither to be altered nor destroyed, was already erected. By 1942 the blueprints were ready and Shoghi Effendi was delighted with the results. The construction could begin.
When his own health declined in 1949, William Sutherland Maxwell voiced his wish of visiting Montréal for the last time before he was unable to travel again. He returned to the city of his birth where he was supposed to spend the summer of 1951 in his home. During this time, his health deteriorated, and Maxwell was not able to return to Haifa. He passed away on March 25th, 1952.
In 1987, plans to enhance the surroundings of the Shrine were undertaken. The architect who designed and oversaw the construction of the beautiful terraces we can admire today above and below the Shrine was Fariborz Sahba, who is well known around the world for his impressive concepts and designs. A famous design of his many people will have come across before, as it has won multiple architectural awards and is regularly featured in various media, would be the Bahá'í Lotus temple in New Delhi, India.
Reflecting upon the life of the Báb, Fariborz Sahba began designing in 1987. The eighteen terraces symbolise the Báb's first eighteen disciples. The main geometry of the structure is provided by the nine concentric circles that have been created. Together with the terrace the Shrine stands on we can now admire nineteen terraces as a whole. Nineteen is a very important number for both the Bahá'í and Bábí faiths. The project was completed in the end of the year 2000 and the gardens have been opened to the public in 2001.
The Bahá'í gardens extend, beginning at its base, almost one kilometre all the way up, covering about 200 000 m². A set of stairs links the various parts of the gardens with one another, bordered by streams of running water. It is an oasis of serenity and tranquillity in one of Israel's busiest cities. A place you can hear the birds chirp and find inner peace while looking out to the sea.
Did you know that some of Haifa's busiest streets intersect the gardens? In order to create a continuous pedestrian path two bridges have been built across the HaTzionut Street and the Abbas Street. The surface of both bridges are landscaped gardens and pedestrians hardly realise they are crossing some of the busiest streets of Haifa.
Admired by people of all cultures and religions for its beauty and serenity, we can highly recommend visiting this most beloved sight on Mount Carmel the next time you are in Israel. We have yet to meet someone who has not been mesmerised by the enchanting environment and the intoxicating beauty of this place.
From Left to Right:
Photos: Courtesy of Dani Lavi, EdoM, EvgenyL, Ipho19