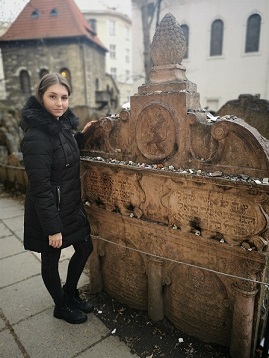 Photo: Courtesy of Yvonne Weisgrab
Tell us a little bit about yourself and your background.
I am a student in the Department of Middle Eastern studies at the Charles University of Prague and am currently finishing a BA program. My family discovered our Jewish roots only a few years ago and so I started to visit Lauder school in Prague. Many families in post-communist countries find out about their Jewish roots recently. I have four siblings and we all joined the IDF as volunteers and have a strong relationship with Israel. To me, Judaism means learning about our history and heritage. During my studies, I realized how little the general public in eastern Europe knows about Jews and home many communities, synagogues, and Jewish cemeteries are forgotten.
What do you enjoy the most about living in Prague?
Prague is a very charming city, full of medieval architecture and the history literally "breathes" here. I often travel due to my research and I always love to come back to Prague. It is a very cultural and safe city where you can enjoy calm romantic time but there are also many attractions for young people. Of course, Jewish heritage in Prague is very rich.
What inspired you to start working as a guide and educator?
I was lucky enough to be contacted by Pavel Batel, the founder of Terezin Private Tours team who has hear about my research and offered me to become member of his team of guides as a specialist on the Jewish Quarter of Prague. I quickly started to get very positive reviews and became popular as a guide of Jewish Quarter. So far, my biggest success in my career as a researcher and educator was a lecture about pre-war Jewish history in Museum of Jewish Heritage in New York.
What do you love the most about your job?
I enjoy sharing my knowledge with clients who are interested in the history of Czech Jews, their culture and identity. There is nothing more enjoyable than talking about your passion with someone who is interested in hearing about it. I have been studying Jewish history for four years as a hobby and three years at Charles University and I feel like it is my duty to share forgotten details with the public. What I also love about my job is meeting interesting personalities and having a chance to show them my level of knowledge. I had the pleasure to guide for example Israel Yuval, Professor of Jewish History at Hebrew University in Jerusalem.
What is your favourite place to visit in the Czech Republic?
Apart from Prague, there are many beautiful towns with a very meaningful Jewish community and beautiful architecture. In Bohemia, my favorite town is Jindřichův Hradec and in Moravia, Mikulov and Třebíč. All of these towns have beautiful synagogues and an interesting atmosphere. However, there are also many hidden and forgotten Jewish cemeteries that you can find in the middle of the forest or synagogues that are used for different purposes today, as a garage for example.
Do you offer tailored tours?
My tours are private and highly individual. Apart from the Jewish Quarter of Prague I also offer tours of other Jewish sights in Prague, such as, for example, the modern Jewish cemetery where Franz Kafka is buried. I am also able to prepare individual tours around the Czech Republic, based on genealogical research of my clients. I am currently preparing such a program for an Israeli street artist with Czech roots, Solomon Souza.
What are your wishes for the future?
When it comes to my studies, I will start to study a new field this year. I always admired cultural heritage, and decided to study Conservation and Restoration of Historical Textiles. I imagine working with Judaica textile as for example synagogues curtains. Apart from this new field, I will continue guiding and also continue my research. My big plan for the future is to find a way to preserve Jewish heritage in the Czech countryside and I am thinking of creating a series of short documentary movies about forgotten Jewish cemeteries, synagogues, and quarters around Bohemia and Moravia.
Where can our readers find out more about your services and how can they book you?
Readers can find more information about me in the Jewish Quarter Tours section of www.terezin-private-tours.com. My personal email address for any consultation and genealogical research or tour booking is yvonne.weisgrab@gmail.com and the official website of my team is terezin-private-tour@hotmail.com. I am also running an Instagram profile where I share photos from my research and information about Czech Jewish history under the name Yvonne Weisgrab.
Photos: Courtesy of Yvonne Weisgrab