Photo: Courtesy of Daniel Notcake
Tell us a little bit about yourself and your background.
I was born in the USSR, St Petersburg (Leningrad). I'm actually a quantum and statistical theoretical physicist with a maths/physics Olympiad background and my entire life is connected with math and IT. I transformed math background to digital marketing: it helps in all parts of life.
How did you develop an interest in photography?
About 12 years ago, I started a rooftop dates and tours business in Russia: my team worked in St Petersburg, Moscow and Novosibirsk. We visited the best rooftops, mostly illegally, with the best views, which people usually can't see. This is why I started to take photos: I wanted to show places which people will normally not visit. And for business purposes too, of course. We are in Israel for four years now and I started to take pictures not only of great locations, but of people in this locations as well.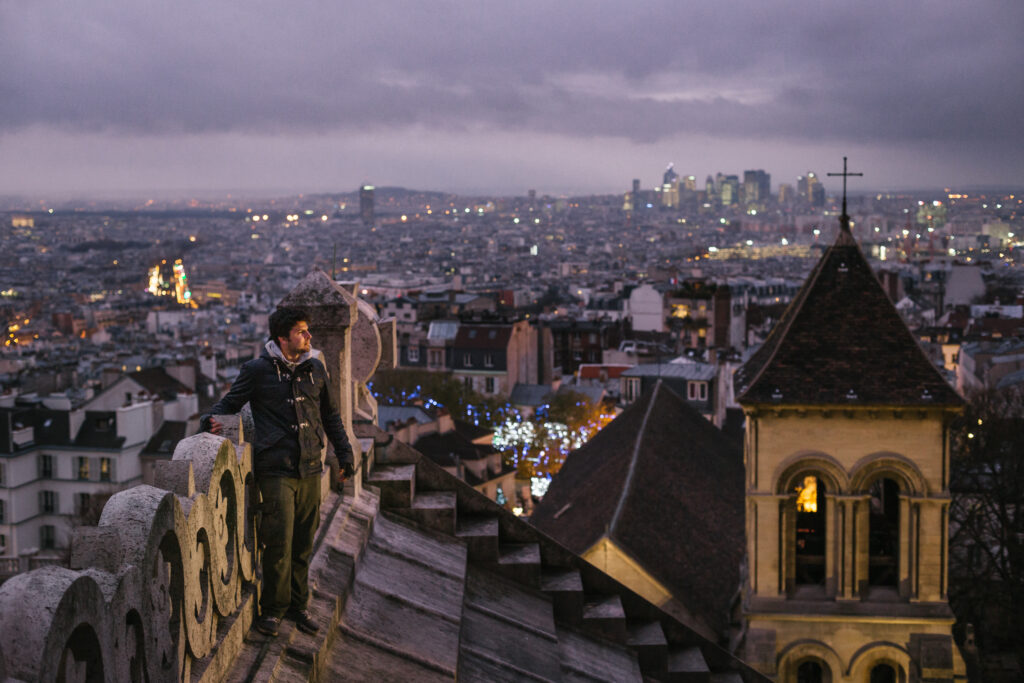 Photo: Courtesy of Daniel Notcake
What was the first camera you used and what equipment do you prefer to use today?
My first one was some old compact mirrorless camera, I tried to google the model, but haven't found it. My first mirror camera was a Canon 400d. And for the following 10 years I worked only with Canon: 400d, 550d, 600d, 5d2, 6d, 6d2, 5d4 and tons of lenses. For the past year, I'm shooting with Sony: it's the best for my current work. I use three Sony a7iii and many lenses. But I'll change it if there will be something more suitable: it's just a tool that helps but doesn't take the «perfect shot because it's a good camera and long lens».
What do you enjoy most about photography?
Most photographers will talk about light, people, emotions, compositions. A year ago I would have said the same, but now it's preparation, searching for a location and the possibility to open new horizons. Yes, you can take a good shot without preparation, of course, and I do this a lot, but preparing for a shooting is great.
What is your specialty?
What I'm doing better than others – it's playing with unusual locations and couples. I'm hunting for locations. You have seen something special on Instagram by some popular blogger? Yeah, I'm doing same, but for real couples, not models or bloggers. Preparing for this kind of shooting is 80% of the success.
Photos: Courtesy of Daniel Notcake
How would you describe your style?
Candid photography. I don't like posing and for me it is most important that the couple feels comfortable, but I'm trying to give some easy advice to follow. It's a bit different during a wedding with guests in a venue or while shooting an elopement, but anyways it's a candid style and I'm hunting all the time for the perfect shot.
Photos: Courtesy of Daniel Notcake
Which project have you enjoyed working on the most so far?
This year I had a lot of great and elaborate weddings I have enjoyed shooting a lot; I will try to narrow it down to three of them.

1) I had gay couple from Hong Kong with who had their ceremony in an ice cave on a glacier in Iceland. Yes, it was a legal ceremony and our officiant was a climber.

2) I took pictures of an unusual ceremony in Cappadocia under hundreds of balloons. Afterwards, I rented a herd of two hundred horses and forced them to run around the couple.

3) Together with our very dedicated team, we shot a fantastic wedding for an American couple in Israel: it was 3 day long shooting with a love story, henna ceremony and the wedding with the best view of Jerusalem.
Photos: Courtesy of Daniel Notcake
Do you work with an assistant photographer?
Yes, I'm mostly working with assistants. In Israel it's my wife or somebody from our team, when abroad – I work with some of the best Russian wedding photographers.
What advice would you give an aspiring photographer?
More shootings, more shots, more inspiration and experiments! You can study photography only by experiments. Yes, there are some laws, but you can easily brake them and make your own laws.
What do you want to achieve with your work and what are your wishes for the future?
I want to do weddings in different countries for different couples. It's what helps me to evolve. I've already visited more than 80 countries, half of them shooting weddings.
I want to create good team, who will be the best in what they are doing.
How can our readers book you and where can they find out more about your work?
In Israel – https://en.danielnotcake.com/wedding
For weddings outside of Israel – (I have really cool offers for destination weddings) – https://en.danielnotcake.com/destination_photographer
More fresh shots on my Instagram: https://instagram.com/swinopass
And by special wedding hashtag: https://www.instagram.com/explore/tags/notcake_wedding/
And easiest way to contact me – WhatsApp: +972587809031
Photos: Courtesy of Daniel Notcake