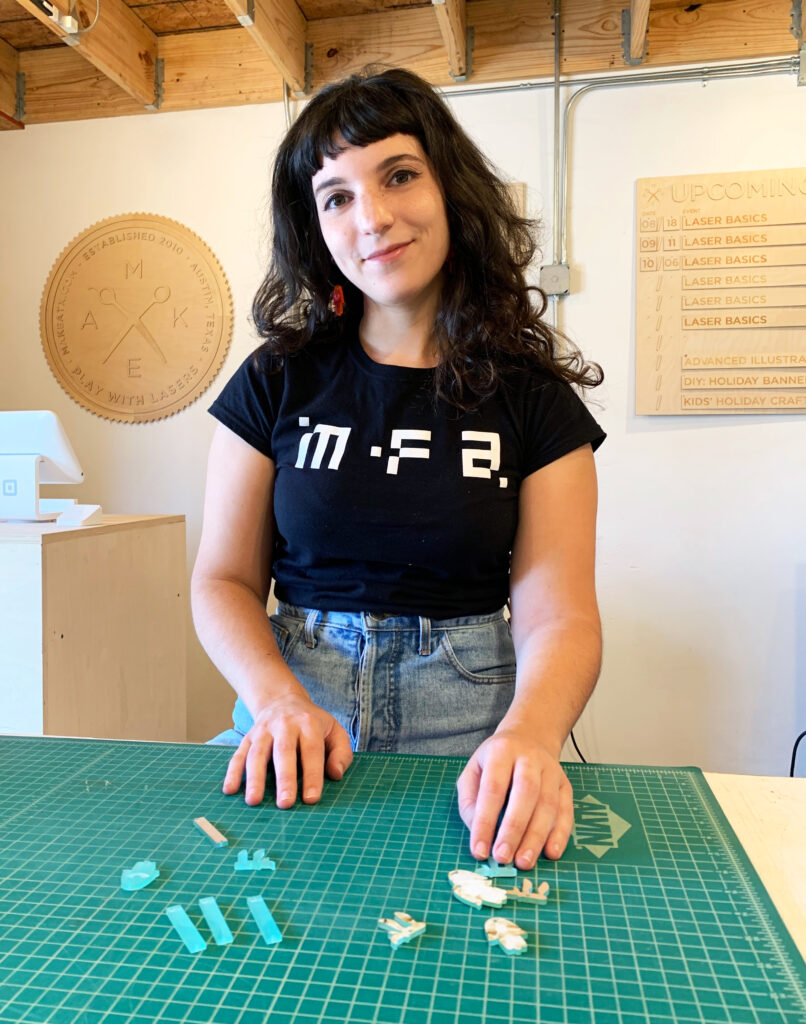 Tell us a little bit about yourself and your background.
I'm Miranda, the designer behind CounterForm Jewelry— a new line of laser-cut jewelry with an emphasis on contemporary Judaica. I grew up in Upstate New York and Western Massachusetts and come from a Reconstructionist background. When I was a kid, I was always working on some new-fangled creative project– making mini rooms and clothes for my toys, accenting my windows with rhinestones, making little cities out of cardboard. My creative energy developed into drawing and painting and I went on to study Art History in my undergrad at Oberlin College. I moved to Austin, Texas after undergrad and started thinking about other creative paths, which is why I started to study Graphic Design. I enrolled in Texas State University, where I am currently a graduate candidate. I started exploring laser-cut jewelry recently after starting work at a laser-cutting studio in Austin.
What inspired you to become a jewellery artist?
Growing up, jewelry-making was a hobby of mine. I mostly made simple beaded earrings, and still love visiting bead stores. But, I was frustrated by the fact that my designs I was making were limited to mass-produced beads because the end product didn't feel very original to me.
When I started working at the laser-cutting studio, I realized that I could combine several of my creative skills and passions together– coming up with original designs, executing them on the computer software I had learned from studying graphic design, and then doing the hand-assembly that I had learned while making beaded jewelry.
How and where do you work?
The process of making laser-cut jewelry happens in several stages. For each new design, I begin by sketching out ideas and then digitally designing them at home using Adobe Illustrator. I make sure to follow certain guidelines while I design so that they will engrave and cut correctly on the machine.
Once I'm ready to cut them out, I go to the laser-cutting studio and send the files to the laser machine, which looks like a huge standing printer. I put whatever material I am cutting in the machine, position the laser head over the material, and start the machine. The laser cuts and engraves the designs in the material, and I can take the sheet out and take out the components I use for my jewelry. I usually do the assembly at home.
What is the most indispensable item in your studio?
Definitely the laser-cutter. It's amazing that artists can have access to such powerful technology.
Where do you take your inspiration? Are you pursuing any themes?
At the moment, I am concentrating on making an array of contemporary Judaica. Since moving to
Texas, I've noticed myself wearing Jewish jewelry a lot more– in a place where there aren't that many Jewish people it reminds me of my culture and my family.
A while ago, I was looking around for Judaica online and was struck by the fact that there weren't many pieces out there that weren't made from silver, gold or colored opal. That's when I started thinking about other materials that could be used. Being able to create designs myself and in my own style feels a lot more personal to me, and to me they are more reflective of my own personal relationship with Judaism. I hope that others can connect to them as well!
What projects are you currently working on?
My line is very new, and at the moment I'm working on generating new ideas and designs! I'd love to also make designs outside the scope of Judaica, including more illustrative etched designs.
What are your favourite items in your current collection?
I really like my pieces that are made with black glitter acrylic. It's a beautiful material and has the versatility to look edgy or sophisticated, depending on how you style it.
How do you know when a piece is finished?
So far that's been relatively easy for me in this medium compared with other mediums like drawing or painting, when you always feel like you can add something else. Once I'm done with the design phase, I pretty much know exactly what I want the end product to look like.
Do you do bespoke work?
I haven't yet but I am definitely open to it! I'd also love to hear feedback, especially as I'm creating my line, of refinements or things that people would like to see.
What was the first jewellery piece you ever sold?
A pair of black glitter acrylic Hamsa earrings.
Which project have you enjoyed working on the most so far?
I've been really enjoying developing the line and brainstorming new ideas. I keep a notepad and pen close by in case inspiration comes.
What do you want to achieve with your work and what are your wishes for the future?
My line of Jewish jewelry is designed with my generation in mind. Many of us have a different relationship to Judaism than our parents and grandparents, and are looking for ways to incorporate
Judaism in our lives in a way that aligns with our values and beliefs. By diverging from more formal, traditional materials like silver and gold, I hope that my line will appeal even to those that have a more cultural relationship to Judaism and who don't often wear Judaica.
I am also passionate about having a social impact through my work, which is why I am donating 10% of profits made from each piece sold in the Judaica line to The Jerusalem Fund, who work to " to foster greater awareness about Palestine, in the United States and abroad, and to ameliorate the lives of Palestinians in Palestine and the diaspora." (Jerusalemfund.org)
Where can we find your work?
https://www.etsy.com/shop/CounterFormJewelry
https://www.instagram.com/counterformjewelrydesign/