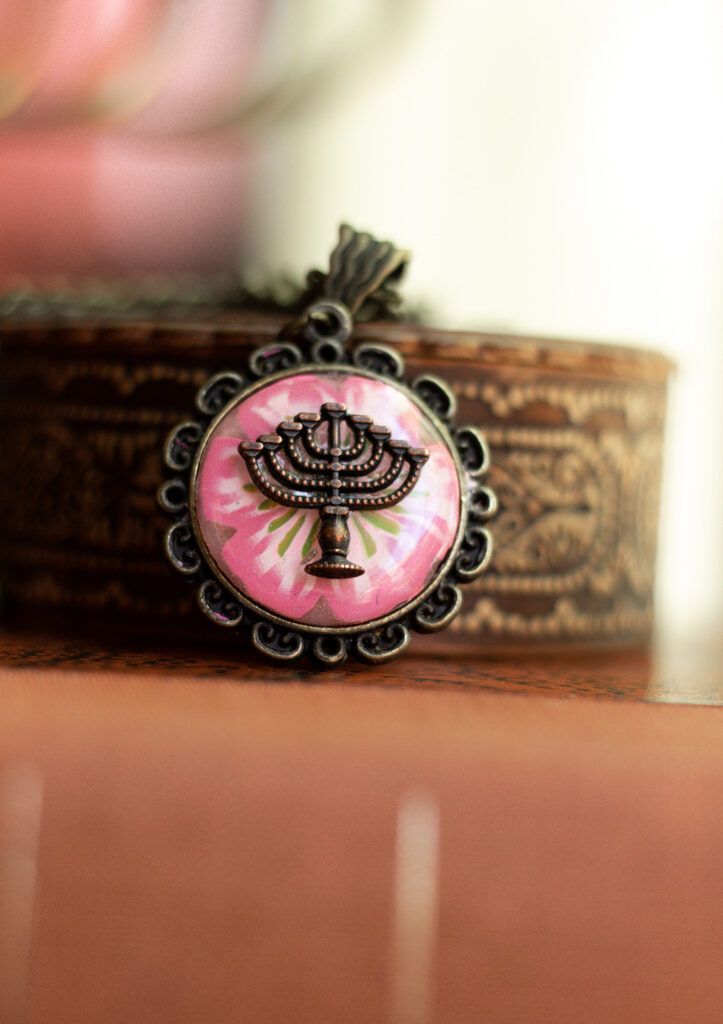 Tell us a little bit about yourself and your background.
I'm married to the same wonderful man for almost 50 years and we have two grown boys with families of their own. When they were young, I took a job at their school as the P. E. instructor and I enjoyed 6 years of being with them and then having the summers off together. I then took some classes and worked part time at a flower shop before opening my own floral business. Then, for 15 years, I was able to work from my home doing mostly weddings flowers. When the delivery got too difficult for me I closed the business and now work part time for a flower shop when they need extra help.
What inspired you to become a jewellery artist?
After closing my business, I had too much time on my hands and started working with polymer clay. It has so many applications, I watch so many YouTube videos and learned many different techniques including caneing. At first, I was just playing around and having fun but I made so many flower canes that it was a natural progression to make jewelry pieces. Which I gave away to friends and family. Let me tell you, women love free jewelry! Then my best friend suggested I open a shop on Etsy.
How and where do you work?
My husband and I built a little casitas for my mother-in-law many years ago. After her passing, we have used it for our friends and family when they are visiting. I found myself needing a permanent spot to work so I moved to the casitas. It's been a wonderful solution to the clutter in the house and it's very therapeutic for me to just go a few steps away from our main house and have the little house all to myself.
What is the most indispensable item in your studio?
This is going to sound weird but I use an acrylic cube and ArmorAl spray. There is always a learning curve when starting something new. It took me many tutorials and youtube hits to see someone using this technique. It smooths out all the imperfections and reduces the sanding after a piece has been baked. I spray a small amount of the ArmorAll on the clay and then rub the cube back and forth to get rid of all the imperfections.
Where do you take your inspiration? Are you pursuing any themes?
I have always loved flowers and so that's why I love the caneing process and how just a slice from one of my flower cane can become a beautiful clay stone. I started to add charms to some of my pieces and of course being jewish, started adding jewishlife charms to my work.
What projects are you currently working on?
I'm currently working on a different process using transparent clay, alcohol ink with gold and silver leaf in layers to create depth to my finish stones.
I really enjoy trying to make my flower pendants look like paintings. Some of them have incorporated vases with a bouquet of flowers to look like a still life. Of course I am always working on my Judaica pieces and new ways to make these pieces more attractive.
What is your favourite item in your current collection?
I think at this moment I'm loving making different Tree of Life pendants.
How do you know when a piece is finished?
I know a piece is ready to sell when I can wear it and love it.
Do you do bespoke work?
If someone wants something special, I am always ready to try to put their vision into a piece of special custom jewelry.
What was the first jewellery piece you ever sold?
One of the first items I sold was a light green polymer stone in a gold bezel with a small star of David.
Which project have you enjoyed working on the most so far?
The whole caneing process is the most fascinating to me and I haven't grow tired of doing it.
What do you want to achieve with your work and what are your wishes for the future?
I would hope in the future that my platform for selling my jewelry would broaden so that I could keep playing and affording to purchase material for my process.
Where can we find your work?
I can be found at https://www.etsy.com/shop/jovonsgems
On instagram: @valleyoftheroses
**Caneworking is a technique that was used in glassworking for making complex designs. A cane is a log or cylinder of clay that has a design running though it so each slice of the cane contains the design. You can make a large design that's easy to handle then reduce the size of the cane by pressing and rolling it so the cane becomes longer and smaller. The ductility of the clay keeps the designs intact no matter how small you make it. Then it's up to the artist how they will use each slice.