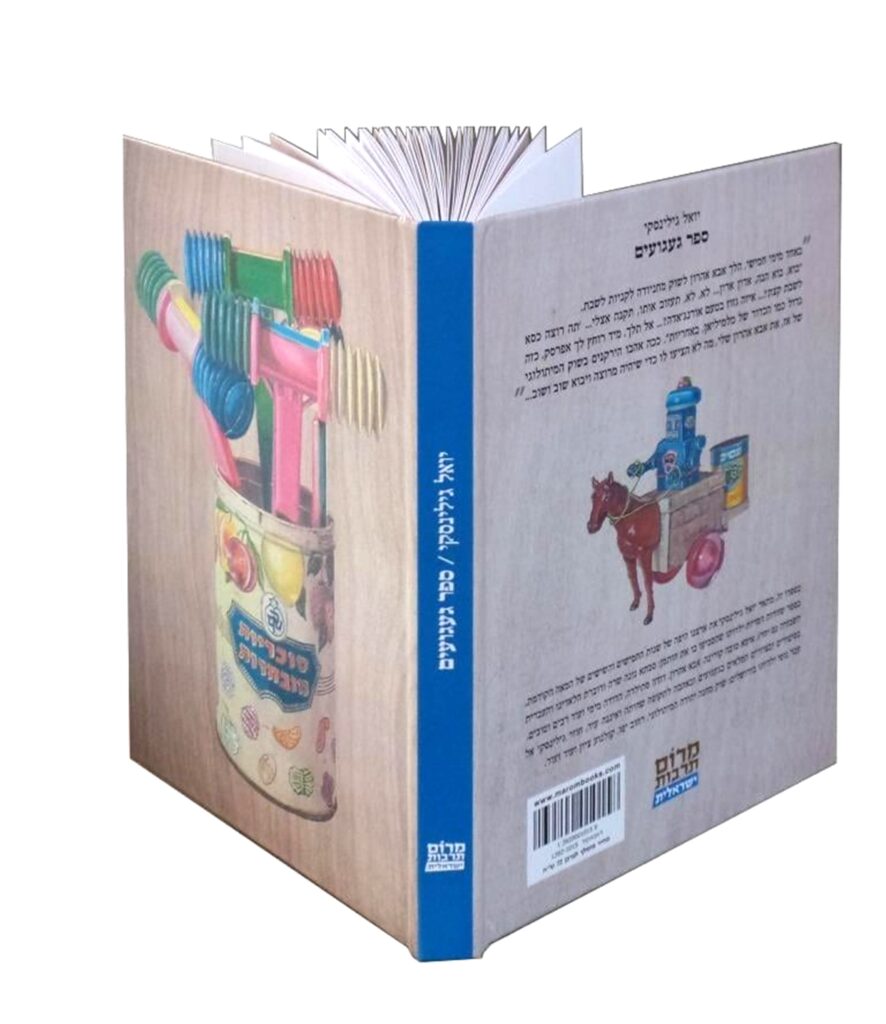 Photo: Courtesy of Yoel Gilinsky
Tell us a little bit about yourself and your background.
My name is Yoel Gilinsky. I was born in Jerusalem 67 years ago and am a graduate of two departments at the Bezalel Academy of Art and Design in Jerusalem, where I also taught for 20 years as a senior lecturer. I have earned a BFA in Fine Arts and a BDES (with honors) in Visual Communication Design.
My wife Orit and I are the parents of three lovely souls: Tamar, Omer and Asaf.
For the past ten years, my artistic creation has focused on Israeli nostalgia, combining them with familiar and beloved symbols such as the Star of David, Herzl, Keren Kayemet and more.
What inspired you to become an artist?
The things that influenced me to be an artist: the love of creation, the imagination and the beauty that binds me to Israel, the land of my love, the pattern of my homeland. I also admired the old Bezalel artists: Boris Schatz, Meir Gur Aryeh, Zeev Raban, Ephraim Moshe Lillian and many others, who defined the figure of the Jew who returned to his country to build it, inspired by the prophets of the Bible.
What is your specialty?
I specialize in realistic painting and free painting, on wood and paper, on the subject: "Israeli nostalgia paintings"
How and where do you work?
I live and create in Tel Aviv and carry Jerusalem, the eternal city and my home town, in my heart.
What is the most indispensable item in your studio?
The most essential items in my work environment are: the books, my desk and the light emanating from my north facing window of the back porch.
Where do you take your inspiration? Are you pursuing any themes?
I draw my inspiration from the amazing history of the Jewish people returning to the land of their ancestors
Do you do bespoke work?
Sometimes, when there is a fascinating project that challenges my thoughts and creativity, I do work on demand. Although commissioned work inevitably carries a difficulty that exists between the creation imagined by the client and my personal translation. Sometimes the two things merge together but sometimes less. This is why I do not often create in such a direction.
What projects are you currently working on?
Now I focus on the Jewish holidays, which I started in the past. These days, before Hanukkah, the holiday of light.
What is or are your favourite items in your current collection?
My favorite items are what make up my expanding Israeli collection: old tin cans, mostly of sweets, JNF boxes and many objects from the time I was a child in the first ten years of Israel. About two years ago I published my first book: " Book of Longings", which contains my short stories and my paintings, intertwined with my parents' house and the neighborhood where I grew up, in Jerusalem
How do you know when a piece is finished?
Once the work reaches a magical moment where it has a life of its own and it no longer needs my continued intervention
What was the first artwork you ever sold?
The first drawing I sold was a portrait of one of Rodin's sculptures. I draw it in the sculpture garden at the "Israel Museum" in Jerusalem. I was then 17 years old and had not studied before it at all.
Which project have you enjoyed working on the most so far?
In fact, all of them. I should be in love with the painting, already at the sketch stage. If I force myself to draw a picture, because it is important, etc., without emotion, without total connection and joy, it comes out technical and soulless. The love for God and the love for my family are the keys to my work: to connect to truth, to joy and to bring happiness to the viewer
What do you want to achieve with your work and what are your wishes for the future?
I want to continue to connect to lofty human principles: love, joy, hope, blessing and thus, enrich and strengthen my life and the life I hold dear
Where can we find your work?
Keren bar gil. 972-547244311
https://www.instagram.com/gilinskyyoel
Photos: Courtesy of Yoel Gilinsky