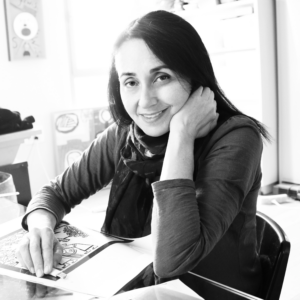 Photo: Courtesy of Tamar Messer
Tell us a little bit about yourself and your background.
I was born in Haifa, Israel, 59 years ago and grew up in a Zionist orthodox family. I am married and have three children and a dog. I studied graphic design and specialized in illustration. I worked as an illustrator in the two biggest newspapers in Israel. For the last 20 years I have illustrated traditional and biblical texts in my own studio.
What inspired you to become an artist?
I never felt I had any other option. I remember being very very young, maybe five years old, and I was told that I wasn't allowed to draw on Shabbat. But I couldn't help myself, so I closed the shutters and drew anyway. Never stopped since then.
What is your specialty?
I specialize in biblical stories. My commentaries are modern and different: reflected by the fauna and flora of the land of Israel. Also I see how timeless the biblical stories are, and how they can still teach us relevant lessons. The style is a naive one, and not what one would usually expect to find in Judaica. I often use my sense of humor to emphasize ideas. My point of view is special because I grew up orthodox, so I know this world from the inside, but nowadays I don't practice it, so I have the advantage to see it from the 'outside' as well.
How and where do you work?
I have a beautiful studio gallery in the old city of Haifa.
Most of my work is done manually and only afterwards it is being scanned and digitized.
When I approach a new project, I study the text according to the traditional sources. Later on, I start to identify and express my own personal understanding of the meaning of the text.
What is the most indispensable item in your studio?
In the last two years I have been exploring the Lino cut technique, so I wouldn't give my cutters up for the world.
Where do you take your inspiration? Are you pursuing any themes?
I am inspired by the life in Israel, my happy and sad life experiences, all that happened and left a mark on me. My style is influenced by the work of Henri Matisse, which I admired all my life.
Do you do bespoke work?
As a professional illustrator I am used to work with clients. I was often commissioned to create special items. One example that comes to mind is a project that I did for a psychologist. He wanted to show his patients that a broken soul is still a whole one. The outcome was a one of kind three-dimensional piece that, if you looked at it from one side, allowed you to see the broken tablets and if you looked from the other side, you could see Moses with the tablets intact.
What projects are you currently working on?
Currently, I am illustrating the book of Jonah.
What is your favourite item in your current collection?
By far – the book of Lamentations. At first, I didn't even want to 'touch' it, but I wanted a full set of the 5 Megiloth (scrolls), and it was the last one to complete. After reading the text over the years many times, I had a revelation and realized that the book of Lamentation came to prophecy the destruction of European Jewry in the Holocaust, and in the end leads to hope – to the establishment of the state of Israel.
How do you know when a piece is finished?
As a former newspaper illustrator, I was trained to read the article, think of an idea and illustrate it overnight. Since then, I operate that way, and my process is pretty fast. I don't hesitate much; I go with the flow.
What was the first artwork you ever sold?
Right after I graduated from art school, I made a line of illustrated T-shirts. This was my first professional encounter with the 'real world'.
Which project have you enjoyed working on the most so far?
I always enjoy the most recent project I'm working on. But If I had to pick one it would be illustrating and producing a limited edition of the Passover Haggadah. Especially the part of the ten plagues. I wanted to demonstrate the Midrash (commentary) I read, saying that in each plague you have a hint towards the next one. It was whimsical to have look through from one plague to the other.
What do you want to achieve with your work and what are your wishes for the future?
It is always wonderful to meet people that saw my artworks and were moved or inspired by it. I just wish to continue creating art and learn new things every day.
Where can we find your work?
Online shop – https://www.tamarmesser.com
Instagram – https://www.instagram.com/tamarmesser/
Facebook – https://www.facebook.com/tamar.messer.3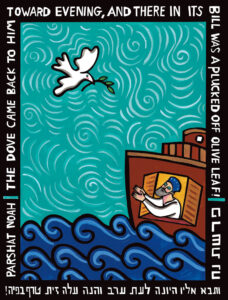 Photos: Courtesy of Tamar Messer