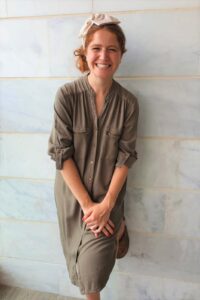 Photo: Courtesy of Rena Mednick
Tell us a little bit about yourself and your background.
My name is Rena Mednick, I am a wife to Meds, and mummy to two gorgeous girls, Maayan & Carmel. We live in the beautiful coastal city of Netanya, Israel.
I grew up in Manchester, UK and made Aliyah at 18 years old as soon as I finished high school.
I came to Israel and joined an Art and Torah Program which led me on to 2 years of National Service where I worked in an Art Therapy Program for Elderly People.
During my service one of my brothers was getting married and asked me to paint the ketubah for their upcoming wedding. That was the first of thank G-d many Ketubot and when Art & Ketubot by Rena was born.
What inspired you to become an artist?
From when I was a little girl, I can always remember spending hours painting and colouring. I grew up with 4 older brothers and no sisters, I think part of it was the girl time with my mother, creating, painting and stencilling with my mum – although there was a lot of football and mud with the boys too.
There was one art teacher in school, Mrs. Pryce, who encouraged me, taught me a lot and gave me the confidence to believe I could actually do it!
What is your specialty?
Watercolour Ketubot and Judaica art. Apart from my family, my two passions are Israel and painting- so I try to allow these emotions to express themselves and merge together in my work.
How and where do you work?
I work from home every evening from 7pm onwards once the kids are tucked into bed and that way I get to do the two things I love most.
What is the most indispensable item in your studio space?
My 'Daniel Smith' Watercolours – it is so true in art, that you just cannot scrimp on materials. These watercolours are expensive but they are superb and bring a vibrancy to the work which cannot be achieved with inferior materials.
Where do you take your inspiration? Are you pursuing any themes?
Definitely our beautiful land of Israel. Israel has always been my favourite theme since I picked up the paintbrush at a very young age. Every school project where we could choose a subject, mine would be Israel.
However, when I do custom work, especially Ketubot, I encourage the couple to tell me their story and I try to depict their personalities in my work.
Do you do bespoke work?
Yes, all my handpainted Ketubot are unique to each bride and groom. We design it together and my aim is for each ketubah to tell their story.
I also do custom Judaica pieces, such as Bar and Bat Mitzvah pieces, Baby namings, Mezuzot, and custom gifts.
What projects are you currently working on?
I am currently working on a set of 3 Jerusalem which when completed will be available on my Etsy page and, of course, some summer wedding Ketubot are in process too- Corona permitting.
What is your favourite item in your current collection?
I was commissioned to paint some "Dancing Chassidim", which was something new for me- but it turned out really well and has become a firm favourite – and is popular on my sales page too.
How do you know when a piece is finished?
When I'm not sure if it is finished or not I hear my incredible mother's voice in my head say 'look at it with fresh eyes in the morning'.
I take a break and make the decision later on with 'fresh eyes'. Often, I'll see something obvious that I had missed first time around. Good art can't be rushed- it has to evolve.
What was the first artwork you ever sold?
I was 17 and a friend of my parents had just bought a new apartment in Israel and commissioned me to paint a Kotel piece for them.
Which project have you enjoyed working on the most so far?
I did a portrait of my grandfather when I was 16, shortly after he passed away and I loved every second of painting it – I just remember thinking I just can't stop until it's completely finished.
What do you want to achieve with your work and what are your wishes for the future?
I love when I get the opportunity to sell my work around the world, I love the thought that there is a painting of Jerusalem or a Ketubah telling their love story brightening up a home 1000s of miles away. So far, I have sold to North America, UK, Israel, Europe, South Africa and Australia – I'd like to add South America, Asia and New Zealand to "get the set!"
Where can we find your work?
https://www.instagram.com/art_and_ketubot_by_rena/
https://www.etsy.com/uk/shop/ArtKetubotbyRena
Photos: Courtesy of Rena Mednick