Photo: Courtesy of Bat Sarah Press
Photographer: Katalina Berbari
Tell us a little bit about yourself and your background.
I'm from the suburbs of Cincinnati, Ohio and grew up in a household with a strong Jewish identity. My Hebrew day school had a wonderful art teacher, Mrs. Woloshin, and she directed many different art projects, some aligned with the Jewish curriculum and others relating to the canon of 19th and 20th century artists. In her class, I was making work inspired by stories in the Torah in the style of the Impressionists, or just trying to make works mimicking Marc Chagall. Those experiences gave me a sense of context that embedded itself deeply in me. I couldn't have articulated it at the time but I saw myself making art that was in dialogue with a history, a tradition, and a set of cultures. Meanwhile, my grandmother Miriam was the driving force for the Judaica shop at the day school. She would zip off to New York to buy Judaica and I got to join her and see that world, which was always exciting. She and my mother always wanted me to make Judaica.
In college, and later in an MFA program, I continued to study art. By grad school I had become more interested in conceptual art forms, socially engaged practices, and performance art. I was rarely making physical objects. By 2015 I saw myself as an artist, but not an "object maker". Still, I was happy to oblige when my stepbrother asked if I'd make his ketubah. I was surprised by how much I enjoyed the process, and I was happy with the final product. From there I began making custom ketubot as a part-time job, then eventually quit my other job and went full-time with Bat Sarah Press. I now live in Chicago with my husband and two children.
What inspired you to become an artist?
This is sort of a difficult question to answer because I don't remember a time before I was making art. I think most people have some sort of creative practice as kids, but it often falls by the wayside as they lose interest/confidence in making art. I have always felt compelled to make things.
The name "Bat Sarah Press" is a way to honor my mom whose Hebrew name was Sarah. She passed away in 2014. In part, I make my work as a way to stay in touch with her memory. In that same line of thinking, I am continually drawn into making this work because it seems to serve as a connective tissue across time, place, and people.
When I'm making a ketubah or a mezuzah I am engaging in something that the Jewish people have done across centuries, while also drawing from modern inspirations. I get to make work in collaboration with strangers, and it becomes part of homes and family lineages all over the world. Getting to be part of a rich history of Judaica, and putting my own voice into my work is both a challenge and a joy.
What is your speciality?
I started out making ketubot, and that is what I'm best known for at this point. Over the years I've expanded my offering to include other objects such as mezuzot, challah boards, chamsas, Shabbat candle holders, prints, zines, and more, but I think I am still primarily known as a ketubah artist.
I am probably most proud of the work that I do with my interfaith and LGBTQ+ clients. I feel honored and excited to be able to make something meaningful and bespoke for people who haven't always felt welcome in Jewish circles. I love being a warm and welcoming part of the journey of these clients. Often that means working together to find appropriate language and imagery that speaks to their specific life experiences as they also relate to their Jewishness.
If I had to describe my aesthetic specialty as a ketubah artist I would say that I aim for a clean, modern look, without making the final product look too sleek or minimalist. My technique is often a mixed media approach in which some elements are designed digitally, and others are drawn/painted/cut by hand.
Where do you take your inspiration from? Are you pursuing any themes?
On a big picture level, I am inspired by the ways we mark time communally, by ritual, and exploring how ritual affirms Jewish values and community. How we find and construct meaning, and how we find connection to one another (especially in this pandemic era) are at the heart of my work. That's both the inspiration and the theme.
Specific design inspiration comes from all over the place. I try to keep my eyes open to anything of visual interest, from a uniquely frosted pastry (that actually inspired the layout of a custom ketubah!), to the fallen log I step over while walking through the woods, fashion … I find design inspiration in a variety of places.
Do you take on commissions and create bespoke designs?
Yes! When I started the business, I only did commissioned work. Over time, I have expanded into offering ketubah templates, making prints, ritual objects, etc. but I am still working on commissioned designs most of the time.
Which project have you enjoyed working on the most so far?
I really enjoy getting to work with couples who bring a lot of themselves and their stories to their ketubah. It can be really challenging to integrate a ton of different ideas into a cohesive design but arriving at a final product that tells a story in a way that feels meaningful to the couple remains exciting after 7 years of doing this.
What do you want to achieve with your work and what are your wishes for the future?
I want to make ritual artwork and objects that help people find meaning and connection, both to the rituals and events that the objects mark, and the connections among one another. That has always been my goal. I also want to make objects that also mark the harder moments in the human experience, the ones that aren't always at the forefront or publicized on social media. Looking to the future, my hope is to continue to work on new projects, work with new collaborators, and continue to make new things.
Where can we find your work?
Much of my work, and my online shop can be found here: https://www.batsarahpress.com/
For more frequent updates on what's next, and what I'm up to in the studio, please follow along on Instagram: https://www.instagram.com/batsarahpress/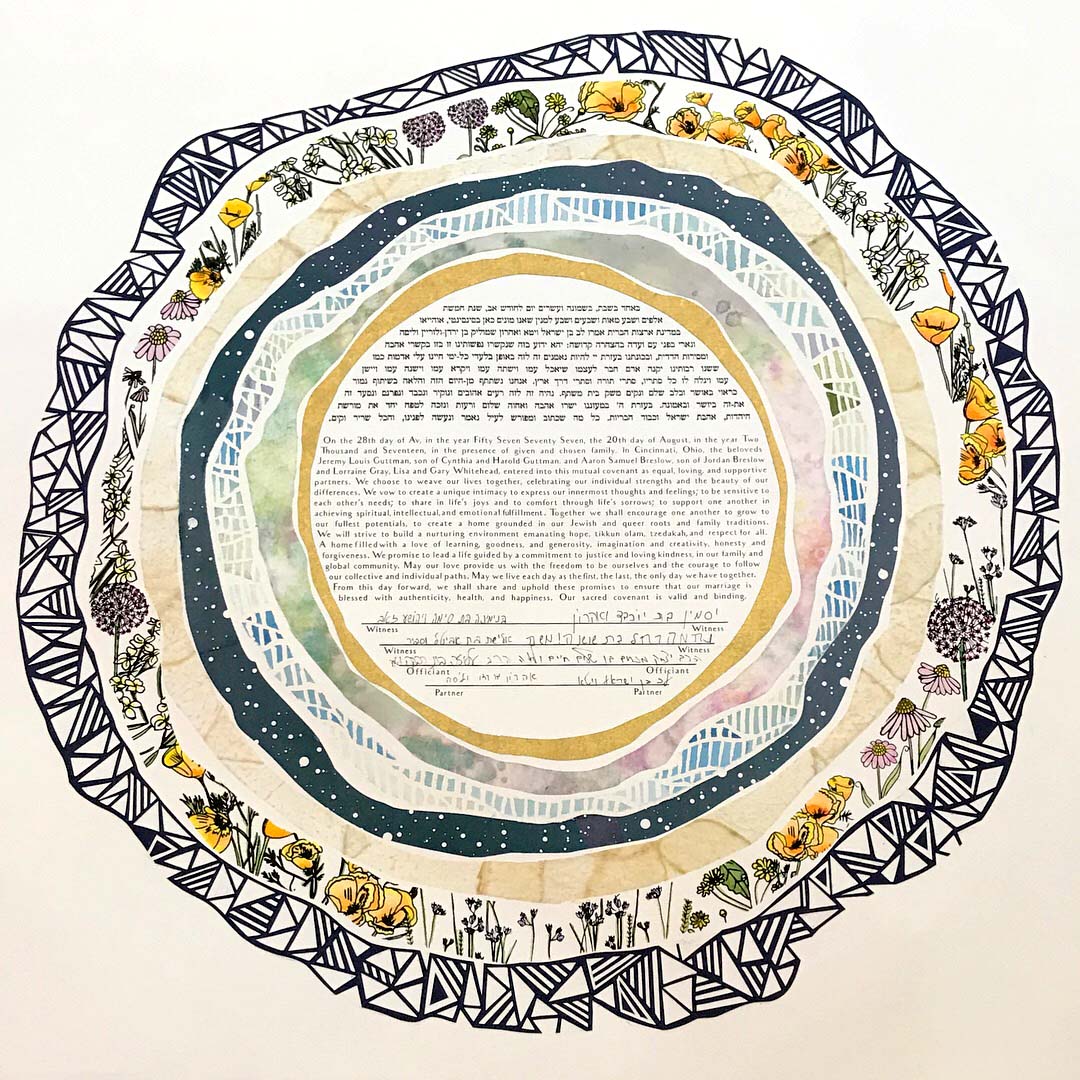 Photos: Courtesy of Bat Sarah Press